The extensive southwestern suburbs of
Phoenix
are mostly residential, with patches of arable land beginning to appear around the boundaries of adjacent
Tolleson
and
Avondale
. Three major routes across this section of the city are US 60 (Grand Avenue) from
Peoria
and
Sun City
, I-17 from the north and I-10 from the west; chain hotels are located along these latter two, with the main group beside I-10 exit 139 (51st Avenue), at the edge of an extensive business/industrial district to the south. Other notable sites in the vicinity include Grand Canyon University, Desert West Sports Complex, Maryvale Golf Course Desert Sky Mall and Ak-Chin Pavilion.
Map of Hotels in West Phoenix, AZ

1.
Holiday Inn Phoenix-West
1500 North 51st Avenue, Phoenix, AZ 85043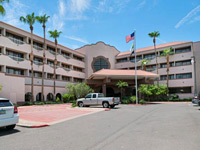 The Phoenix West Holiday Inn hotel sits at the northwest corner of the junction of I-10 with 51st Avenue (exit 139), easily visible from the interstate. As well as Phoenix, the hotel is close to the neighboring districts of Tolleson, Fowler & Maryvale, and within a few miles of many businesses, sports and shopping centers. Phoenix Sky Harbor Airport is 12 miles to the east. Holiday Inn Phoenix West is an older building but fine for a short stay; it has 144 rooms on 4 floors, an outdoor pool, extensive meeting facilities (nearly 10,000 sq ft of event space) and an on site restaurant (Pit Stop Bar and Grill).
2.
Comfort Inn Phoenix West
1344 N 27th Avenue, Phoenix, AZ 85009
Simple accommodation towards the cheaper end of the market is on offer at the Comfort Inn West, a 65 room, interior corridor hotel 2 blocks west of the busy I-10/I-17 junction, 3 miles from downtown Phoenix. The inn has the usual facilities of free continental breakfast (deluxe), an outdoor heated swimming pool and a hot tub. All the rooms have a microwave/refrigerator, and look out over a mostly industrial neighborhood along 27th Avenue.
3.
Comfort Inn Phoenix I-10 West at 51st Avenue
5152 Latham Street, Phoenix, AZ 85043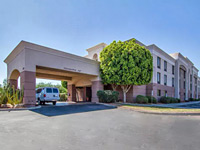 Formerly Hampton Inn, the 122 room, pet friendly Comfort Inn of west Phoenix opened summer 2011 at the 51st Avenue exit of I-10, close to a small selection of restaurants and at the edge of an extensive business/industrial district. The nearest shopping center (McDowell Square) is a short walk away on the far side of the interstate. A fitness center, hot tub and outdoor pool are available for relaxation; a business center and meeting room for those here to work. Free full breakfast is served. All rooms contain a microwave and refrigerator.

4.
Travelodge Phoenix
1424 North 50th Avenue, Phoenix, AZ 85043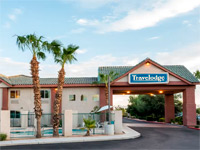 Travelodge Phoenix has a pleasant outdoor pool by the entrance, and is partly lined by trees, which help shield the rooms from I-10 immediately south. The modern, interior corridor motel sits beside exit 139 of the interstate (51st Avenue), a short walk from a group of shops & restaurants, and 4 miles from many more outlets at Desert Sky Mall. The usual two complimentary amenities of wi-fi and continental breakfast are provided, plus a coin-operated laundry facility.

5.
Motel 6 Phoenix - Black Canyon
4130 N Black Canyon Hwy, Phoenix, AZ 85017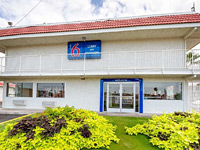 Motel 6 Phoenix faces the west side of Interstate 17 at the Indian School Road exit, 5.5 miles from the city center and 9 miles from Sky Harbor Airport. This is one of the largest properties of this brand in the Phoenix area, with 147 rooms in five exterior corridor blocks, separated by an extensive parking lot, with over 20 truck spaces. The complex includes three outdoor pools and a restaurant; other amenities are guest laundry, free coffee and wi-fi.

6.
Motel 6 Phoenix West
1530 N 52nd Drive, Phoenix, AZ 85043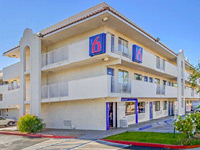 Motel 6 Phoenix West has a typical three floor, exterior corridor layout, the rooms overlooking the parking area which is shielded by trees from the surroundings; a mostly residential district on the north side of I-10 at the 51st Avenue exit, 7 miles west of downtown Phoenix. Despite the nearby interstate the place enjoys a quiet location, set back from the access road, and it has a pleasant outdoor pool, also lined by trees. Some rooms contain a microwave and refrigerator. Wi-fi is available.
7.
Knights Inn Fairground-Phoenix
1624 N Black Canyon Highway, Phoenix, AZ 85009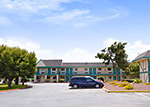 The pet friendly Knights Inn Phoenix is the closest motel to the busy I-10/I-17 intersection, located in a commercial/industrial district 3 miles northwest of the city center. There are several restaurants within walking distance, west along McDowell Road. Highlight of the motel is the sheltered garden with outdoor pool, overlooked by some of the rooms; others have views of a courtyard or of the spacious parking lot all around the perimeter. Guest laundry and free coffee/tea are the only amenities.