Officially,
Sun City
is merely a place rather than a town or city, but with a population around 40,000 the community is large, one of the major suburbs of west Phoenix. US 60 (
Grand Avenue
) cuts across the area, which is almost all residential; pleasant, modern housing estates liberally lined with palm trees and other desert plants. The southern section is centered on three golf courses, North, South and Sun City, while to the north are several more courses and country clubs, together with a few artificial lakes. Many of the streets in this area are built as a series of concentric circles, with shops or other community facilities at the center. The town is especially popular with retirees.
Sun City is bordered approximately by the New River and Loop 101 to the east and the Agua Fria River to the west, with open countryside not far beyond, either farmland or undeveloped desert; one nearby attraction is
Lake Pleasant
, 22 miles north.
Map of Hotels in Sun City, AZ

1.
Best Western Inn & Suites of Sun City
11201 Grand Avenue, Youngtown, AZ 85363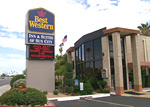 Serving Sun City, Surprise, Youngtown, El Mirage, Glendale and Peoria, the 96 room Best Western Inn of Sun City is located near 111th Avenue on the south side of Grand Avenue (US 60), the main highway though greater northwest Phoenix. This is a residential/commercial district, just east of the course of the Agua Fria River and near such attractions as the Sun City Country Club, Sun City Lakes and Pueblo El Mirage Country Club. Hotel highlights include a palm tree-lined outdoor pool & sundeck, a 24 hour business center, free full breakfast (served beside the pool in good weather), and microwaves/refrigerators in all guest accommodations.