Just 2 miles from the noise and traffic of Interstate 15 lies the
Kolob Canyons
region of
Zion National Park
, a quiet, colorful and scenic collection of red Navajo sandstone cliffs split by narrow ravines - the
Finger Canyons of the Kolob
, with none of the overcrowding problems that affect the main valley to the southeast. To drive the 40 miles between the two sections of the park takes at least an hour, which is one reason why most tourists miss this little-known northern area, and stick to the frequently travelled west-east route, part of the
Grand Circle
of the Southwest through Las Vegas, Zion, Bryce Canyon and beyond.
The Kolob Canyons have their own interstate exit, at mile 40, beside which is a small visitor center (where the entrance fees are collected, and drinking water is available) at the start of a five mile scenic drive, with plenty of pull-outs, that initially follows a valley alongside
Taylor Creek
, a pleasant stream that flows year-round. There are no other facilities hereabouts, and no campground; the nearest official sites are to the south, beyond Toquerville, while for free primitive camping the closest location is probably along FR 029 in the Dixie National Forest northwest of New Harmony, about 9 miles away.
Map of the Kolob Canyons Region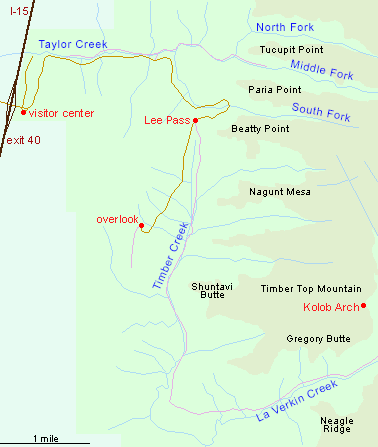 Taylor Creek
The first and most popular of the three maintained trails in the Kolob Canyons region follows the
Middle Fork of Taylor Creek
to
Double Arch Alcove
, a large overhang in the canyon walls, extravagantly colored by streaks of mineral-laden water, and sheltering hanging gardens of wildflowers. A lesser path forks off one mile along the trail, beside an old cabin, and curves round the end of a high ridge to the
North Fork of Taylor Creek
, a somewhat smaller drainage, not often visited, but offering similar red rock scenery. Two miles further up the scenic drive, the road curves around another side canyon, formed by the
South Fork of Taylor Creek
- a particularly beautiful gorge with sheer red cliffs towering above green trees and bushes on the valley floor, through which a small stream flows. Most people driving past seems to stop and take a photograph, but few venture up into the canyon; there is no official trail but a faint path follows close to the stream, and this makes for a very peaceful walk lasting a couple of hours.
Other Trails
The other main path in the Kolob Canyons area is the
La Verkin Creek Trail
, starting at a high point along the road (Lee Pass); this heads south down the shallow ravine of
Timber Creek
then curves eastwards, round the far end of the Kolob cliffs and up a larger drainage, eventually reaching a gate at the edge of the park, adjoining private land. The usual destination, about half way along, is
Kolob Arch
, amongst the largest in the world, and reached after a moderately strenuous, one-way hike of 6.5 miles, so if visiting the arch some people will need to camp for at one night en route. Another path (the Hop Valley Trail) connects with the
Kolob Reservoir Road
; both form part of the 47 mile Zion Traverse. The scenic drive ends 1.5 miles beyond the La Verkin trailhead at an elevated parking area facing the huge red cliffs at the edge of the Upper Kolob Plateau - a particularly impressive sight, especially at sunset. The 0.6 mile, mostly level
Timber Creek Overlook Trail
leads south along the crest of a ridge to an alternative viewpoint.