1.
Hampton Inn & Suites Logan
207 N Main Street, Logan, UT 84321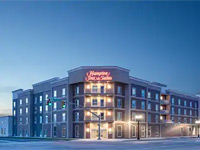 Hampton Inn & Suites Logan opened spring 2019; a downtown hotel at the junction of North Main Street with 200 N (Hwy 30), beside the main post office and Cache Valley visitor center, and a short walk from many shops, restaurants and other businesses. All guest rooms feature a refrigerator, coffee maker, microwave and 46 inch TV, while the suites have a sofa bed and extra living space. Hot breakfast is complimentary, and a 24 shop sells drinks, snacks and cookable meals. The fitness and business centers are also open 24 hours. The hotel has an indoor pool and meeting space.

2.
TownePlace Suites Logan
488 S Main Street, Logan, UT 84321
Open early 2021, the TownePlace Suites is the second Marriott hotel in Logan, one block from the other (SpringHill Suites) - on the east side of Main Street, US 89, on the north bank of the Logan River, part of a development that also includes several shops and a pedestrian bridge over the river. There are plenty of restaurants close by, and several large stores. The extended stay property contains 112 suites; studios with kitchenette, and one or two bedroom with full kitchen. Free breakfast is provided. A pool, hot tub, fitness center and 300 square foot meeting room are the other main amenities.

3.
SpringHill Suites Logan
625 S Riverwoods Parkway, Logan, UT 84321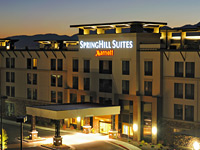 Accommodation at the SpringHill Suites by Marriott hotel in Logan comprises 115 spacious studio suites, all equipped with free internet access, a refrigerator, microwave, executive work desk and sofa bed. Rooms look out over a mixed residential/rural neighborhood close to the Logan River on the south side of town, just off Main St (US 89/91) and 3 miles from Utah State University. The hotel has a restaurant on site, open for breakfast, lunch & dinner, plus other amenities of a hot tub, fitness center, business center and guest laundry. The adjacent Riverwoods Conference Center has 30,000 sq ft of event space, with a largest single meeting room capacity of 1,500.

4.
Holiday Inn Express Hotel & Suites Logan
2235 N Main Street, Logan, UT 84341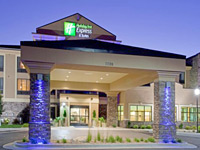 Holiday Inn Express in Logan is situated along Main Street (US 91) - a road lined with a few shops & restaurants though this is a mostly rural neighborhood; the hotel's west-facing rooms have views over peaceful farmland, while those on the other side look out towards the high peaks of the Wasatch Range. Accommodation comprises 75 spacious, well furnished rooms & suites, each containing a microwave and refrigerator; the other main amenities are free breakfast buffet (including hot items like bacon & eggs), an indoor pool, hot tub, fitness center, free internet access and guest laundry. The center of Logan is 2.3 miles south, around the junction with US 89 from Bear Lake.

5.
SureStay Collection By Best Western Baugh Motel
153 S Main Street, Logan, UT 84321-5204
Best Western Baugh Motel is situated just south of the city center on the west side of US 89, so convenient for any location in the downtown area. The pet friendly hotel has 76 rooms on two floors, in several blocks arranged around a courtyard/parking area and an outdoor pool/hot tub, enclosed by trees and lawns, and backing on to the bushy banks of the Little Logan River. Guests are treated to free full breakfast each morning, while lunch & dinner can be purchased from an adjacent restaurant. Amenities in all or some of the rooms include a microwave, refrigerator, sofa bed, hot tub bath, mini-bar and balcony.

6.
Best Western Weston Inn
250 N Main Street, Logan, UT 84321-3915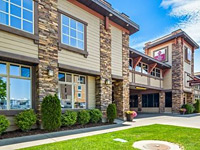 The alliterative Best Western Weston Inn has a central location in Logan along Main Street, close to all necessary facilities, including the local library directly opposite. The 89-room hotel occupies an elegant, stone-fronted, old-style building with a 24 hour front desk, large indoor pool, well equipped fitness room and microwaves/refrigerators in all rooms. Complimentary full breakfast is provided, and other dining is available from many restaurants within half a mile. All guest accommodations contain a microwave and refrigerator.

7.
Comfort Inn Logan
1665 N Main Street, Logan, UT 84341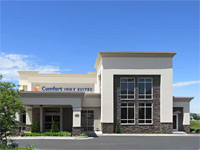 Although located along busy Main Street (US 91), Comfort Inn Logan has a peaceful setting partly surrounded by fields, 400 feet from the road and shielded from it by two adjacent buildings. The hotel is 0.3 miles from a shopping center, with Walmart and at least a dozen restaurants. People here to work can take advantage of a business center, boardroom and 1,050 sq ft meeting room, while all guests are treated to free hot breakfast each morning. Accommodations include several studio suites with living area and sofa bed.

8.
Quality Inn Logan
2002 S Hwy 89/9, Logan, UT 84321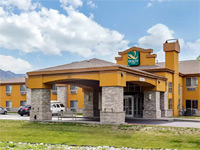 Quality Inn Logan has a quiet setting in the countryside along US 89/91 on the south side of the city - 3.5 miles from the center and one mile from Logan River Golf Course. The nearest restaurants and shops are also about a mile away, though free continental breakfast is provided by the hotel. There are 60 rooms at the Quality Inn, all with microwave/refrigerator and free internet access; also available are a pool (indoor), hot tub, laundry, exercise room and basic business services.

9.
Days Inn & Suites by Wyndham Logan
447 N Main Street, Logan, UT 84321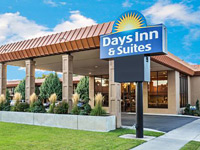 Logan's Days Inn motel is located just half a block north of the main road junction in the city center (US 89/91; Main Street). All kinds of shops, restaurants and many other facilities are within a mile or two, and the hotel is also close to Utah State University (1 mile east) and Logan-Cache Airport (2 miles north). The inn has an indoor heated pool/whirlpool, exercise room and meeting space. Internet access and continental breakfast are both provided free of charge. Some of the 83 rooms contain a refrigerator and a whirlpool bath.

10.
Super 8 by Wyndham Logan
865 S Main Street, Logan, UT 84321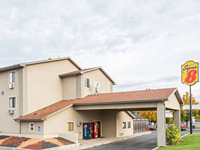 Logan River Golf Course is just down the street from the Super 8 motel, which is also within walking distance of Walmart, Logan Fairgrounds, and a selection of restaurants. Leisure facilities are an indoor pool and hot tub, while complimentary amenities are the usual wi-fi and continental breakfast. The three floor building is of modern construction, the rooms accessed by interior corridors, and the place is surrounded by a good-sized parking lot.