1.
Hampton Inn Kanab
98 S 100 E, Kanab, UT 84741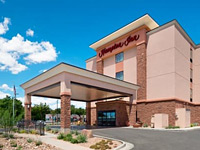 East facing guest rooms at Hampton Inn Kanab have good views of the Vermilion Cliffs which rise steeply just half a mile way, and the hotel is ideally positioned for people exploring the many attractions of this part of northern Arizona and south Utah. Open summer 2016, the hotel is built along the main road through the city (US 89), as it bends from east-west to north-south. Within one block are various restaurants and shops, and the local post office. Free hot breakfast is provided, and a market sells drinks & snacks, 24 hours a day. The fitness and business centers are also open 24 hours. The hotel has an outdoor pool at the front.

2.
Holiday Inn Express Hotel & Suites Kanab
217 S 100 East, Kanab, UT 84741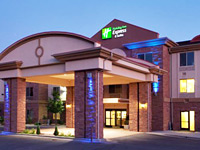 Kanab's Holiday Inn Express is regarded as one of the top hotels in town on account of the very clean & comfortable rooms, the reasonable rates, the good quality free buffet breakfast (including hot items), and the central location - one block from the US 89/Alt US 89 junction, a short walk from many restaurants and small shops. The 80 rooms have bold, modern decor, and feature a 2-person whirlpool bath; also available are several suites that have additional amenities like a refrigerator and microwave. The hotel provides all the other expected facilities: a pool & hot tub, fitness center, guest laundry, free internet access, a basic business center and a meeting room. Pets are welcome for a small fee.

3.
Best Western Red Hills
125 W Center Street, Kanab, UT 84741-3417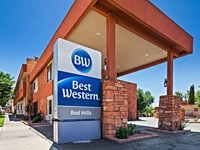 The 75 room, two story Best Western hotel in Kanab is located right in the middle of town along Center Street (US 89), and has nice views north over the red sandstone rocks of the Vermilion Cliffs. Various shops, restaurants and other amenities in downtown Kanab are within walking distance of the hotel, which offers free hot breakfast, free wi-fi, an outdoor pool/hot tub, guest laundry and plenty of parking. Some rooms have a private balcony; all contain a refrigerator. Best Western Red Hills is rated AAA 3-diamond.

4.
Comfort Suites Kanab
150 W Center Street, Kanab, UT 84741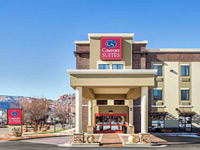 A new Comfort Suites hotel opened late 2015 in Kabab, along Center Street - an elegant, three floor property of 82 oversized guest rooms, all equipped with a microwave, work desk, sofa bed and refrigerator. There are plenty of restaurants and shops within walking distance, and also open countryside, along Kanab Creek a short distance west. Wi-fi and daily hot breakfast are complimentary, while other amenities are an outdoor pool/whirlpool, fitness & business centers, and coin-operatred laundry.

5.
Quality Inn Kanab
815 East Hwy 89, Kanab, UT 84741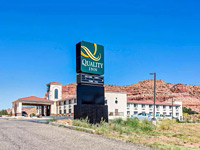 Quality Inn Kanab sits at the foothills of the pink/red Vermilion Cliffs, on the north side of US 89 in a rural setting close to the east edge of town. South-facing rooms have equally scenic views, across to the Shinarump Cliffs over the border with Arizona, which is just 3 miles away. Adjacent to the hotel is the 9 hole Coral Cliffs Golf Course, while the center of Kanab is less then a mile to the west. The 3 story, interior-corridor Comfort Inn has an outdoor pool, hot tub, guest laundry, and a cafe where the free continental breakfast is served. The 71 rooms are large and modern, and some have a refrigerator, microwave & whirlpool bath.

6.
Days Inn & Suites by Wyndham Kanab
296 W 100 North, Kanab, UT 84741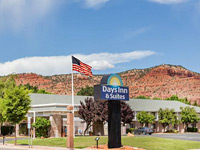 Towards the north side of Kanab, the Days Inn is a small, cozy, three floor, interior corridor property offering free continental breakfast, free wi-fi, an outdoor pool/whirlpool and a meeting room. Most of the restaurants and shops in town are within walking distance (less than a mile); closest is just across the street. Kanab Creek flows by to the west and there are several trails nearby, leading into the hills overlooking the town.

7.
Travelodge by Wyndham Kanab
386 East 300 S, Kanab, UT 84741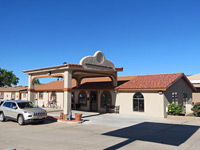 Free continental breakfast, free wi-fi and guest laundry are the main amenities of Travelodge Kanab, a budget-priced motel along the main road through town, US 89. All rooms are on the ground floor, entered directly from the central parking lot, and most are set quite far back from the highway. Within easy walking distance are a supermarket and several restaurants.

8.
Rodeway Inn Kanab
70 S 200 West, Kanab, UT 84741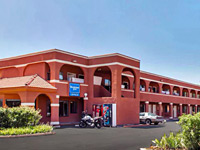 Rodeway Inn Kanab provides some of the cheaper lodging in town, still with all the necessary amenities: free continental breakfast, free internet access, an outdoor pool/hot tub and a copy/fax service. Unlike most motels in Kanab the inn lies just off the main road so its 30 exterior corridor rooms are generally quiet, albeit rather basic. The hotel backs on to Kanab Creek and is a short walk from several restaurants.