1.
Hampton Inn Van Horn
1921 SW Frontage Road, Van Horn, TX 79855
Recently built Hampton Inn Van Horn stands alone in an empty area in the countryside on the west edge of town, facing I-10 exit 138 though looking out over undeveloped land in other directions. The nearest restaurants are half a mile away along Broadway Street, while the town center is another mile to the east. The modern, well managed hotel has 59 comfortable rooms with a choice of bedding configurations, a fitness room & swimming pool, a small business center, a coin-operated laundry and a dining area for the free continental breakfast. Van Horn is one of the closest cities to both the
Carlsbad Caverns
(103 miles) and
Guadalupe Mountains
(69 miles) national parks.

2.
Holiday Inn Express & Suites Van Horn
1805 SE Frontage Road, Van Horn, TX 79855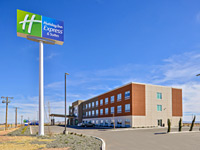 The three floor, 74 room/suite Holiday Inn Express is a late 2016 addition to the hotel choices in Van Horn, located, like most other properties, on the west side of town beside I-10 exit 138 (business route 10), close to a few gas stations and fast food restaurants. Free buffet breakfast is available at the hotel, including a selection of hot items, while the other amenities are the usual pool, fitness center, business center and coin-operated laundry. More area facilities can be found in the city center, one mile east, around the intersection with US 90 from Marfa.

3.
Quality Inn Van Horn
1905 SW Frontage Road, Van Horn, TX 79855
The Quality Inn is almost the westernmost hotel in Van Horn,located just southwest of exit 138 of I-10, next to Golf Course Road and 1.5 miles from the town center. Southwest facing rooms overlook the hotel's outdoor pool and have uninterrupted views over the desert - there is nothing at all between here and the Rio Grande. Free hot breakfast is offered, and for other dining there is a selection of restaurants on the other side of the interstate, along Broadway Street. Other facilities include an outdoor pool, free wi-fi, guest laundry and basic business services.

4.
Days Inn by Wyndham Van Horn
600 East Broadway Street, Van Horn, TX 79855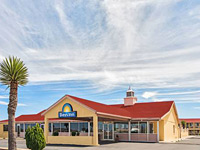 The Days Inn provides the only chain lodging by the easternmost of Van Horn's three I-10 exits, in a lightly developed neighborhood close to one restaurant and a gas station. The accommodation blocks are set back slightly from the main road, and arranged around three sides of the parking lot, which has the office building and an outdoor pool at the front. Other amenities are standard for a budget motel, comprising free continental breakfast, free wi-fi, a business center and a microwave/refrigerator in each guest room. Pets are welcome.

5.
Econo Lodge Van Horn
1601 W Broadway Street, Van Horn, TX 79855-0669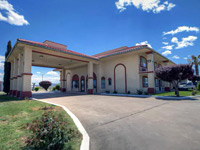 The Econo Lodge motel in Van Horn is located a mile west of the downtown area, along Broadway Boulevard; a basic but clean, comfortable and pet friendly establishment, offering free continental breakfast, free internet access and an outdoor pool. The exterior corridor 39 rooms are on two floors, face either east or west and are far enough from I-10 to allow for a quiet nights sleep. There are several restaurants within a couple of blocks along the main road.

6.
Super 8 by Wyndham Van Horn
1807 E Service Road, Van Horn, TX 79855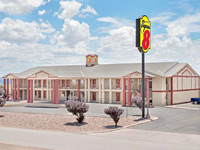 Interstate 10 runs past Super 8 Van Horn on the north side (access is from the adjacent exit 135), but south-facing rooms have uninterrupted views towards desert plains and mountains; there is no more development between here and Mexico. The local golf course is nearby and two restaurants are within walking distance. The two story motel has exterior corridors, and a limited range of amenities: free continental breakfast (with eight items), free wi-fi, guest laundry and a refrigerator/microwave in all accommodations.
7.
Motel 6 Van Horn
1805 W Broadway Street, Van Horn, TX 79855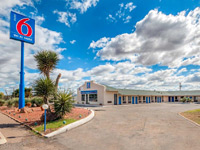 Right at the west edge of Van Horn, the Motel 6 provides budget lodging in a T-shaped, single floor, exterior corridor building beside interstate 10 (exit 138). Rooms are clean and quite modern, all equipped with free internet access and extended cable TV; some have a microwave and mini refrigerator. Other amenities are an outdoor pool, a business center and free coffee. There are two restaurants adjacent, and also a small supermarket.