1.
Hampton Inn & Suites Del Rio
2219 Bedell Avenue, Del Rio, TX 78840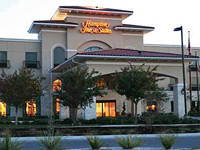 Several large stores are within walking distance of Hampton Inn Del Rio, including Wal-Mart and a supermarket, yet the neighborhood is quiet and peaceful; the inn sits along a side road one block from US 90/277/377, and undeveloped countryside starts just to the east. Seven miles north, the highway reaches the shores of
Lake Amistad
, while the Mexican border is a similar distance south. The 65 room Hampton Inn provides typically modern, well managed accommodation with all the expected amenities - a convenience store, business center & meeting space, fitness center & pool, and complimentary hot breakfast.

2.
Holiday Inn Express Hotel & Suites Del Rio
2410 Bedell Avenue, Del Rio, TX 78840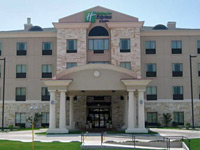 A Wal-Mart store, a supermarket and a good selection of restaurants are all just a short walk away from the Holiday Inn Express hotel in Del Rio, complementing its own amenities which include free hot breakfast, free wi-fi, an outdoor pool, fitness center and a microwave/refrigerator in each of the 93 oversized rooms. The interior corridor property is located on the north side of town one block from the main road (US 90/277/377) - 2 miles from the city center and 7 miles from Lake Amistad. As an alternative to in-room cooking, the hotel provides a free restaurant delivery service.

3.
Ramada by Wyndham Del Rio
2101 Veterans Boulevard, Del Rio, TX 78840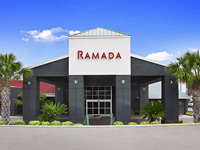 Ramada Del Rio is centered on an enclosed garden with tree-lined outdoor pool. Tall palms grow along the perimeter, and the place has a relaxing atmosphere. The hotel is of older construction, the rooms on two exterior corridor floors, but all are clean and spacious, and guests can take advantage of a wide range of amenities, including a restaurant/lounge. Other leisure facilities are an indoor pool, fitness center, three saunas and a running track, while a business center and 5,500 sq ft of meeting space is available for business travelers. A free shuttle is provided to Del Rio International Airport, 1.7 miles south.

4.
Best Western Inn of Del Rio
810 Veterans Boulevard, Del Rio, TX 78840-4064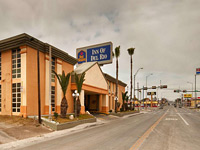 Along Veterans Boulevard (US 90/277/377), the two story Best Western Inn of Del Rio is situated a few blocks north of the downtown area but along the main highway into town, which is lined with many shops and restaurants. The old but regularly renovated hotel has 61 large, comfortable rooms facing either north, or south overlooking the carpark and outdoor pool. Continental breakfast and internet access are both free, and the property also has a guest laundry facility and copy/fax service.

5.
Quality Inn & Suites Del Rio
3616 Veterans Blvd, Del Rio, TX 78840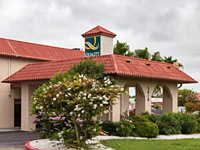 Choice Hotels are represented in Del Rio by the Quality Inn & Suites along Veterans Boulevard (US 90), on the north side of town just 5 miles from the many leisure opportunities of
Amistad National Recreation Area
. The surroundings are quite lightly developed, including a patch of woodland to the rear. The interior corridor inn has 2 floors and 59 north- or south-facing rooms, all featuring free internet access, ironing facilities and a coffee maker; some are equipped with a microwave & refrigerator, while the two room suites have separate sleeping/living areas. An outdoor pool and free hot breakfast are the other main amenities.

6.
Days Inn by Wyndham Del Rio
2005 Veterans Blvd, Del Rio, TX 78840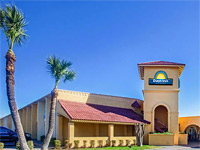 The Days Inn is part of the main commercial corridor in Del Rio, next to US 90 on the north side of town, within walking distance of shopping and dining, and the local post office. Guest rooms are on two floors of an interior corridor, Spanish-style building; those to the south overlook a secluded, tree-lined garden with bbq grills and outdoor pool. Continental breakfast is complimentary. The hotel also offers a fitness center and business facilities.
7.
Motel 6 Del Rio
2115 Veterans Blvd, Del Rio, TX 78840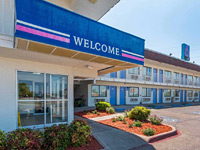 Like most hotels in Del Rio, TX, the Motel 6 sits along the main road through town (US 90/277) - part of a long line of shops, restaurants and other businesses. The building is quite old, with two floors and exterior corridors, but room rates are low and the place still has some amenities, of an outdoor pool and small garden area, wi-fi, laundry and free coffee. Pets are allowed. The Plaza del Sol Mall right next door offers a wide variety of dining, entertainment and shopping, including Bealls and JC Penney.