1.
Hampton Inn Eagle Pass
3301 E Main Street, Eagle Pass, TX 78852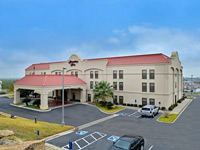 Hampton Inn Eagle Pass is the first hotel to welcome travelers from the east, arriving from San Antonio - the inn sits on the edge of town by the US 57 - US 277 intersection, 3 miles from the city center and the international border at Piedras Negras. The hotel is modern, comfortable and well managed, offering 65 one or two bed rooms, free hot breakfast buffet, a fitness room, outdoor pool, business center and meetings space. A good choice of restaurants can be found a few blocks west, around the junction with Veterans Boulevard.

2.
TownePlace Suites Eagle Pass
2033 N Veterans Boulevard, Eagle Pass, TX 78852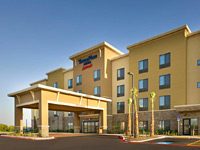 The first Marriott property in Eagle Pass opened summer 2012, one of several new hotels in this area of south Texas built partly to service the expanding oil and gas industry. The TownePlace Suites caters for extended stay travelers, or guests needing the extra facilities of a suite; accommodations are available in studio, one bed or two bed layouts, all including a full kitchen with dishwasher, refrigerator and stove. Food for cooking can be purchased from the on-site, 24 hour convenience store or from several nearby stores (Wal-Mart, HEB), half a mile southwest. Other amenities include free continental breakfast, a pool, fitness center and business center.

3.
Holiday Inn Express Hotel & Suites Eagle Pass
2007 N Veterans Boulevard, Eagle Pass, TX 78852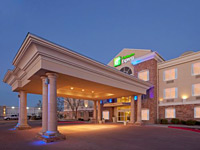 The Holiday Inn Express hotel in Eagle Pass is situated on the east side of US 277, overlooking undeveloped land to the rear, a location 2.5 miles from International Bridge and the Mexican border. The hotel has 66 rooms & suites on 3 floors, an outdoor pool, Jacuzzi, fitness center and golf driving range (adjacent, with complimentary access for guests). All rooms include a microwave and full refrigerator, in addition to the standard amenities. There are a few restaurants nearby, such as a Chinese, though most facilities in Eagle Pass are a mile or more away to the west. Free hot breakfast is provided by the hotel.

4.
Comfort Inn & Suites Eagle Pass
402 S Texas Drive, Eagle Pass, TX 78852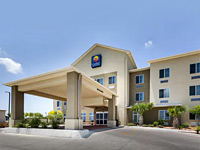 The Comfort Inn is a relatively recent addition to the accommodation choices in Eagle Pass, built in part to cater for workers at the nearby oil & gas fields. The hotel has a scenic location facing an artificial lake, along a quiet back road 600 feet south of Main Street (US 57/277), a short walk from dining and shopping including Wal-Mart and the stores of Mall de las Aguilas. Leisure facilities are the usual trio of an outdoor pool, whirlpool and fitness center, while for business, a meeting room and computer/office are available. Free hot breakfast is provided. All guest rooms feature a microwave, refrigerator & pillow top mattresses, while some have a sofa bed.

5.
Microtel Inn & Suites by Wyndham Eagle Pass
2352 El Indio Hwy, Eagle Pass, TX 78852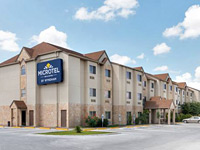 Microtel Inn Eagle Pass has a rather out-of-the-way location in a residential area, along Indio Highway (1021), shielded from the highway by another building and with the parking lot at the rear, well away from the road. The main amenities of the recently constructed (2012) property are free internet access, complimentary continental breakfast, guest laundry, an outdoor pool and whirlpool, plus facilities for business & meetings. There is one restaurant nearby and a much better selection one mile north, around Mall de las Aguilas.

6.
Econo Lodge Inn & Suites Eagle Pass
1923 N Veterans Blvd, Eagle Pass, TX 78852
The Econo Lodge motel is situated on the east side of the southern Texas border town of Eagle Pass, along Veterans Boulevard (TX 431/US 277), just north of the junction with Main Street (US 57). Mexico and the Rio Grande are 2 miles west. The hotel's 40 rooms are arranged in two exterior corridor blocks overlooking an outdoor pool ringed by mature palm trees. Free continental breakfast is served, including a few hot items as well as free coffee throughout the day. All rooms contain a refrigerator/microwave, while some have a sofa bed, and pool views.