Round or short-cylindrical stems, solitary or in clumps, up to 2 feet wide
Grassland and desert scrub, between 1,000 and 4,900 feet elevation, often on volcanic or limestone soils
Pale yellow, orange at the base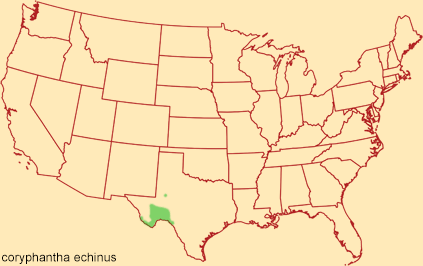 Distribution map for coryphantha echinus
The common name of coryphantha echinus, a Texas-only species, references its similarity to a sea-urchin, most evident when the stems are solitary; a perfect sphere, enveloped in an array of appressed and projecting spines. As it grows the plant can form sizable clumps of up to 50 stems, 2 feet or more across, with the spines largely obscuring the green stem surface. Stems become cylindrical with age, up to 5 inches long. The clumping form is more common around the Rio Grande; plants further north, around the Pecos River, are usually solitary.

Radial spines number between 15 and 25 per areole, central spines between one and four (occasionally more); both types are similar in length, up to 1 inch. Spines are pale grey or pale brown, darker at the tips. Young stems may lack central spines.

The short-lived flowers can appear any time between April and July, opening fully only during bright sunshine and sometimes wilting after just an hour or two. They are positioned near the apex of the stem, and are relatively large, 2 inches or more across. Tepals are bright, pale yellow, sometimes tinged red towards the base. Stamens have orange-yellow anthers and reddish filaments. Stigma lobes are white to pale yellow. Fruits are oily green pods, up to 1 inch in length.