The largest and most visited of the three sections of
John Day Fossil Beds National Monument
is the
Sheep Rock Unit
, occupying several miles of the upper John Day River valley. US 26 crosses the south end of the monument, and for 2 miles runs right next to the river through a deep, enclosed canyon (
Picture Gorge
). Highway 19 forks off and follows the river northwards, passing several trailheads, overlooks, the visitor center/museum and an old ranch house.
The valley at this point is quite wide, bordered by steeply sloping hillsides containing frequent outcrops of colorful rocks - deep red in a few places, like the badlands of the
Painted Hills Unit
, and bluish-grey in others. Many of the hills are topped by multiple layers of weathered black basalt, residues of ancient volcanic eruptions around 16 million years ago, and all the land is little vegetated, with trees found only along the river corridor.
Map of the Sheep Rock Unit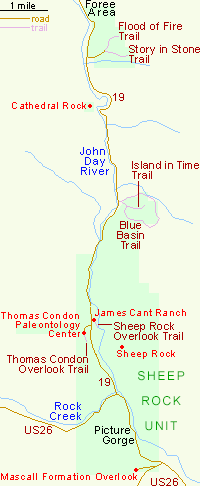 Ranch and Visitor Center
Driving north, the first site is
James Cant Ranch
, an elegant, three storey, white-painted wooded building, constructed in the early 20th century by Scottish immigrants James and Elizabeth Cant. The restored house now serves as the NPS headquarters and contains a small museum about the history of settlement in this remote, high desert area. Surrounding the ranch are extensive, well kept lawns, large trees, flowerbeds and various outbuildings including a large barn, open to visitors when the area is staffed. There is also a collection of old farm equipment, including wagons, plows and a hay stacker. Short paths lead to the river and to a viewpoint of
Sheep Rock
itself, a prominent summit rising above the east side of the valley, once home to a flock of big horn sheep. Opposite the ranch,
Thomas Condon Paleontology Center
contains a fossil museum, bookstore and park information center.
Geological Sites
A little way north, the road reaches
Blue Basin
, the main hiking area, centered on a branched ravine through heavily eroded blue badlands. A three mile
trail
climbs high above and circles the whole area, while a shorter path enters the lower end of the ravine, passing several in situ fossils. For the next few miles the road crosses private land, passing a prominent, multi-layered cliff face (
Cathedral Rock
), which causes the John Day River to bend by 180°, then enters a smaller, detached section of the national monument, the
Foree Area
. This has a picnic area and two very short trails to viewpoints of cliffs and badlands; after here, Hwy 19 stays beside the river for many more miles, encountering similar arid scenery, and eventually reaches the tiny town of
Fossil
, from where the
Clarno Unit
of the monument is 16 miles southwest.