1.
Holiday Inn Express Hotel & Suites Klamath Falls Central
2430 South Sixth Street, Klamath Falls, OR 97601
The recently opened Holiday Inn Express hotel in Klamath Falls occupies a handsome, four story building along Hwy 39 (6th Street) a little way south of downtown in the middle of one of the main shopping areas, within walking distance of many restaurants. This location is 40 miles from the premier natural attraction of south Oregon,
Crater Lake National Park
. Highlight of the 85 room hotel is the free breakfast featuring a selection of hot items; also available are an indoor pool, whirlpool, fitness center, free internet access, guest laundry, business center and a 12 person boardroom.

2.
Best Western Plus Olympic Inn
2627 S 6th Street, Klamath Falls, OR 97603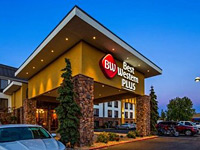 The Best Western Plus welcomes guests into an atmospheric wood paneled lobby decorated with local artwork and taxidermic exhibits, part of a newly renovated building along Hwy 39, opposite a supermarket and close to a wide range of restaurants. Free hot breakfast is provided each morning, plus a free snack (soup, salad, cookies) in the evening, and the hotel offers all the usual amenities for meetings, business and leisure, including an outdoor pool. Rooms are extra large, well furnished and equipped with microwave/refrigerator; there are also several types of suite to choose from. The hotel has an electric vehicle charge station.

3.
Fairfield Inn & Suites Klamath Falls
460 Timbermill Drive, Klamath Falls, OR 97601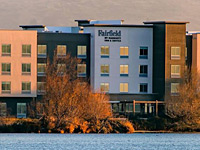 Open fall 2020, the 92 room Fairfield Inn, the first Marriott hotel in Klamath Falls, has a spectacular location right on the edge of Lake Ewauna; part of the Timber Mill Shores development, on land once the site of a timber mill and railway sidings. Walking trails lead to the city center a few blocks north, with many shops and bars in the vicinity. Hotel features include a lakeshore sun deck/patio with fire pit, a fitness center, and a dining room for the free hot breakfast. Select accommodations feature a kitchenette.

4.
Comfort Inn & Suites Klamath Falls
2500 South Sixth Street, Klamath Falls, OR 97601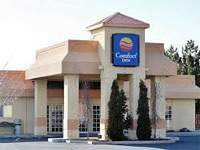 Like most hotels in Klamath Falls, the Comfort Inn is situated a mile southeast of the city center along Hwy 39 from Alturas, CA, in a commercial area of many restaurants, shops and other businesses, within an hour's drive of two NPS sites (
Crater Lake
,
Lava Beds
). The inn provides comfortable, affordable lodging, in a relatively quiet location, set back around 400 feet from the main road. Amenities are free hot breakfast, an indoor pool/whirlpool, basic business services and a refrigerator/microwave in each room. Some accommodations have a wet bar and hot tub bath.

5.
Quality Inn Klamath Falls
4061 6th Street, Klamath Falls, OR 97603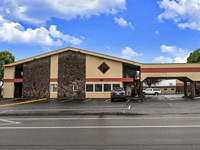 An indoor pool, free wi-fi, free hot breakfast and a refrigerator/microwave in all accommodations are the principal amenities of the pet friendly Quality Inn Klamath Falls, a two-floor, exterior corridor property on the southeast side of the city along Hwy 39 (6th Street), next to a canal. Rooms are in two blocks, separated by the central, fenced parking lot. Sites within walking distance include the Klamath County Fairgrounds, Kiger Stadium, a small shopping center and several restaurants.

6.
Microtel Inn & Suites by Wyndham Klamath Falls
2716 Dakota Court, Klamath Falls, OR 97603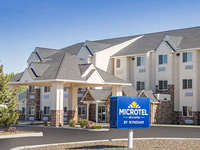 Microtel Inn Klamath Falls is an all suite hotel, catering for extended stay guests or those needing extra space and facilities; the stylish, modern rooms feature luxurious bedding, granite counter tops, a separate living area, free internet access and a wet bar (sink, microwave, refrigerator); a few have a hot tub bath. Rooms look out over a quiet neighborhood - the hotel sits at the end of a side street near the south edge of town, half way (one mile) between highways 140 and 99, yet there are plenty of restaurants a short walk away, and shops including Wal-Mart. Deluxe continental breakfast and a local area shuttle are both complimentary, while other amenities are a divided indoor/outdoor pool, a business center and meetings space.

7.
Days Inn by Wyndham Klamath Falls
3612 South Sixth Street, Klamath Falls, OR 97603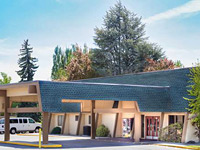 Days Inn Klamath Falls is located in the Altamont district along 6th Street, 2 miles southeast of the city center, opposite John Hancock Event Center and beside a group of shops & restaurants - a generally quiet setting, especially since the accommodation blocks are set back a little from the main road. The rear of the motel borders the OC&E Woods Line State Trail, a 105 mile route along an old railroad bed. The above average amenities include free wi-fi, free continental breakfast, an outdoor pool, hot tub, meeting space and free airport transportation.

8.
Travelodge by Wyndham Klamath Falls
75 Main Street, Klamath Falls, OR 97601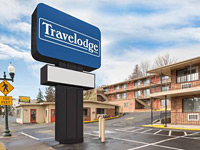 Budget-priced lodging is provided in Klamath Falls by the Travelodge, a 49 room, exterior corridor motel along Main Street (US 97) in the downtown area. The property is built on a slight hill, high enough for some rooms to have nice views over Lake Ewauna to the south. Amenities are limited - just basic free continental breakfast, a small business center, and a microwave/refrigerator in all rooms, but rates are low and the location is easy to reach, and within walking distance of dining & shopping.

9.
Super 8 by Wyndham Klamath Falls
3805 Hwy 97 N, Klamath Falls, OR 97601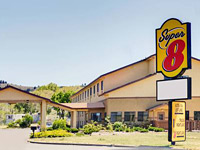 Rooms at Super 8 Klamath Falls have views of grassy hills in most directions; the motel is situated at the edge of the countryside 2.5 miles north of the city center along US 97, beside a truck stop and restaurant. Nearby locations (within one mile) include Oregon Institute of Technology, Sky Lakes Medical Center and Harbor Links Golf Course, on the shore of Upper Klamath Lake. Some accommodations feature a microwave and refrigerator. Free deluxe continental breakfast is the main amenity; there is no pool.
10.
Motel 6 Klamath Falls
5136 South 6th Street, Klamath Falls, OR 97603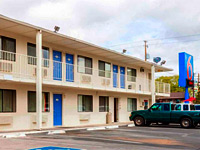 The Motel 6 has an easterly location in Klamath Falls, along Hwy 39 (140) from Lakeview, and is within walking distance of various restaurants and shops including Albertson's supermarket. Rooms are contained within an old-style, two floor, exterior corridor building surrounded on three sides by the parking lot, and with an outdoor pool at the front, overlooked by the main road. Wi-fi and refrigerator/microwave are available, for a small fee.