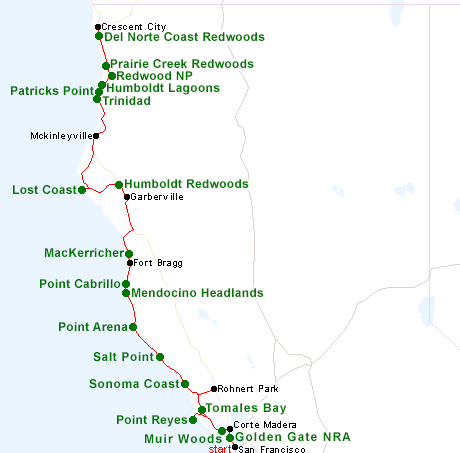 See also the
highlights of the north coast
Day 1 - San Francisco to Corte Madera, 25 miles:
At least one day can be spent visiting some of the many sites that make up
Golden Gate National Recreation Area
in and around San Francisco, such as Alcatraz Island, the Presidio, historic buildings and city beaches, all on the south side of the Golden Gate Bridge, and the wilder, largely undeveloped coastline on the north side (Marin Peninsula), where highlights include Point Bonita Lighthouse and Rodeo Beach. The night is spent in the nearby town of Corte Madera.
Day 2 - Corte Madera to Rohnert Park, 100 miles:
A brief drive back south, through Mill Valley, soon reaches
Muir Woods National Monument
, the most popular and accessible of the coastal redwood forests around San Francisco. The central grove, with the largest trees, can be seen in just an hour. From here, the road soon meets the famous coastal highway CA 1, which is followed for most of the reminder of the tour. The next attraction, a short distance north, is
Point Reyes National Seashore
, which features miles of wind-swept beaches, cliffs and eroded rocks, plus an extensive network of trails, many across the hilly interior. The northeast section of the peninsula is bordered by
Tomales Bay
, a scenic narrow inlet along the course of the San Andreas Fault.
Day 3 - Rohnert Park to Fort Bragg, 131 miles:
Once returning to CA 1 from Rohnert Park, all of the third day is spent right beside the Pacific, starting with
Sonoma Coast State Park
, which encloses a succession of beaches, coves, grassy bluffs and vertical cliffs, stretching for 15 miles between Bodega Bay and Jenner. Further north, as the coastline starts to become wilder and less visited, the highway reaches
Salt Point State Park
. This has small bays separated by longer stretches of sandstone cliffs and reefs, some eroded into amazingly intricate shapes. More sedimentary formations can be seen 30 miles north at
Point Arena
, also the site of a historic lighthouse; other preserves in the area are
Mendocino Headlands
and
Point Cabrillo Light Station
.
Day 4 - Fort Bragg to Garberville, 100 miles:
Adjoining Fort Bragg to the north,
MacKerricher State Park
contains a great variety of coastal landscapes including forest, wetlands, sand dunes, beaches, tidepools and cliffs, with plentiful marine wildlife. Beyond here, CA 1 is soon forced inland as the coast becomes cliff-bound and inaccessible, and after joining US 101 the highway enters the second largest collection of giant redwood trees in the state, part of
Humboldt Redwoods State Park
; this extensive preserve has a selection of scenic drives, viewpoints and trails. The nearest hotels are a short distance south at Garberville.
Day 5 - Garberville to McKinleyville, 132 miles:
After heading back into
Humboldt Redwoods State Park
, the coastline is reached once more by taking the narrow, winding Mattole Road which climbs over a ridge and enters largely treeless terrain on the far side, eventually reaching the Pacific at Mattole Beach, one of only three such routes to the ocean in a 100 mile section of the shoreline known as the
Lost Coast
. Hiking south along the beach passes much spectacular scenery and a few historic relics. Mattole Road continues north, passing right along the coast for a few miles - still completely undeveloped - before crossing another range of steep hills and descending back to civilization along US 101.
Day 6 - McKinleyville, 80 miles:
North of McKinleyville, US 101 passes three sites of interest:
Trinidad State Beach
, featuring a pretty beach with eroded rocks, a wave-cut arch and small islands just offshore, the developed peninsula in
Patricks Point State Park
, and then
Humboldt Lagoons
, a group of four coastal lagoons bordered by several miles of sandy beaches. On the far side, the highway enters the southern end of
Redwood National and State Parks
; highlights in this region include Bald Hills Road to
Lady Bird Johnson Grove
, and the road to Gold Bluffs Beach in
Prairie Creek Redwoods State Park
.
Day 7 - McKinleyville to Crescent City, 80 miles:
The final day is spent in the northern section of the redwood parks, driving along the Newton B Drury Scenic Parkway in
Prairie Creek Redwoods State Park
and hiking to such places as
Hidden Beach
and
Damnation Creek Beach
, this latter within
Del Norte Coast Redwoods State Park
. The coastal redwood forests end just south Crescent City, beyond which the coastline becomes temporarily flat and sandy.