1.
The Ritz Carlton Club, Vail
728 W Lionshead Circle, Vail, CO 81657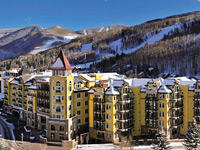 The Ritz Carlton is one of the most upscale hotels in Vail; a Bavarian-style, full service property within walking distance of the ski center - on the west side of Lionshead Village, close to Interstate 70, with spectacular views of steep mountain slopes on all sides. There are plenty of bars, restaurants and art galleries in the vicinity. Accommodations are residences, designed for longer stays, with two, three or four bedrooms, ranging in floorspace from 1,583 sq ft to 2,500 sq ft, and catering for up to ten guests; all have a full kitchen and private balcony. The Lobby Lounge serves snacks, meals and drinks in relaxing surroundings, while other amenities include a fitness center, spa, outdoor pool, hot tub, fire pit, and heated underground parking garage.
2.
Marriott Vail Mountain Resort & Spa
715 West Lionshead Circle, Vail, CO 81657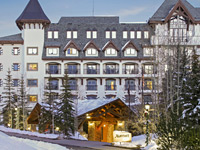 Beautiful, quiet, welcoming and fully featured, Marriott's Vail Mountain Resort provides every conceivable facility and top class customer service, albeit with rather high room rates. The building resembles a Swiss chateau, featuring extensive use of wood on the inside, and turrets, whitewashed walls & fine mountain views on the outside - the hotel sits right by the edge of the hills at the foot of the ski slopes, just 500 feet from the Eagle Bahn Gondola. Downtown Vail, around I-70 exit 176 and the Crossroads Shopping Center, is one mile east. Highlights of the 7 floor, 344 room property (which includes several private condominiums of up to 3 bedrooms) are the Southwestern-style Ocotillo Restaurant, a lounge/bar, the Golden Leaf Spa, two heated swimming pools, a modern fitness center and 21,000 sq ft of event space (both outdoor & indoor).

3.
DoubleTree by Hilton Vail
2211 N Frontage Road, Vail, CO 81657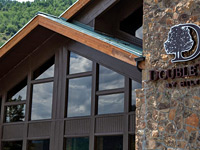 Built in the style of a grand Alpine lodge, the Doubletree hotel in Vail offers a high standard of accommodation and many amenities. There are 101 well presented rooms & condominium suites, all containing microwave/refrigerator, the latter with a full kitchen, and most having mountain views. Three separate restaurants provide food for all tastes, while drinks are available from the lounge/bar in the fireplace lobby. Hiking trails into the hills begin just behind the hotel, and a free shuttle to Vail ski lodge is operated in the winter, though on-site recreation facilities are also good - facilities include a pool (outdoor), fitness center, hot tub, sauna and steam room. The Doubletree opened summer 2017, and is located next to West Vail Mall on the northern I-70 frontage road, 2.5 miles west of Vail town center.
4.
Marriott's StreamSide Birch at Vail
2284 Frontage Road West, Vail, CO 81657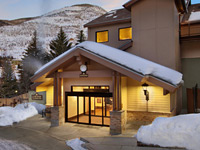 Marriott manage three adjacent timeshare/resort properties on the southwest side of Vail, just off I-70 at exit 173, separated from the interstate by a stream (Gore Creek) and backing onto the wooded lower slopes of Vail Mountain. All offer similar accommodation, and Marriott's StreamSide Birch is typical, with a selection of two bed, one bed or studio suites, all containing a full kitchen and separate dining area. On site leisure facilities include an indoor/outdoor pool, games room, sports court, childrens' playground and fitness center. A free shuttle is operated to downtown Vail and the Lionshead ski center, both about 2.5 miles east. There is no restaurant at the resorts but plenty within walking distance on the far side of the interstate, and a delivery service is available.
5.
Marriott's StreamSide Douglas at Vail

2284 Frontage Road West, Vail, CO 81657
6.
Marriott's StreamSide Evergreen at Vail

2284 Frontage Road West, Vail, CO 81657