1.
Residence Inn Breckenridge
600 S Ridge Street, Breckenridge, CO 80424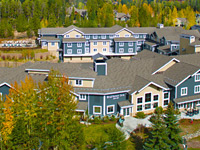 Newly constructed in 2016, Residence Inn Breckenridge provides high quality, all-suite/extended stay lodging, with a central location - along Hwy 9 (Main Street), an easy walk from all the restaurants, bars, shops and other attractions in the downtown area. The Peak 9 ski base area is a quarter of a mile away. The hotel has 129 suites (two bedroom, one bedroom, studio), and two meeting rooms; complimentary amenities include wi-fi, hot breakfast, weekday evening receptions and a grocery delivery service. Other features are a lobby bar, fitness room, outdoor pool, hearth room and ski/cycle storage.
2.
Marriott's Mountain Valley Lodge at Breckenridge
655 Columbine Drive, Breckenridge, CO 80424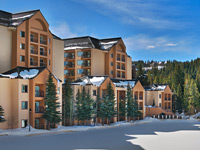 Just off Main Street (Hwy 9) near the center of Breckenridge, Marriott's Mountain Valley Lodge contains 111 elegant, well furnished villas in studio, one bed, or two bed configurations, all including a full kitchen, and most with a private balcony looking out over a small lake towards the steep, wooded hillsides beyond - location of the Peak 9 ski area. The hotel is self-catering; there is no restaurant or bar on site, but everywhere in the town center is within a mile so there are many dining outlets a short walk away. A pool, hot tub and fitness center are the main leisure amenities. The hotel is aimed mostly towards long stay guests but caters for short visits as well.

3.
DoubleTree by Hilton Hotel Breckenridge
550 Village Road, Breckenridge, CO 80424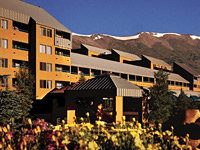 The full service DoubleTree by Hilton is one of several elegant hotels in a valley on the southwest side of Breckonridge, still within walking distance of shopping & dining along Main Street, but located in a quiet, peaceful area at the foot of Peak 9 of the ski resort; the chair lift is also close by. All rooms have beautiful mountain views, and are very spacious, equipped with a wet bar, refrigerator and work desk. Guests enter through a welcoming fireplace lobby, which leads to such facilities as a sports rental shop, all day restaurant/bar (9600 Grill), indoor pool and several meeting/event rooms. There is also an outdoor pool, plus hot tub, and a fitness center. The hotel operates a complimentary shuttle to nearby locations.

4.
Valdoro Mountain Lodge by Hilton
500 Village Road, Breckenridge, CO 80424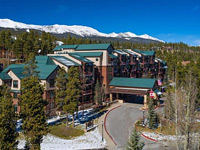 Hilton's Valdoro Mountain Lodge features spacious, all-suite accommodations (studio, one bed or two bed), all with a full kitchen, fireplace, private balcony, and good views across town to the surrounding mountains. The hotel sits just off Hwy 9 (west side) at the base of Peak 9, close to all the skiing facilities, and within walking distance of the city center, which is served by complimentary shuttle. Ski and bike rentals are available on-site. Leisure facilities are indoor and outdoor whirlpools, a fitness center and sauna. Freshly cooked breakfast is prepared each morning, while the Valdoro Lounge provides dinner & evening drinks.