1.
Courtyard Pueblo
110 W 1st Street, Pueblo, CO 81003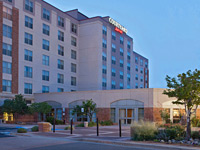 One of relatively few hotels in Pueblo actually in the town center, the Courtyard is an older property but was fully renovated in 2013, and provides high quality accommodation, excellent customer service and full service facilities. The 7 story building has 163 rooms, all decorated in a bright, modern style; the top floor concierge level rooms have enhanced amenities. For dining the on-site restaurant/bar (Charlie B's) is open all day for breakfast, lunch, dinner & room service, while for relaxation the Courtyard offers the usual indoor pool, hot tub and fitness center. The adjacent Pueblo Convention Center has 12 meeting rooms totaling nearly 24,000 sq ft of event space. The hotel is located one block west of I-25 exit 98B along W 1st St - a mile from downtown Pueblo, on the far side of the Arkansas River.
2.
Hampton Inn & Suites Pueblo North
4790 Eagleridge Circle, Pueblo, CO 81008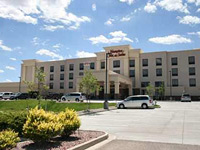 The northern Hampton Inn of Pueblo is part of a group of nearly a dozen hotels near I-25 exit 102 (Eagleridge Boulevard), 5 miles north of the city center and 40 miles from Colorado Springs. The well reviewed hotel occupies quite a large building of 100 rooms, along a side street set back from the main road, surrounded by a good sized parking area. There are many restaurants within a quarter of a mile. Guests needing extra space can choose one of the studio suites, which feature a wet bar and sofa bed. Complimentary amenities include wi-fi and hot breakfast buffet. The usual pool (indoor), hot tub and fitness center are available for relaxation.
3.
Hampton Inn & Suites Pueblo Southgate
3315 Gateway Drive, Pueblo, CO 81004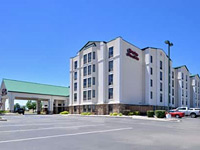 Right at the south edge of Pueblo beside I-25 (exit 94), the 81 room/suite Hampton Inn offers all the expected meetings, business & leisure facilities, including a fitness center and pool, which is half indoor, half outdoor. Free hot breakfast is prepared each morning, and there are two restaurants adjacent. Also close by is Pueblo Family Fun Center, featuring go karts and a games arcade; otherwise, the neighborhood is quite lightly developed, with open countryside to the south and east. The city center lies 2.5 miles north along the interstate.

4.
SpringHill Suites Pueblo Downtown
150 S Santa Fe Avenue, Pueblo, CO 81003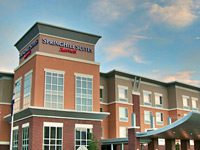 The handsome new SpringHill Suites in Pueblo opened spring 2012 along Santa Fe Avenue, a few blocks from the city center and the Arkansas Riverwalk. The hotel is a modern, well managed establishment with a coffee bar in the spacious atrium lobby and a 24 hour store where snacks & drinks can be purchased. For even more dining choices, there are many more restaurants within half a mile. Accommodation comprises 105 modern suites, all equipped with two TVs, a microwave, refrigerator and spa-style bath. Other guest amenities include a pool/hot tub, exercise room, sun deck, business center and two meeting rooms.

5.
Clarion Inn Pueblo
4001 N Elizabeth Street, Pueblo, CO 81008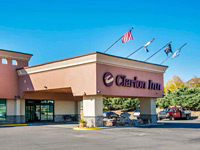 Although occupying an older building, Clarion Inn Pueblo was recently remodeled, and it offers an above average range of facilities including a restaurant/lounge, large indoor pool, hot tub, games room, billiard/pool tables, an exercise room, sauna and guest laundry. Free full breakfast is served. The hotel's 117 exterior-corridor rooms are divided into two blocks, looking out over a busy commercial area by the US 50/I-25 junction, on the north side of town close to Pueblo Mall and various other large stores. Some of the rooms have extra amenities like a microwave, refrigerator and pull-out sofa bed. The Clarion is a good meeting venue - there are 4 rooms, and the largest can accommodate reception events up to 260 guests.

6.
Wingate by Wyndham Pueblo
4711 N Elizabeth Street, Pueblo, CO 81008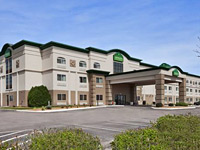 Highlights of Wingate by Wyndham Pueblo are the oversized accommodations, the free hot breakfast buffet, the large indoor pool and the 24 hour business center. The new-looking, three floor property is part of a commercial area with shops, restaurants and other hotels, close to I-25 on the north side of the city, though situated a quarter mile from the interstate and so providing a quiet stay. All guest rooms contain a microwave and refrigerator. Other facilities include meeting space and free wi-fi.

7.
Holiday Inn Express & Suites Pueblo North
4530 Dillon Drive, Pueblo, CO 81008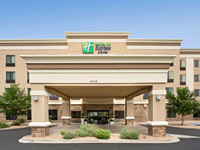 Holiday Inn Express Pueblo is a modern, well equipped hotel on the north side of town next to I-25 exit 102, right at the edge of the countryside and overlooking Fountain Creek valley, but also within walking distance of a good selection of shopping and dining. There are many large stores nearby including a Wal-Mart Supercenter, and Pueblo Mall is just 1.3 miles south. The four story hotel offers 89 nicely decorated rooms & suites, the latter with kitchenette facilities. Free hot buffet breakfast is prepared each morning. Guests can relax in the pool, hot tub & fitness center. Event facilities comprise three meeting rooms totaling 1,680 sq ft of space.

8.
Candlewood Suites Pueblo
4640 Dillon Drive, Pueblo, CO 81008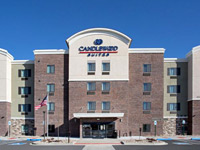 The Candlewood Suites adjoins another IHG property (Holiday Inn Express), along a quiet street on the east side of Interstate 25, backing on to undeveloped land bordering Fountain Creek. All accommodations are suites, available in two layouts, and all feature a fully-equipped kitchen; food for cooking can be purchased from a Walmart store just down the road. There are several other large shops nearby, and a good selection of restaurants, while Pueblo Mall is one mile south. General amenities include a gazebo with bbq grill, a fitness center, convenience store and pool. Free breakfast is provided.

9.
Best Western Plus Eagleridge Inn and Suites
4727 N Elizabeth Street, Pueblo, CO 81008-2055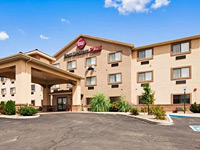 Pueblo's Best Western has a quiet location along a side street close to exit 102 of I-25, right at the north edge of town (7 miles from the center), within walking distance of at least a dozen restaurants and close to the main shopping district in the area - many large stores line the side of the interstate, as far south as Pueblo Mall (1.3 miles away). The best feature of the hotel is the free full breakfast, which includes hot items such as cooked to order omelettes. There are 59 rooms available, all containing microwave/refrigerator, coffee/tea maker and ironing facility. Leisure amenities are an indoor pool, hot tub, sauna, and exercise room.

10.
Comfort Inn & Suites Pueblo
3910 Outlook Blvd, Pueblo, CO 81008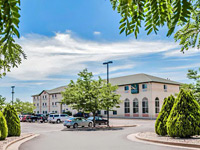 Like most hotels in Pueblo, CO, the 62 room Comfort Inn is located near the north edge of town, close to dining, entertainment and shopping including Pueblo Mall, though unlike other properties the hotel is a little way off I-25 (0.7 miles), along US 50 - a busy road but the hotel has a quiet setting 500 feet from the highway. South-facing rooms have views of the greens and fairways of Pueblo Country Club. Amenities are the standard complimentary continental breakfast, hot tub, pool and exercise room. Rooms are available with one or more of a microwave, refrigerator, whirlpool bath and sofa bed.

11.
Quality Inn Pueblo
670 Eagleridge Blvd, Pueblo, CO 81008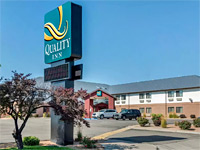 One of several hotels near exit 102 of I-25 on the north side of Pueblo, the Quality Inn is small, clean, quiet, reasonably priced, and within a short walk or drive of many restaurants & shops. There are 60 rooms in the two story building, some equipped with microwave, refrigerator & whirlpool bath. Other interior facilities are a rather small pool, guest laundry, a small business center in the lobby, and a dining room for the free continental breakfast, which includes a few hot items.

12.
Ramada by Wyndham Pueblo
4703 North Freeway, Pueblo, CO 81008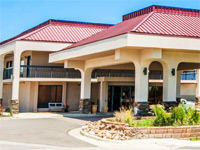 The Ramada is the closest hotel to I-25 at the busy Eagleridge Boulevard intersection, in the middle of an commercial area with many restaurants and stores such as Wal-Mart and Home Depot. One restaurant (IHOP) shares the hotel's parking lot; guest rooms are in two exterior corridor, two story blocks on the north and west sides, and some contain a microwave & refrigerator. The hotel has a secluded outdoor pool, and interior facilities of a fitness center, business center, boardroom and laundry. Free hot breakfast buffet is prepared each morning.

13.
Microtel Inn & Suites by Wyndham Pueblo
3343 Gateway Drive, Pueblo, CO 81004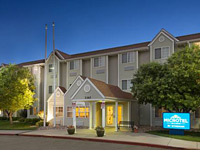 Affordable, all-suite lodging is provided by Microtel Inn Pueblo, the southernmost hotel in the city - the three floor, pet friendly building is located near I-25 exit 94, 3 miles south of downtown within sight of undeveloped fields to the south. Accommodations include studio suites with wet bar, sofa bed & separate living area. There are no leisure facilities, but the hotel does have a business center, meeting space and guest laundry. Free continental breakfast is provided.

14.
Baymont by Wyndham Pueblo
3626 N Freeway Road, Pueblo, CO 81008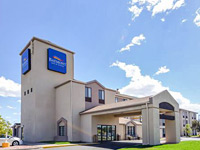 Baymont Inn Pueblo is one of several hotels next to Pueblo Mall, on the north side of the city, and it provides economically priced accommodation in 71 large rooms (all containing refrigerator/microwave) with amenities of free enhanced continental breakfast, an indoor pool, hot tub and guest laundry. Besides the mall and other nearby shops there are many restaurants within walking distance, and Pueblo Country Club is 2 miles west. A railway runs along the east side of the hotel hence the west-facing rooms are quieter.

15.
Days Inn by Wyndham Pueblo
4201 N Elizabeth Street, Pueblo, CO 81008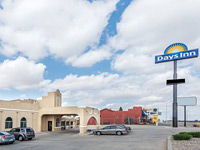 Rooms at the interior corridor Days Inn Pueblo face north or south, looking out over a sparsely developed residential district on the west side of I-25 near the US 50 exit. Guests are within a short walk of many restaurants, and are one mile from a group of large stores including Wal-Mart and Home Depot, on the far side of the interstate. Complimentary amenities are the usual wi-fi and continental breakfast. Several suites are available, with a hot tub bath and/or sofa bed. The motel also has an indoor pool and hot tub.

16.
Econo Lodge Pueblo
4615 N Elizabeth Street, Pueblo, CO 81008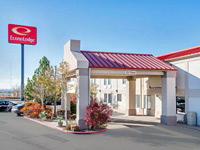 The Econo Lodge motel in Pueblo stands opposite another Choice Hotels property (the Comfort Inn) on Elizabeth Street, one block from exit 102 of Interstate 25. Rates are quite low but not at the expense of cleanliness, good customer service or facilities, which include free continental breakfast, a pool, hot tub, sun deck and guest laundry. All the 53 rooms contain a refrigerator; some have a microwave and/or whirlpool bath. As well as the many nearby shops and restaurants, the Econo Lodge is also close (3 miles) to Colorado State University-Pueblo.

17.
Super 8 by Wyndham Pueblo
1100 Hwy 50 W, Pueblo, CO 81008-1609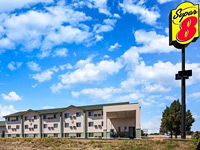 Super 8 Pueblo sits on the south side of US 50 a little way west of the I-25 intersection, set back 500 feet from the highway and so avoiding the noise of traffic. There are various restaurants and large stores nearby, and Pueblo Country Club immediately south. The three story, interior corridor, low price motel has a pool and hot tub, both indoors, and it provides free, eight-item continental breakfast. Pets are welcome.

18.
Rodeway Inn Pueblo
960 W Highway 50, Pueblo, CO 81008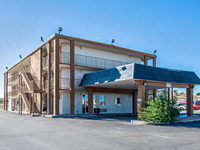 The parking lot of Rodeway Inn Pueblo is shared with one restaurant, and there are plenty more dining outlets close by, and several large stores such as Lowe's, Staples and Albertson's. North-facing rooms look out across the commercial neighborhood, while those on the quieter south side have views of the tree-lined fairways of Pueblo Country Club. The pet friendly motel occupies a relatively old, three storey building, and its only amenities are free continental breakfast, free wi-fi and coin-operated laundry.
19.
Motel 6 Pueblo - I-25
4103 N Elizabeth Street, Pueblo, CO 81008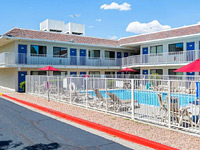 The Motel 6 is part of a line of hotels towards the north edge of Pueblo, on the west side of I-25 - located close to the US 50 intersection. The 108 guest rooms are contained within a long, two floor building surrounded by the parking lot, which includes several truck spaces at the rear. Some accommodations on the south side overlook a small outdoor pool, and select rooms are equipped with a microwave & mini refrigerator. Free morning coffee is provided.