1.
Hampton Inn Canon City
102 McCormick Parkway, Canon City, CO 81212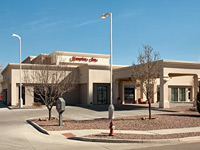 Hilton are represented in Canon City by the 64 room Hampton Inn - a small hotel with a pleasant location along US 50 at the edge of the farmland on the east side of town, yet one block from a Wal-Mart superstore, a selection of restaurants and various other facilities including a cinema. Rates are reasonable, customer service good and facilities as expected - a fitness center, indoor pool/whirlpool, free breakfast, a business center and meeting space. The main attraction in the area is the Royal Gorge Bridge, 11 miles southwest.

2.
Holiday Inn Express & Suites Canon City
3271 Hwy 50, Canon City, CO 81212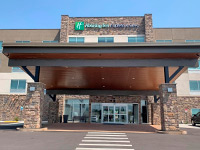 Holiday Inn Express Canon City opened summer 2021; a newly built hotel along US 50 on the east edge of town just a short distance from the start of open countryside, yet within walking distance of shopping, dining and a cinema. Guest accommodations have views of distant hills in most directions. The hotel has 90 rooms and suites, on four floors, with amenities of an indoor pool, hot tub, sauna, coin-operated laundry, meeting space and a dining area for the free hot breakfast buffet.

3.
Best Western Canon City
110 Latigo Lane, Canon City, CO 81212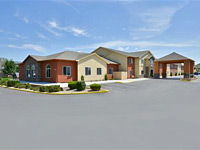 Canon City's Best Western is the easternmost hotel in town, situated along Latigo Lane, a short side road leading off US 50. The hotel is one block north of the highway, separated from it by a Denny's restaurant; the center of Canon City is 3 miles west. Guests have a choice of 82 refrigerator-equipped rooms and suites, and can take advantage of such facilities as a business center, fitness center, indoor pool and hot tub. Complimentary full breakfast is served each morning.

4.
Quality Inn & Suites Canon City
3075 E US 50, Canon City, CO 81212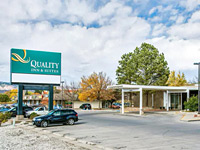 The Quality Inn hotel in Canon City has a prime location along US 50, near the east edge of the suburbs in a small residential area, set back from the highway. The inn has 150 rooms & suites, a lounge/bar, an outdoor pool, indoor whirlpool and a restaurant (free full breakfast available). There are several other restaurants and a Wal-Mart store adjacent to the hotel, while the center of Canon City is 3 miles west. The on-site meetings facilities can cater for events of up to 250 people.

5.
Econo Lodge Canon City
311 Royal Gorge Blvd, Canon City, CO 81212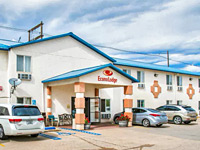 Econo Lodge Canon City is a 50 room, blue-roofed property on the north side of US 50 (Royal Gorge Boulevard) in the downtown area, though is also just 2 blocks away from the greenery of the Arkansas river valley. As well as the river, the hotel is within walking distance of many restaurants, shops, parks and other local attractions. Its amenities include an indoor pool/hot tub, copy/fax service, a 25 person meeting room and free continental breakfast. All guest rooms contain a microwave and refrigerator.

6.
Super 8 by Wyndham Canon City
209 N 19th Street, Canon City, CO 81212-2470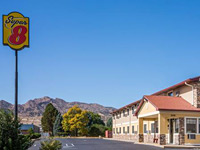 Super 8 Canon City enjoys a quiet setting adjoining a residential area, along US 50 but set back a little from the highway, and next to the main shopping center in town, which includes a supermarket and plenty of restaurants. Rates are low, reflecting the limited amenities (free wi-fi and free continental breakfast). There are 41 guest rooms available, on two interior corridor floors, with views over the good sized parking lot.
7.
Motel 6 Canon City
1925 Fremont Drive, Canon City, CO 81212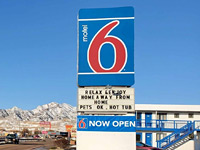 Towards the eastern edge of downtown Canon City along US 50, the Motel 6 is a typically small, low cost property with guest rooms on two floors, overlooking the central parking lot, which has an outdoor pool at one side and a restaurant at the front. All accommodations contain a microwave and refrigerator, while other amenities are bbq grills, coin-operated laundry and free wi-fi. A good selection of shopping and dining is within walking distance.