1.
Wingate by Wyndham Gunnison near Western Colorado University
400 E Tomichi Avenue, Gunnison, CO 81230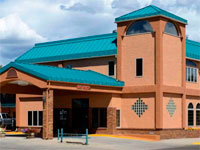 The Wingate by Wyndham is located along US 50 three blocks east of the center of Gunnison at the junction with Hwy 135, within walking distance of a good selection of restaurants, shops, bars and leisure activities. Gunnison Airport is a mile south, served by free 24 hour shuttle, while Jorgensen City Park is just to the east, with sports facilities, picnic area and playground. The inn is an attractive blue-roofed building with 54 guest rooms, an indoor pool/whirlpool, business & fitness centers and meeting space. Free full breakfast is served each morning.

2.
Holiday Inn Express Hotel & Suites Gunnison
910 E Tomichi Avenue, Gunnison, CO 81230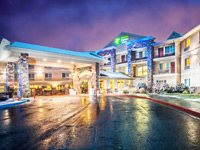 Holiday Inn Express Gunnison Hotel has a scenic location beneath the foothills of the Rocky Mountains, right at the east edge of town along US 50 (Tomichi Avenue); partly surrounded by open countryside but just half a mile from downtown Gunnison. This is a large property with 78 rooms and 30 suites, an indoor pool, indoor & outdoor spa, a fitness center and two meeting rooms. There is one restaurant adjacent and others a few blocks west along highway 50, while free hot breakfast buffet is available on-site. The hotel is one block from Western State Colorado University.

3.
Comfort Inn & Suites Gunnison-Crested Butte
911 N Main Street, Gunnison, CO 81230-2415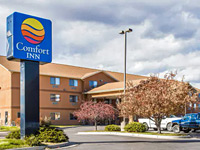 Comfort Inn Gunnison lies along the main approach to town from the north (CO 135), on the west side of the highway opposite a Wal-Mart. This is a busy commercial area with at least 8 restaurants nearby, and a movie theater. The 3 floor, 58 room hotel offers an indoor pool, free breakfast, an exercise room, newsstand, guest laundry and free airport transportation. The property is 450 feet from the highway and so all rooms provide a quiet night's sleep.

4.
Days Inn & Suites by Wyndham Gunnison
701 W Highway 50, Gunnison, CO 81230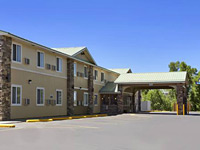 Rooms at the interior corridor Days Inn Gunnison face either southeast, overlooking the local airport, or northwest, with views across the highway (US 50) towards distant mountains. The motel is half a mile from the Gunnison River on the western approach to town, about one mile from the center where most of the restaurants & shops are located. Amenities are free continental breakfast, free wi-fi, a hot tub and a sauna.

5.
Econo Lodge Gunnison
411 E Tomichi Avenue, Gunnison, CO 81230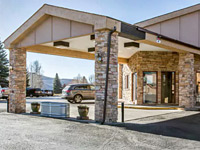 27 miles south of Crested Butte in the center of Gunnison, the Econo Lodge motel offers comfortable rooms, low rates, free wi-fi, free continental breakfast and a hot tub. All guest rooms are equipped with a microwave & refrigerator, some contain a sofa bed and those on the upper floor have views over the mostly residential neighborhood towards the surrounding hills. The interior corridor, pet friendly property adjoins a sports park on the east edge of town, one mile from the regional airport. The nearest restaurants are a few blocks west along the main road (US 50).

6.
Rodeway Inn Gunnison
37760 W US Hwy 50, Gunnison, CO 81230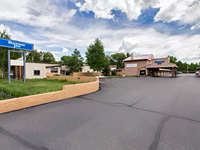 Gunnison's Rodeway Inn receives particularly good guest reviews, on account of the cleanliness, customer service, reasonable rates and quality of the free continental breakfast. The inn is also honored by the Choice Hotels platinum award, the highest level of brand recognition. The hotel is a small building of 38 rooms, alongside US 50 in the countryside on the west side of town, close to the Gunnison River; the other main facilities are a hot tub, sun deck, picnic area, exercise room and guest laundry. Downtown Gunnison is 1.5 miles west.