1.
Hampton Inn Montrose
1980 N Townsend Avenue, Montrose, CO 81401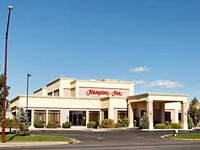 Hampton Inn Montrose adjoins the local airport on the northwestern approach to town (US 50), a quarter of a mile from the terminal building (free shuttle available) and just over one mile from the city center. Accommodations comprise 64 one or two bed rooms, most with views of the Rocky Mountains to the east. Breatfast is complimentary - either a hot meal served in the dining area, or a take away version for guests in a hurry. The usual leisure, business and meetings facilities are available. There are two nearby restaurants, one adjacent, the other at the airport.

2.
Holiday Inn Express Hotel & Suites Montrose-Townsend
1391 S Townsend Avenue, Montrose, CO 81401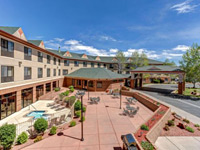 Montrose's Holiday Inn Express hotel has 122 rooms and suites on three floors, situated at the corner of Townsend Avenue (US 550) and Niagara Road, at the south edge of the downtown area. Most rooms have views of high forested hills to the east and west, and the hotel is well placed for explorations of the
San Juan Mountains
, 30 miles further south along US 550. The Holiday Inn Express has an indoor pool, fitness center, newsstand, business center and meeting space. Free hot breakfast is served, while several nearby restaurants provide lunch and dinner.

3.
GreenTree Inn Montrose
1655 E Main Street, Montrose, CO 81401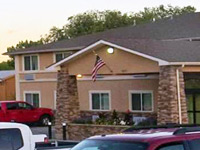 All guest rooms at GreenTree Inn Montrose feature a refrigerator, microwave, work desk and coffee maker; they are contained within a pair of two floor, interior corridor blocks just off Main Street on the east side of the city, half a mile from the start of open farmland. Several restaurants are within a couple of blocks, one right next door. A few family suites are available, complete with kitchen. The pet friendly hotel also has an indoor pool, sauna, hot tub and business center.

4.
Quality Inn & Suites Montrose
2751 Commercial Way, Montrose, CO 81401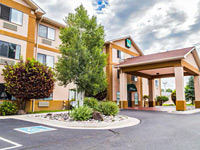 On the south edge of Montrose, the Quality Inn & Suites is located in a small commercial neighborhood, close to the edge of the countryside and the Uncompahgre River, along the main highway into town (US 550 from Durango). The two floor, 52 room hotel offers an indoor pool/hot tub, sun deck, fitness center and convenience store. Nearby leisure activities include hiking and fishing. Free deluxe continental breakfast is available, while for other meals there are three restaurants adjacent to the hotel and others within walking distance.

5.
Days Inn by Wyndham Montrose
1417 E Main Street, Montrose, CO 81401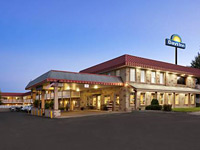 Days Inn Montrose receives good reviews for its reasonable rates, friendly staff and clean rooms; although occupying an older property, with exterior corridors, the place is well maintained and it has a good location along US 50 towards the east side of town, in a generally quiet, residential district. The motel is surrounded by a spacious parking lot, catering for the largest trucks, and which is shared by an adjacent restaurant. Facilities are an outdoor pool, whirlpool, bbq grills, business center and a meeting room. Wi-fi and continental breakfast are complimentary. A free shuttle is provided to the local airport, 2.5 miles west.

6.
Super 8 by Wyndham Montrose
1705 E Main Street, Montrose, CO 81401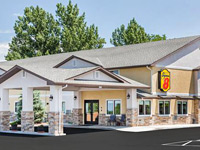 Super 8 Montrose features comfortable, reasonably-priced accommodation in a handsome, modern building with two floors and interior corridors. All 42 rooms include a microwave & refrigerator, while guests can also take advantage of free continental breakfast, laundry facilities, a small business center, bbq grills and a hot tub. The inn has mostly residential surroundings, and is located a mile northeast of Montrose town center along Main Street, close to a few restaurants.