1.
DoubleTree by Hilton Greeley at Lincoln Park
919 7th Street, Greeley, CO 80634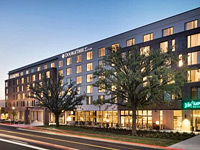 Newly constructed in 2017, the DoubleTree is an upscale, full service property with a downtown location, along 7th Street opposite Lincoln Park and the Union Colony Civic Center; within walking distance of restaurants, bars, microbreweries and many other attractions. Drinks, dinner, lunch and breakfast are served on the premises at Meeker's Colorado Kitchen (evening room service available), while other facilities include an outdoor hot tub, indoor pool, business/fitness centers and over 14,000 square feet of meeting space, catering for events of up to 800 people. All guest rooms feature free wi-fi, a coffee maker, refrigerator and a 50 inch TV, while a selection of suites offer additional amenities.

2.
Homewood Suites by Hilton Greeley
2510 46th Avenue, Greeley, CO 80631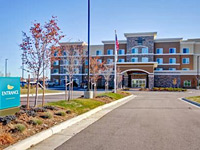 Guests enter Homewood Suites by Hilton Greeley via a welcoming, two story fireplace lobby, and stay in either one bedroom suites or studio suites, all equipped with a full kitchen, sofa bed and work desk. About half of the rooms enjoy views of the mountains to the west. The extended stay hotel is a summer 2015 addition to the lodging choices in Greeley, built along 47th Avenue within walking distance of Centerplace shopping complex, which includes many restaurants. Hwy 56 runs half a mile south. Internet access, full hot breakfast and evening receptions (Monday to Thursday) are complimentary. Leisure amenities are a patio, basketball court, fitness center, outdoor pool and hot tub. The hotel's 1,600 sq ft of meeting space can accommodate events of up to 75 people.

3.
Country Inn & Suites By Radisson, Greeley
2501 W 29th Street, Greeley, CO 80631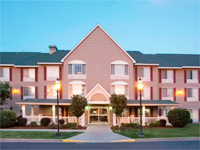 The three story Country Inn Greeley is part of a line of hotels and restaurants between Hwy 34 and 29th Street, a short walk from Greeley Mall, Wal-Mart, K-Mart and several other large stores. The east- or west-facing rooms feature coffee/tea maker, microwave and refrigerator; also available are several king suites and whirlpool suites. The free buffet breakfast includes a small selection of hot items, served in a spacious room that also serves as the hotel's meeting/event facility. Other amenities are an indoor pool/hot tub, business center and laundry.
4.
Hampton Inn & Suites Greeley
2350 W 29th Street, Greeley, CO 80631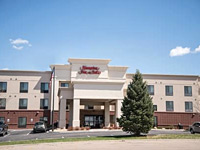 The Hampton Inn sits on a side street opposite Greeley Mall, part of a group of other hotels but a little further away from the nearby main road (US 34) and so offering generally quieter lodging. There are several other large stores nearby, including Wal-Mart, and many restaurants. The 74 guest rooms are above average in size, while for even more space a selection of studio suites are available with sofa bed, wet bar and/or hot tub bath. Leisure facilities are the usual trio of pool, whirlpool and fitness center. Free hot breakfast is prepared each morning. One meeting room can cater for events of up to 40 people.

5.
Clarion Hotel and Conference Center Greeley
701 8th Street, Greeley, CO 80631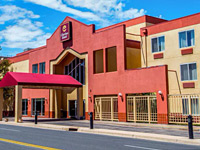 Fully renovated following its recent acquisition by the Choice Hotels chain, the pet-friendly Clarion Hotel Greeley has a fine central location in the downtown area, close to many restaurants and small shops, though located just off the main road (8th Avenue) and so providing a quiet night's sleep. Guests have a choice of 146 interior-corridor rooms, on three floors; all have a refrigerator, pillow top mattresses and ironing facilities. Upgraded rooms are available with one or more of a balcony, microwave, sofa bed and whirlpool bath. There is also a restaurant/bar on the premises, plus an indoor pool and meeting space.

6.
Candlewood Suites Greeley
3530 W 29th Street, Greeley, CO 80631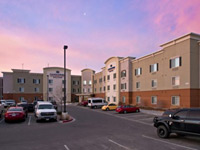 The Candlewood Suites hotel in Greeley is built in a quiet suburb near the southwest edge of town, beside a small shopping center with a selection of restaurants. Interstate 25 is 14 miles west along US 34. The all suite/extended stay hotel features spacious accommodations with work desks, separate living areas and fully equipped kitchens; food for cooking can be purchased from the on-site, 24 hour convenience store (Candlewood Cupboard). Also available are a pool, hot tub, business center, guest laundry, fitness room and bbq grills.

7.
Best Western Greeley
2563 W 29th Street, Greeley, CO 80631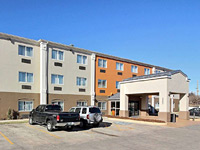 Like most hotels in Greeley, the three story Best Western is located southwest of the town center along 29th Street, near Greeley Mall (half a mile away), and also close to a good selection of restaurants. This is a typically clean, modern, well-managed property of 64 rooms that has all the basic amenities expected of the brand - good quality free breakfast buffet, a pool (indoor), hot tub, fitness center, guest laundry, one meeting room and a business center.

8.
Fairfield Inn Greeley
2401 W 29th Street, Greeley, CO 80631
Fairfield Inn Greeley provides the closest accommodation to Greeley Mall - the inn is part of the main group of hotels in town, along 29th St, just south of Highway 34 - and so within walking distance of many restaurants and entertainment outlets. Rooms are clean, staff efficient & welcoming, and the free continental breakfast is better than average, including waffles and hot sandwiches. For leisure hotel has just a pool and hot tub, though free passes are offered to a local health club/spa. Other facilities are free internet access, a guest-use computer/printer and guest laundry.

9.
Comfort Inn Greeley
2467 W 29th Street, Greeley, CO 80631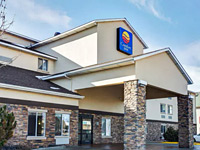 Places within 2 miles of Comfort Inn Greeley include the Westlake Shopping Center, Nottingham Field, Hillside Mall and Greeley Mall - the inn is part of a small group of hotels between 28th and 29th streets towards the southwest side of town, and it caters for guests in 50 rooms all equipped with a refrigerator, and some containing a whirlpool bath & microwave. Free continental breakfast is served, or for more choices there are several restaurants one third of a mile east near Greeley Mall. Leisure amenities are the usual pool, hot tub and fitness center.

10.
Days Inn and Suites by Wyndham Greeley
5630 W 10th Street, Greeley, CO 80634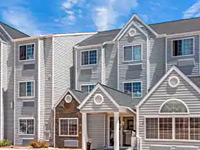 The three floor, interior corridor, pet friendly Days Inn is a west Greeley motel, located along 10th Street in a business/commercial district though close to the start of open countryside to the west, and within a mile of several city parks and sports facilities. Free continental breakfast is provided and there are six restaurants within one block. All rooms are equipped with a microwave & refrigerator, while the suites have a sofa bed. A business center, meeting room and picnic/bbq area are the other main facilities.

11.
Super 8 by Wyndham Greeley
2423 W 29th Street, Greeley, CO 80631-8524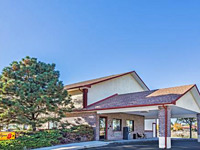 Three miles south of downtown Greeley, the Super 8 offers comfortable, affordable lodging with the two usual complimentary amenities of wi-fi and continental breakfast, plus a small business center. The motel has two floors, interior corridors, and an easy-to-reach location by the intersection of US 34 with 23rd Avenue, a short walk from Greeley Mall, other stores and many restaurants.