1.
Hampton Inn Fort Morgan
1152 N Main Street, Fort Morgan, CO 80701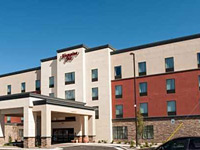 Hampton Inn Fort Morgan has a good, central location along Main Street, once block from I-75 and a short walk from dining & shopping, including Wal-Mart just across the street. Rooms are equipped with a microwave & refrigerator, and have views over the mixed residential/commercial neighborhood; there are also several suites, for guests needing extra space and facilities. Free hot breakfast is provided each morning, while drinks & snacks can be purchased 24 hours a day from the on-site convenience store. A fitness center, pool, and whirlpool are available for relaxation, plus a meeting room and business center.

2.
Best Western Plus Overland Inn
1410 Barlow Road, Fort Morgan, CO 80701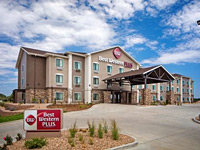 Guest rooms at Best Western Plus Overland Inn enjoy peaceful views, over lakes and woodland on the north side of Fort Morgan, bordering the South Platte River. The newly built (2016) hotel is accessed from I-76 exit 82 (2.5 miles from the city center), and is a short walk from a Walmart store and a selection of restaurants. Leisure amenities are a fitness center, hot tub, outdoor pool and patio, while also available are the usual facilities for meetings & business. The daily free breakfast includes a selection of hot items. Drinks and snacks may be purchased from a small convenience store.

3.
Fairfield Inn & Suites Fort Morgan
1290 Cottonwood Parkway, Fort Morgan, CO 80701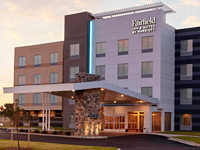 The newest hotel in Fort Morgan, open late 2018, is the 82 room/suite Fairfield Inn, offering the usual amenities of a pool (outdoor), fitness/business centers and a meeting room. Hot breakfast is complimentary. The four floor property has a pleasant, partly tree-lined location at the edge of a residential district on the northeast side of town, close to the Barlow Road exit of Interstate 76. Guests are within walking distance of a Walmart superstore and two restaurants, to the east. The South Platte River flows past on the far side of the freeway, followed by a walk/cycle trail.

4.
Comfort Inn Fort Morgan
1417 Barlow Road, Fort Morgan, CO 80701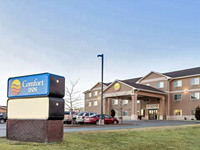 Larger of two adjacent Choice Hotels properties on the east side of Fort Morgan, the three story Comfort Inn has 46 rooms, an indoor pool, hot tub, exercise room, and its own restaurant (Maverick's Grill), open for lunch & dinner, plus a free breakfast buffet. Rooms are large and clean, some contain a microwave/refrigerator, and several hot tub suites are also available. The hotel has a quiet, rural setting, overlooking several small lakes beside the South Platte River, though it is also right next to I-76 (exit 82; Barlow Road), and 2 miles from the town center.

5.
Baymont by Wyndham Ft Morgan
14378 Hwy 34, Fort Morgan, CO 80701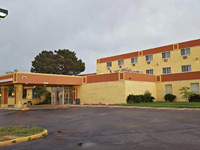 In the countryside on the west side of Fort Morgan (next to I-76 exit 75), the Baymont Inn is an older, interior corridor property of 98 rooms that all contain a refrigerator, coffee maker and microwave. The hotel opened 2018 after a refurbishment, and has amenities of an indoor pool, hot tub, fitness center, gift shop, guest laundry and meeting space for up to 250. Meals are available from the on-site restaurant, though there are no other facilities in the vicinity apart from a gas station and RV park; the city center is 3 miles east.

6.
Rodeway Inn Fort Morgan
1409 Barlow Road, Fort Morgan, CO 81521-9535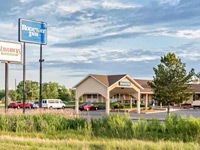 The interior corridor Rodeway Inn Fort Morgan shares some facilities with the Comfort Inn next door, including Maverick's restaurant. Amenities are limited to free continental breakfast and guest laundry, so rates are lower than its neighbor, though the place has the same quiet setting in the countryside on the east edge of town. There are several restaurants, and a Wal-Mart store, just the other side of I-76 along Barlow Road. Pets are welcome, for a fee.