1.
Hampton Inn & Suites Yuba City
1375 Sunsweet Blvd, Yuba City, CA 95991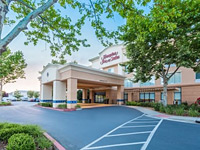 The Hampton Inn sits at the center of the main shopping area in Yuba City, around the junction of highways 20 and 99 - there are many restaurants and large stores within walking distance, including Yuba Sutter Mall. Highlight is the free breakfast, featuring a variety of hot items, and also available as a take-out version for guests leaving early. Leisure facilities are the expected pool (outdoor), fitness center and hot tub, while for business the hotel offers a guest-use computer, copy/fax/print services, AV equipment and meeting space. A small convenience store sells drinks and snacks, including ready made meals suitable for cooking in the microwaves present in all accommodations.

2.
Holiday Inn Express & Suites Yuba City - Marysville
531 Shasta Street, Yuba City, CA 95991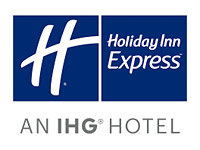 Holiday Inn Express Yuba City was newly constructed in 2023, and it has a central location in town, unlike most other hotels, at the west end of the Twin Cities Memorial Bridge across the Feather River, in a mostly residential neighborhood. There are plenty of restaurants, bars and shops within walking distance, and a few areas of parkland. The 93-room/suite hotel provides free hot breakfast buffet each morning, and has all the usual amenities, including fitness center, business center and meeting space.

3.
Best Western Yuba City Inn
894 W Onstott Road, Yuba City, CA 95991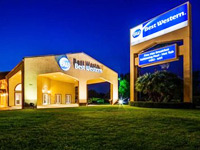 The Best Western hotel has a west central location in the historic town of Yuba City at along Onstott Road, adjacent to the main highway through town (state route 99), and close to Yuba Sutter Mall, Sam Brannan Park, and various restaurants including one right next door. The hotel's 91 guest rooms are in three exterior-corridor blocks, some overlooking the outdoor pool/hot tub, and others with views over sparsely-developed land - this is generally a quiet part of town despite the proximity of the freeway. Other amenities are a fitness center, newsstand, sauna, whirlpool, guest laundry and free hot breakfast.

4.
Quality Inn Yuba City
965 Gray Avenue, Yuba City, CA 94991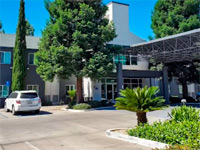 Stores within walking distance of Quality Inn Yuba City include Walgreens, PetSmart, K-Mart, FoodMaxx and the many outlets at Yuba Sutter Mall; the well-reviewed motel is part of the principal commercial district of town, centered on the intersection of highways 99 and 20. Guest rooms (all featuring a microwave/refrigerator) are contained within a two story, interior corridor building with plenty of parking space on the north side, and an outdoor pool to the east. Other amenities are a hot tub, meeting space and free continental breakfast.

5.
Days Inn by Wyndham Yuba City
700 N Palora Avenue, Yuba City, CA 95991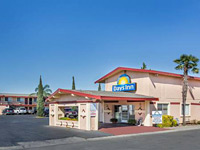 The Days Inn hotel is centrally positioned by the intersection of Bridge Street with Hwy 99, close to shopping, dining, a city park and the local high school. All the exterior corridor guest rooms are equipped with a microwave/refrigerator, and face inwards, looking across the rather small parking lot, which has an outdoor pool on the west side, next to the main road. The standard two complimentary amenities of wi-fi and continental breakfast are provided, together with coin-operated laundry and copy/fax services.

6.
Econo Lodge Inn & Suites Yuba City
730 Palora Avenue, Yuba City, CA 95991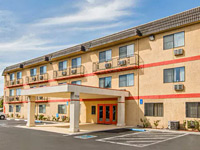 The 53 room Econo Lodge Yuba City offers basic but clean and comfortable accommodation near the center of town, close to the main highway CA 99 though tucked away in a quiet location at the end of a side street (Palora Avenue). The property has three floors with interior corridors, an outdoor pool, and a dining area serving free continental breakfast. All rooms have a microwave & refrigerator, ironing facilities and free wireless internet access. Three blocks north, Yuba Sutter Mall has over 60 stores and many dining choices.