1.
Hampton Inn Ukiah
1160 Airport Park Boulevard, Ukiah, CA 95482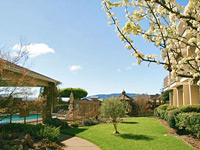 Hampton Inn Ukiah is bordered to the west by the local airport and to the east by a shopping center with such stores as Wal-Mart, Staples and a supermarket, plus half a dozen restaurants. US 101 runs past just beyond; access is from the Talmage Road exit, a few blocks south of the city center. Amongst the nearby attractions are Lake Mendocino,
Montgomery Woods State Natural Reserve
, Clear Lake and South Cow Mountain. Many of the guest rooms have good views of the neighboring wooded hills, and those on the south side overlook a pretty garden, with outdoor pool, sundeck, koi ponds and gazebo. Some have a balcony and/or fireplace. The hotel provides free hot breakfast, available in a carry-out version for guests in a hurry.

2.
Holiday Inn Express & Suites Ukiah
1270 Airport Park Blvd, Ukiah, CA 95482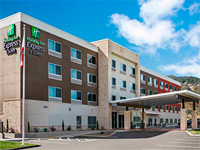 Newly constructed in 2021, the Holiday Inn Express is a typical mid-rage property offering all the expected amenities, of business & fitness centers, meeting space, coin-operated laundry and a dining room where the free hot breakfast is served. There is no swimming pool, however. The hotel is part of a line of businesses on the south side of town, in between US 101 and the municipal airport; there are various restaurants and shops nearby, including Costco and Walmart. Guest rooms contain a microwave and a refrigerator.

3.
SureStay Hotel by Best Western Ukiah
1720 N State Street, Ukiah, CA 95482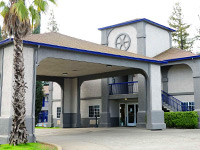 Ukiah is exactly half way - 115 miles - between San Francisco and the first of the large redwood groves of north California (the
Humboldt Redwoods
), so makes a good place to stop for a night and break the journey. The Best Western is right next to the State Street exit of US 101 on the north side of town, about 1.5 miles from the center where most of the best restaurants are located; it has the usual amenities of free hot breakfast, free wi-fi, a fitness center, hot tub & outdoor pool. All guest rooms contain a microwave and refrigerator.

4.
Fairfield Inn & Suites Ukiah Mendocino County
1140 Airport Park Boulevard, Ukiah, CA 95482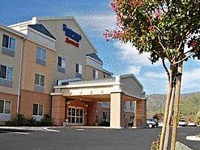 The Fairfield Inn of Ukiah, CA, has an easily reached location towards the south end of town, two blocks from Highway 101, with a shopping center on one side and the municipal airport on the other. It is quite a compact place, containing 12 suites and 44 rooms, all with a good range of amenities that includes a microwave & refrigerator. The clean, new hotel also offers an indoor pool, Jacuzzi, exercise room, guest laundry, and a dining area for the free breakfast, which includes a few hot items. For other meals, the local road (Airport Park Boulevard) has several restaurants, with others 0.5 miles away along State Street.

5.
Comfort Inn & Suites Ukiah
1220 Airport Park Blvd, Ukiah, CA 95482
Comfort Inn Ukiah is regarded by many as the top hotel in town, on account of its excellent customer service, the good quality free full breakfast, and the clean & modern rooms, all of which have a microwave, refrigerator, and some benefit from a balcony & extra sofa bed. The hotel is built along a shopping street one block from US 101 on the south side of Ukiah, and near the local airport. There are many restaurants close by. The other main facilities of the Comfort Inn are an outdoor pool, newsstand, one meeting room and guest laundry. There are over 30 wineries within an hour's drive.

6.
Quality Inn Ukiah
1050 South State Street, Ukiah, CA 95482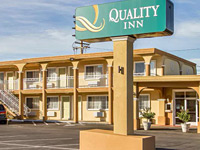 Ukiah's Quality Inn motel is located a few blocks south of the town center along State Street, 0.5 miles west of Highway 101 and close to several restaurants including Denny's. This is a typical two floor property with exterior corridors, offering basic but comfortable accommodation, and amenities comprising free continental breakfast, an outdoor heated pool, guest laundry and some rooms with microwave & refrigerator. Accommodations are on two floors, looking south and east across the parking lot.

7.
Days Inn by Wyndham Ukiah
950 North State Street, Ukiah, CA 95482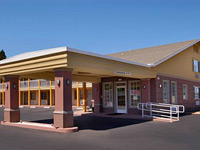 On the north side of Ukiah, the Days Inn accommodates guests in 54 rooms, all equipped with a refrigerator and microwave, contained within a two floor, exterior corridor building along the main road through town (State Street). Nearby are a city park, the Twelfth District Fairgrounds and a shopping center with Raley's supermarket plus several restaurants. The parking lot is centered on an outdoor pool and sundeck, adjacent to a restaurant, while inside, facilities are a business center, free continental breakfast and free wi-fi.

8.
Super 8 by Wyndham Ukiah
693 South Orchard Avenue, Ukiah, CA 95482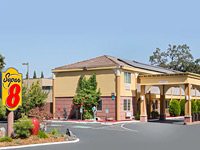 The Super 8 motel in Ukiah sits beside the most central of the town's five US 101 exits (Gobbi Street), occupying quite a spacious site, lined by trees and including an outdoor pool and garden. Guest accommodations are in two exterior corridor blocks on either side of the parking lot. Room rates are low yet the motel still offers a good range of amenities, including a business center, hot tub, laundry, free wi-fi and free continental breakfast. All rooms contain a refrigerator and microwave. Room service is available from an adjacent restaurant.
9.
Motel 6 Ukiah
1208 S State Street, Ukiah, CA 95482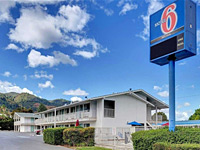 Motel 6 Ukiah has a southerly position in town along State Street, 0.7 miles from US 101, within sight of wooded hills to the west. The north end of Ukiah Municipal Airport borders the far side of the road, and there is one restaurant adjacent; otherwise, the neighborhood has a mixture of residential and business premises. Facilities are standard for this low-price chain: wi-fi, coin-operated laundry, free wi-fi and an outdoor pool, this right at the front, somewhat overlooked from the road.
10.
Motel 6 Ukiah - North
1340 N State Street, Ukiah, CA 95482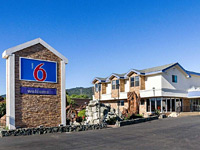 The Motel 6 in north Ukiah offers just basic amenities, of free morning coffee, free wi-fi, and a microwave/refrigerator in all guest rooms, plus an outdoor pool, at the center of one of the parking lots. Accommodations are divided between several exterior corridor blocks, all shielded from the main road (State Street) by adjacent businesses, including a couple of restaurants. The intersection with US 101 is one block north.