1.
TownePlace Suites Tehachapi
1052 Magellan Drive, Tehachapi, CA 93561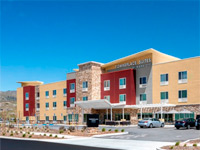 TownePlace Suites Tehachapi (open fall 2022) is an 82 room, all-suite/extended stay hotel, all accommodations (studio and one bedroom suites) equipped with a full kitchen and separate living area. The Marriott property is built in a quiet area mostly surrounded by undeveloped land, right beside the Adventist Health Tehachapi Valley Medical Center, on the north edge of town beyond Hwy 58, with good views to the Piute Mountain foothills. Free hot breakfast is provided each morning. Other amenities are bbq grills, a 24 hour market, guest laundry, meeting space, a fitness center and an indoor pool.

2.
Holiday Inn Express Hotel & Suites Tehachapi
901 Capital Hills Pkwy & Highway 58, Tehachapi, CA 93561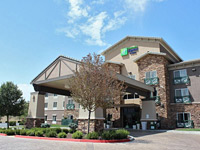 Tehachapi's Holiday Inn Express is a clean, new hotel with a quiet location on the north edge of town - part of a small area of new development surrounded by empty desert and mountain land to the west, north and east. The property is reached by driving one block north from exit 149 (Mill Street) of highway 58, and is near a Denny's restaurant; other dining is available in the town center, a mile southeast. For leisure the hotel offers an outdoor pool, whirlpool, fitness center and newsstand. Free buffet breakfast is served, including a selection of hot items.

3.
Best Western Country Park Hotel
420 W Tehachapi Blvd, Tehachapi, CA 93561-1638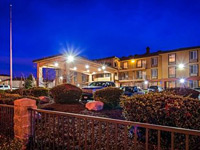 Best Western have two hotels in Tehachapi right next to each other along Business CA 202/58 (Tehachapi Boulevard), near the northwest corner of town. Westernmost (and newest) is the 59 room Best Western Country Park Hotel, occupying 3 floor building with heated outdoor pool at the rear. The large guest rooms all have a microwave, refrigerator, DVD player and wet bar; most have views over wooded mountains either north or south. Deluxe continental breakfast is provided, and the other main facilities are a spa, exercise room, 24 hour front desk & guest laundry.

4.
SureStay Hotel by Best Western Tehachapi
418 W Tehachapi Blvd, Tehachapi, CA 93561-1638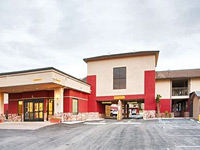 The pet friendly SureStay hotel from Best Western has a central location along Tehachapi Boulevard, the main east-west road through town. The 73 rooms are on two floors with exterior corridors, some overlooking the motel's parking area/courtyard with outdoor pool. For dining there is a good choice of restaurants in the center of town east on Tehachapi Boulevard, or along Tucker Road to the southwest, though free full breakfast is provided by the hotel, which has other amenities of an outdoor pool, hot tub, fitness center and free wi-fi.

5.
Fairfield Inn & Suites Tehachapi
422 W Tehachapi Blvd, Tehachapi, CA 93561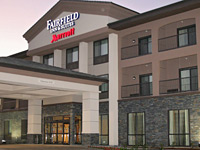 The first Marriott hotel in Tehachapi opened its doors in summer 2009 - the Fairfield Inn & Suites alongTehachapi Boulevard is built along the main road through town, a few blocks west of the center, close to several restaurants and one supermarket. Features include free continental breakfast, free internet access, a pool, spa, fitness center and basic business services. The three floor building holds 82 bright, welcoming rooms that are decorated in rich colors and have extra comfortable bedding. The suites are equipped with a wet bar (sink, refrigerator, microwave, coffee maker).

6.
Baymont by Wyndham Tehachapi
500 Steuber Road, Tehachapi, CA 93561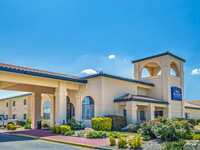 Baymont Inn Tehachapi has a peaceful, rural location on the east edge of town by the intersection of Tehachapi Boulevard with Hwy 58, on the opposite side from Love's Travel Stop. There is one restaurant adjacent and many more in the downtown area. Guest rooms are arranged on four sides of the central courtyard garden, containing an outdoor pool, and those around the exterior have fine views of the nearby mountains. Other amenities are free wi-fi, free breakfast buffet, a 24 hour fitness center and a 62 person meeting room. Pet friendly accommodations are available.