1.
Courtyard Paso Robles
120 South Vine Street, Paso Robles, CA 93446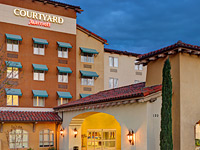 Courtyard by Marriott Paso Robles is a relatively new hotel, located right at the south end of town along Vine Street, adjacent to US 101. Its 130 rooms have views across the Salinas River Valley towards woods and vineyards on the surrounding hills - there are many wineries within a half hour drive of Paso Robles, and the Pacific Ocean is only 25 miles away, at places like Cambria or Morro Bay. As expected for a Courtyard, the staff are friendly & efficient, all the rooms are clean, spacious & well designed, and the hotel has a good range of amenities, principally a 24 hour fitness center, outdoor pool, hot tub, and the Bistro restaurant which is open for breakfast & dinner.

2.
The Oaks Hotel and Suites an Ascend Hotel Collection Member
3000 Riverside Avenue, Paso Robles, CA 93446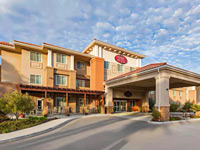 The Oaks Hotel, a member of the upscale Ascend Collection from Choice Hotels, is part of a row of shops and other businesses on the west side of US 101 near the Hwy 46 intersection, just north of downtown Paso Robles, also within walking distance of several restaurants. The tree-lined Salinas River flows past a short distance away, on the far side of the freeway. The hotel has an outdoor pool at the front and plenty of parking spaces all around, while inside, amenities are a restaurant (Indulge), meeting space and a business center. Full breakfast is complimentary.
3.
Hampton Inn & Suites - Paso Robles
212 Alexa Court, Paso Robles, CA 93446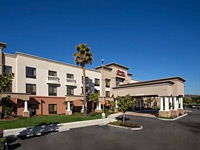 Hilton are represented in Paso Robles by the Hampton Inn, a modern, well managed property with an easily reached location at the south edge of town by the intersection of Hwy 46 with US 101, set back slightly from both roads and so offering a quiet place to stay. Most of the 81 rooms & suites have good views over the hilly countryside, and the hotel is less than a mile from the nearest vineyards. Also close by, within walking distance, is a shopping complex with restaurants and several large stores. The main amenities are free hot breakfast, an outdoor pool, fitness center, business center and meeting space for up to 100 people.

4.
Holiday Inn Express Hotel & Suites Paso Robles
2455 Riverside Avenue, Paso Robles, CA 93446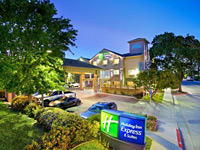 Holiday Inn Express Paso Robles occupies a modern 73 room, 18 suite building on three floors, close to Highway 101 and the town center. Wine is one of the main reasons people visit Paso Robles, and over 200 vineyards are within an hour's drive of the hotel, many along route 46 to the east and west. Leisure pursuits are well catered for by a health/fitness center, sports court, indoor saltwater pool and whirlpool. As well as being large and comfortable, the rooms are well equipped with microwave & refrigerator, coffee maker & ironing facilities. Free hot breakfast is prepared each morning, and a free beer/wine reception weekday evenings.

5.
Best Western Plus Black Oak
1135 24th Street, Paso Robles, CA 93446-1309
The Best Western hotel in Paso Robles caters for north-south travelers along US 101 as well as those visiting the over 200 nearby wineries in the sunny foothills of the Santa Lucia mountains. The Black Oak is just off the highway at the 24th Street exit and a few blocks away from the main road through Paso Robles (Spring St), close enough to walk to shops & restaurants there, though the hotel has its own restaurant on site - Margie's Diner, open for breakfast, lunch & diner. The nearest bar is right next door. The 110 rooms are on 2 floors, in the standard motel design linked by exterior corridors, though accommodation is spacious and modern, and the hotel has an above average pool area, embellished by trees, tropical plants & flowers. Other guest amenities are a hot tub, children's playground, sauna, guest laundry and a barbeque area.
6.
Motel 6 Paso Robles
1134 Black Oak Drive, Paso Robles, CA 93446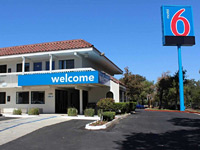 The 121 room Motel 6 in Paso Robles faces US 101 on the east side of town, though partly shielded from the highway by trees and bushes. There are two restaurants adjacent and others a short distance south. The main feature of the motel is a sheltered outdoor pool, set in a little garden; inside, the only amenities are wi-fi, coin-operated laundry, free coffee and a microwave/refrigerator in selected rooms.