1.
Hampton Inn Needles
1803 Needles Hwy, Needles, CA 92363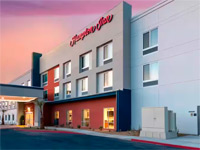 Hilton are represented in Needles by the 80 room, three story Hampton Inn (open early 2023); it has an outdoor pool, one meeting room, a guest laundry facility, and a dining room where the daily free hot breakfast is served. The hotel is situated along Needles Highway, former Route 66, near the I-40 underpass; approach is from exit 142, J Street. There is one restaurant adjacent and plenty more within walking distance to the west, on the far side of the interstate. Guests are also just a short walk from the Colorado River, and National Old Trails Monument.

2.
Best Western Colorado River Inn
2371 W Broadway Street, Needles, CA 92363-2106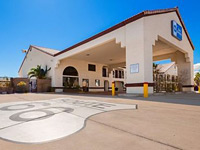 The 63 room Best Western Colorado River Inn is situated at the west edge of town with views across the surrounding desert - a mile from both the river and downtown Needles, at 2371 Broadway Street (former Route 66) which is just south of exit 141 of I-40. There are 2 restaurants just across the street and others closer to the town center. The hotel has a newly constructed outdoor pool, spa and sauna, plus guest laundry and a dining area for the free continental breakfast. All rooms contain a microwave and refrigerator.

3.
Quality Inn Needles
1195 3rd Street Building B, Needles, CA 92363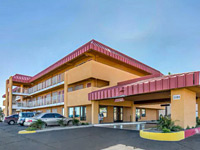 On the south side of Needles adjacent to I-40 exit 142, the Quality Inn is a relatively large, three story hotel of 116 exterior corridor rooms, half overlooking an outdoor pool/hot tub. There are three fast food restaurants just across the street, and others a few blocks away in Needles town center, along old Route 66. A microwave and refrigerator are provided in each room. Other amenities are limited to a copy/fax service and meeting space for 50 people, but rates are low and the location convenient. The site is shared with the Rodeway Inn & Suites, which offers similar amenities at slightly lower rates.

4.
Days Inn & Suites by Wyndham Needles
1215 Hospitality Lane, Needles, CA 92363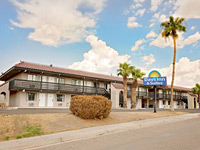 Days Inn Needles is one of two motels on the west side of Interstate 40 at the J Street intersection, partly surrounded by undeveloped land, with a restaurant opposite and a childrens' playground adjacent, part of Needles Recreation Area which also includes sports facilities, an outdoor pool and a picnic area. This location is 12 miles from the Arizona stateline and one mile from Needles Marina park beside the Colorado River. The two story, exterior corridor motel provides the expected basic amenities, of free breakfast, free wi-fi and an outdoor pool.

5.
Econo Lodge Needles
625 W Broadway Street, Needles, CA 92363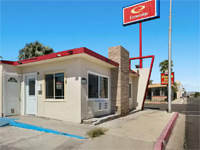 Unlike most Needles motels which are beside the interstate, the Econo Lodge has a central, downtown location, along Broadway, old Route 66, close to several restaurants, a supermarket and the post office. Guest rooms are divided between a ground floor block and a two story building, both exterior corridor; all accommodations contain a microwave and refrigerator. Other amenities are free continental breakfast, free all-day coffee and snack vending machines.

6.
Rodeway Inn & Suites Needles
1195 3rd Street, Needles, CA 92363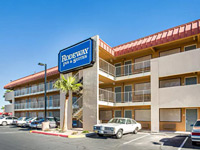 Rodeway Inn Needles is contained within the same complex as another Choice Hotels property, the Quality Inn; the two buildings are separated by a courtyard garden with outdoor pool, lined by a few palm trees. The Rodeway is the closer of the two to I-40, which runs right past on the west side; access is from the J Street exit, via a short road behind a McDonald's restaurant. Guest rooms contain a microwave & refrigerator but there are few other facilities, just laundry, free wi-fi and free coffee.
7.
Motel 6 Needles
1420 J Street, Needles, CA 92363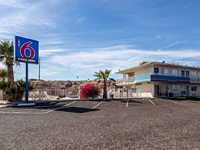 The Motel 6 in Needles has a quiet location along a side street just off I-40 but far enough away to escape the noise of traffic. All day dining is available from Denny's restaurant next door, though otherwise the immediate surroundings are undeveloped. There are two sports parks just down the road, however, and various shops 0.3 miles east along old Route 66. The property is a T-shaped, exterior corridor building offering small but clean rooms, and amenities of an outdoor pool, laundry, cable TV, wi-fi and free coffee. Pets are welcome.