1.
Hilton San Diego Resort & Spa
1775 East Mission Bay Drive, San Diego, CA 92109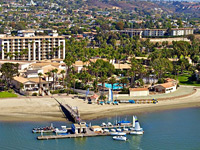 Hilton's 357 room/suite San Diego Resort occupies a large area of land on the edge of Enchanted Cove, Mission Bay, including extensive gardens and a long stretch of private beachfont, and is perhaps the best resort destination close to central San Diego - the downtown area is 6 miles south, and the international airport is 5 miles away (no free shuttle, however). The hotel has four dining outlets on site, over 30,000 sq ft of indoor/outdoor event space, and the 7,500 sq ft Spa Brezza, offering treatments, exercise & meditation. Other leisure activities available to guests are swimming, tennis, sailing, cycling, volleyball, jetskiing and wakeboarding.

2.
Hilton Garden Inn San Diego Old Town/SeaWorld Area
4200 Taylor Street, San Diego, CA 92110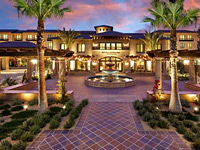 Presidio Park is just across the street from Hilton Garden Inn San Diego, while the Old Town district is also within walking distance, and SeaWorld is 4.2 miles away by road. The newly constructed (late 2015) property is located along a relatively quiet side road close to the busy I-8/I-5 intersection, one block from the Old Town trolley station. The building has elegant, Spanish-style decor, and amongst its many facilities is a restaurant/bar serving breakfast, lunch & dinner, plus room service until 10 pm. The grounds include an outdoor pool and tranquil courtyard with fountain. Events of up to 100 people can be accommodated in a 600 sq ft meeting room. A convenience store sells snacks and sundries, 24 hours a day.

3.
Holiday Inn Express San Diego-Sea World Area
3950 Jupiter Street, San Diego, CA 92110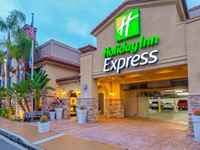 Besides Sea World, a 1.8 mile drive away at the edge of Mission Bay, Holiday Inn Express San Diego-Sea World Area is well-connected to all other area attractions via interstate 8 - the hotel is adjacent to exit 1 (Mission Bay Drive), walking distance from shopping and dining. The inn has a good reputation, for friendly, knowledgeable staff, clean rooms and nice (free) hot breakfast buffet. Room rates are cheaper than many other nearby hotels, but facilities are still quite adequate, including an outdoor pool, whirlpool, fitness center, and a microwave/refrigerator in each room.

4.
Holiday Inn Express San Diego Seaworld-Beach Area
4540 Mission Bay Drive, San Diego, CA 92109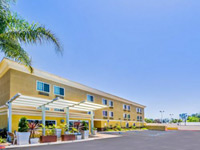 Holiday Inn Express San Diego Seaworld-Beach Area opened late 2011 after upgrading of an existing property, featuring free hot breakfast, luxurious bedding, and a microwave/refrigerator in each of the 113 rooms. The easy-to-reach location beside Interstate 5 makes for quick travel to neighborhood attractions, which include Mission Bay Park (1 mile), the Pacific Ocean (2.5 miles), SeaWorld (4 miles) and Moreno Plaza (3 miles). The hotel also has a fitness center, business center and outdoor pool.

5.
Best Western Mission Bay
2575 Clairemont Drive, San Diego, CA 92117-6602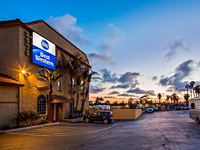 All 101 rooms at the Best Western Mission Bay are clean, large and equipped with a microwave and refrigerator. The inn occupies an older building, a typical motel design with the accommodation arranged around three sides of the parking lot, in front of which is an outdoor pool & hot tub. The place has a relatively quiet location along a main road but set back a little from it, beside a residential area just east of interstate 5 exit 22. The edge of Mission Bay with its adjacent parkland and footpaths is half a mile away on the other side of the interstate, with Sea World 4 miles south. Free breakfast is provided; for dinner there are a couple of restaurants adjacent.

6.
Howard Johnson by Wyndham San Diego Sea World
3330 Rosecrans Street, San Diego, CA 92110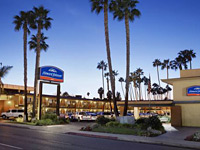 The entrance to Sea World is 2.5 miles by road from Howard Johnson Inn San Diego, while within walking distance are several shopping centers, many restaurants and Valley View Casino Center. There is one dining outlet on site (a Mexican restaurant), plus an outdoor pool right at the front, beside the main road. Guest rooms are accessed by exterior corridors and all contain a microwave & refrigerator. The motel provides a free shuttle to selected destinations including the cruise ship terminal, the international airport and Sea World. Continental breakfast is also complimentary.

7.
Days Inn & Suites by Wyndham San Diego near Sea World
3350 Rosecrans Street, San Diego, CA 92110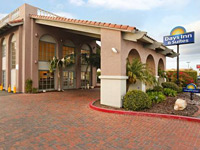 Days Inn San Diego has a spacious site along Rosecrans Street; the office building is at the front, while the three floor accommodation block and the good sized parking area are at the rear, the former set back from the road behind an adjacent business. Many of the rooms (all of which are equipped with a microwave/refrigerator) have views over an enclosed garden with outdoor pool and hot tub, while the remainder look out across the partly residential surroundings. SeaWorld is 2.5 miles north. Free deluxe continental breakfast is prepared each morning.

8.
Travelodge by Wyndham San Diego Sea World
3275 Rosecrans Street, San Diego, CA 92110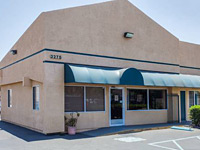 Travelodge San Diego is part of the Midway district, in between Mission Valley and the international airport - along Rosecrans Street (Hwy 209) which leads south towards San Diego Bay and eventually to
Cabrillo National Monument
. The motel offers simple, exterior corridor accommodations, the rooms facing northeast looking over the lengthy parking area, which has truck spaces at the rear. Amenities are an outdoor pool, hot tub, free continental breakfast and guest laundry. All rooms contain a microwave and refrigerator.