1.
Hilton Concord
1970 Diamond Blvd, Concord, CA 94520-5718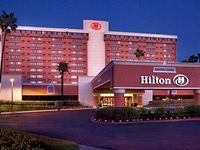 The well established, full service Hilton hotel in Concord sits at the center of a commercial area including Sun Valley Shopping Center, various large stores, a good selection of restaurants, the Iron Horse Regional Trail and Waterworld California fun park. The nearest BART stop (central Concord) is 1.5 miles east, served by free shuttle. The on-site restaurant is Grissini Trattoria, open for breakfast, lunch & dinner, plus room service; the other main amenities of the 337 room Hilton are a large fitness center, an outdoor pool (with summer poolside bar), 24 hour business center and 19,000 square feet of indoor/outdoor meeting space.

2.
Clarion Hotel Concord/Walnut Creek
1050 Burnett Avenue, Concord, CA 94520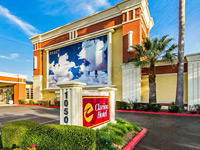 Clarion Hotel Concord takes up quite a large site along Diamond Boulevard, in the middle of the main business park in Concord and close to the airport, Sunvalley Mall, Buchanan Fields Golf Course, Contra Costa Country Club, Waterworld California, and I-680 which runs by just to the west. The property looks clean though has a rather aged exterior; inside are 198 rooms in several blocks up to six stories high, plus a restaurant/bar (Aromas Bistro), a fitness center and ten meeting rooms. At the front is a large outdoor swimming pool, which is in shadow much of the day.

3.
Best Western Heritage Inn
4600 Clayton Rd, Concord, CA 94521-7644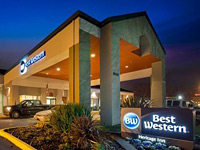 One of the few hotels on the east side of Concord, CA, the Best Western Heritage Inn occupies an older, two story, motel style building of 121 rooms arranged around a central garden with outdoor pool - along Clayton Road, 2.5 miles from the town center in a mixed residential/business district, though one block from the open spaces of Newhall Community Park. Several other parks are close by (Mt Diablo, Black Diamond Mines, Diablo Foothills and Shell Ridge), as is the large Concord Naval Weapons Station. The hotel has good staff, and offers other services of free continental breakfast, a hot tub, guest laundry, and 2,900 square feet of event space.

4.
Studio 6 Concord
1370 Monument Blvd, Concord, CA 94520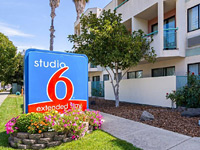 Studio 6 Concord provides affordable, all-suite/extended stay lodging, accommodating guests in 42 large rooms, all featuring a full kitchen; some have a private balcony. An outdoor pool, coin-operated laundry, free coffee and free wi-fi are the only other amenities, but rates are low and the surroundings quiet; the hotel is located half a mile east of I-680 along Monument Boulevard, near many shops, restaurants and entertainment outlets around the freeway intersection.

5.
Days Inn by Wyndham Concord
5370 Clayton Road, Concord, CA 94521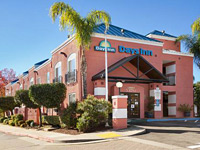 Days Inn Concord has an easterly location in town by the junction of Clayton Road and Kirker Pass/Ygnacio Valley Road, 4 miles from the center. The interior corridor inn is small (32 rooms) and cozy, lined by flourishing palm trees, in a generally quiet area though 0.3 miles from a large shopping center with several restaurants. The main amenities are a hot tub, gift shop, free continental breakfast, free coffee/juice, and a microwave/refrigerator in each guest room. Select accommodations have a hot tub bath.
6.
Motel 6 Concord
3606 Clayton Road, Concord, CA 94521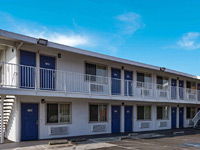 Guest rooms at Motel 6 Concord are on one or two floors, entered via exterior corridors, and overlook the parking lot which extends around both sides of the long, narrow building. The motel has an outdoor pool at the front, right beside the main street (Clayton Road), which reaches the city center 1.5 miles west and leads to the foothills of Mount Diablo a few miles east. A shopping center and at least six restaurants can be found two blocks west. Rooms are available with a refrigerator, microwave and hot tub bath. Wi-fi is complimentary.