1.
Holiday Inn Riverton-Convention Center
900 E Sunset Drive, Riverton, WY 82501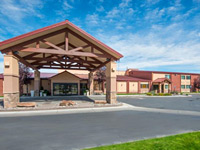 Riverton has one full service hotel, the 121 room Holiday Inn, located close to the center of town along US 26 (Federal Boulevard) - in the middle of the main collection of shops in the area including Wal-Mart to the north and Safeway one block south. The building is quite old but well maintained, and has a pleasant setting partly surrounded by fields; inside, amenities comprise a restaurant/lounge (room service available), a pool & fitness center, an enclosed courtyard garden, a business center, and 3,800 sq ft of meeting/banquet space. A complimentary shuttle is provided to places within 5 miles.

2.
Hampton Inn & Suites Riverton
2500 North Federal Blvd, Riverton, WY 82501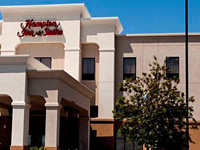 The recently built (2010) Hampton Inn is the northernmost hotel in Riverton, built in rural surroundings along US 26, 1.5 miles from the junction with Hwy 789 in the city center. Guests are a short walk away from two large stores (Walmart and Kmart), plus a small selection of restaurants. The main natural attraction in the area is
Boysen State Park
, the south edge of which is just 15 miles north. The 88 room/suite hotel provides all the usual facilities for leisure (indoor pool, hot tub, fitness center) and business (324 sq ft boardroom and a business center). Free hot breakfast is served each morning.
3.
Comfort Inn & Suites Riverton
2020 N Federal Blvd, Riverton, WY 82501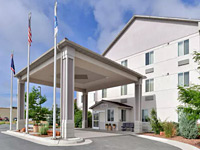 Riverton's Comfort Inn is a clean, modern hotel, regarded by many as the best place to stay in town, on account of the friendly staff, the modern, spacious rooms and the good quality free breakfast, which includes a selection of hot items. The hotel sits just off US 26 right at the north edge of town, between two large stores (Kmart & Wal-Mart), and a short walk from plenty of restaurants. The hotel also offers fast free internet access, a fitness center, a pool/hot tub, and a refrigerator/microwave in each of the 63 rooms. Pets are welcome, for a fee.

4.
Days Inn Riverton
909 West Main Street, Riverton, WY 82501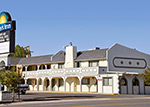 The Days Inn has a westerly location in Riverton along US 26, part of a line of shops, restaurants and other businesses including Smith's Supermarket, 0.3 miles west. The motel is a traditional, two floor exterior corridor property, albeit quite attractively designed, with a decorative white frontage. Amenities are the usual free internet access, free continental breakfast and basic business services. A microwave and refrigerator are installed in all guest rooms.

5.
Rodeway Inn & Suites Riverton
611 West Main Street, Riverton, WY 82501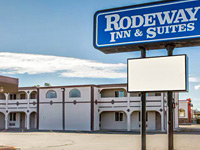 Although facilities are limited and the building is somewhat dated, Rodeway Inn Riverton is a clean, welcoming and reasonably priced establishment, providing 28 microwave/refrigerator equipped rooms, plus free internet access, free continental breakfast and basic business services. The exterior corridor inn is part of a line of small shops and other businesses along Main Street (US 26), towards the west edge of Riverton. There are two restaurants adjacent.

6.
Motel 6 Riverton
302 E Fremont Avenue, Riverton, WY 82501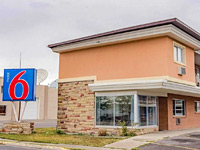 45 room Motel 6 Riverton occupies a fairly old, exterior corridor building just off Main Street through the town center, close to many shops & restaurants, and right next to the Wyoming Heritage Trail, running along the course of a former railroad. Amenities are wi-fi, coin-operated laundry, free coffee and a microwave/refrigerator in selected rooms. Pets are allowed, for a small fee.

7.
Super 8 Riverton
1040 N Federal Blvd, Riverton, WY 82501-2712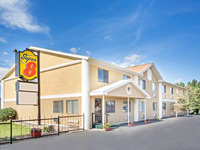 Rooms at the interior corridor, pet friendly Super 8 Riverton have views over a mixed neighborhood of residences, shops and fields, along US 26 about half a mile north of the city center. The Wyoming Heritage Trail runs past close by, along the course of an old railroad. There are many restaurants within walking distance, and two larger stores (Walmart and Kmart). Guest rooms contain a microwave, refrigerator, coffee/tea maker and desk. Wi-fi and continental breakfast are complimentary.