1.
Hampton Inn & Suites Stephenville
910 South Harbin Drive, Stephenville, TX 76401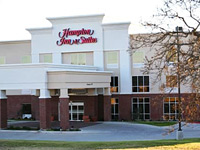 The well reviewed Hampton Inn & Suites Stephenville enjoys a good reputation for cleanliness & customer service, and it has a quiet location, in the countryside on the southwest edge of town, at the Harbin Drive exit of Loop 377. South facing rooms look out over an area of woodland; all accommodations are bright, large, modern and well equipped. Amenities are an indoor pool/whirlpool, a small fitness center, a business center, meeting space, and a dining area for the free hot breakfast, which is also available in a take-out version for guests departing early.

2.
Holiday Inn Express Hotel & Suites Stephenville
121 Lockhart Street, Stephenville, TX 76401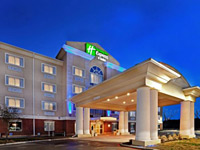 Recently built (2009) Holiday Inn Express in Stephenville is a modern, interior corridor, 82 room hotel with a good range of amenities, principally free internet access, an outdoor pool, fitness center, business center and laundry. Free buffet breakfast is served each day, including several hot items; for other meals there are a few restaurants close by along the main road through Stephenville (US 377/67), and also a shopping center just down the street. All guest rooms are quiet and peaceful since the hotel is 500 feet back from the highway, overlooking open countryside to the south.

3.
Econo Lodge Stephenville
2925 West Washington Street, Stephenville, TX 76401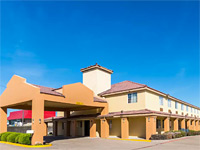 Econo Lodge Stephenville is located right at the western edge of town along Washington Street - highway 67/377 (north side), opposite the Bosque River shopping center and close to at least seven restaurants. For leisure the hotel offers an outdoor pool, sauna, exercise room and sundeck, plus there is a movie theater across the road. Accommodation comprises 51 rooms, on 2 floors, and all have a microwave and a refrigerator. Free enhanced continental breakfast is served. The popular
Dinosaur Valley State Park
is 30 miles to the east.

4.
Super 8 Stephenville
921 S Second Street, Stephenville, TX 76401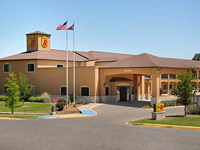 All rooms at the pet friendly Super 8 Stephenville contain a microwave & refrigerator and face south, with have views across the parking lot and outdoor pool towards a line of businesses that help shield the motel from highway 377 just beyond - the exterior corridor though recently built property sits along a quiet side street, on the south side of the city. here is one restaurant just across the street and several more two blocks west. Continental breakfast and wi-fi internet access are complimentary.

5.
Motel 6 Stephenville
701 East South Loop, Stephenville, TX 76401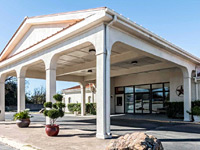 Highlight of Motel 6 Stephenville is the sheltered garden and outdoor pool; also available are barbecue grills, a meeting room, free wi-fi and free continental breakfast. Some guest rooms contain a microwave & refrigerator, and all are brightly decorated, with modern furniture and contemporary styling. The motel is situated near the intersection of highways 67, 281 and 377, on the east side of Stephenville near the municipal airport. Half a mile west, Stephenville City Park features sports facilities, a pool, childrens' playground, picnic area and trails.
6.
Knights Inn Stephenville
3030 W Washington Street, Stephenville, TX 76401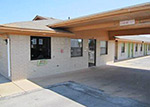 The Knights Inn is the westernmost motel in Stephenville, and one of the smallest, offering just 30 rooms, all on the ground floor, in a compact, exterior corridor building on the south side of US 67/377. Empty, wooded land borders the motel to the south but just two blocks east is a large shopping center with a good selection of restaurants. The only amenities are complimentary wi-fi, basic free continental breakfast and a hot tub, but rates are low, the rooms recently remodelled, and the location easy-to-reach.