1.
Courtyard Laredo
2410 Santa Ursula Avenue, Laredo, TX 78040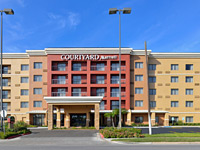 Courtyard Laredo is quite a tall building (five floors; 100 rooms, 10 suites), with an outdoor pool/hot tub at the back and plenty of parking all around. Top floor rooms have views right across town towards Mexico and the Rio Grande, 1.5 miles away to the south and west. Indoor amenities comprise a fitness center, full service business center, one meeting room, and the Bistro restaurant which is open for breakfast & dinner. The hotel is located along Santa Ursula Avenue, adjacent to I-35 (west side), in a generally residential neighborhood though close to several city facilities like the Civic Center and the local high school.
2.
Residence Inn Laredo Del Mar
310 Lost Oaks Blvd, Laredo, TX 78041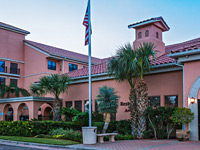 For extended stays in Laredo, TX, the top location is Residence Inn Laredo Del Mar, an elegant, all suite property of 109 rooms, a fitness center, outdoor pool & hot tub. The suites include separate living/working/sleeping areas plus a full kitchen and extra rollaway bed. A complimentary shuttle is provided (7 days a week), taking guests anywhere in Laredo within a 5 mile radius. Both free buffet breakfast and free evening reception (weekdays only) are provided, and there is a fair selection of restaurants nearby - along the eastern I-35 frontage road, north of exit 3B (Mann Road). Also close by, just to the south, is a large shopping center - the Mall del Norte.

3.
Staybridge Suites Laredo
7010 Bob Bullock Loop, Laredo, TX 78041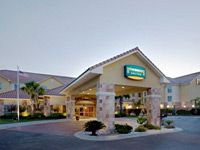 The Staybridge Suites in Laredo is another new hotel in the expanding eastern suburbs along Bob Bullock Loop (TX 20) - on the west side of the road, near to Jacaman Road. All 111 suites have a full kitchen containing microwave, refrigerator, sink & coffee maker, plus dual phone lines and free high speed internet access. The extended stay hotel also offers a convenience store/gift shop, outdoor pool, 24 hour fitness center, and free hot buffet breakfast. The center of Laredo is 5 miles away but there is plenty in the vicinity, within a mile, including Texas A&M University, Lake Casa Blanca and Laredo Entertainment Center.

4.
Embassy Suites Laredo
110 Calle Del Norte, Laredo, TX 78041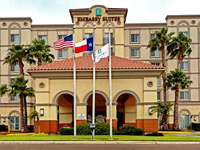 Like most hotels of this brand, Embassy Suites Laredo is centered on a floor-to-ceiling atrium lobby; guest rooms rise above on all sides, accessed by interior corridors. All accommodations are comfortable two-room suites, featuring a separate living area, sofa bed, dining table, and wet bar with refrigerator & microwave. There is one Executive Suite which includes larger living space and a boardroom table with seating for six people. The main onsite restaurant is Ambassador Steakhouse, open for dinner; lunch, all-day snacks and evening drinks are available at the atrium lounge/bar. Both hot breakfast and evening receptions are complimentary. The hotel has a quiet location facing the east side of Mall del Norte, half a mile from Interstate 35.

5.
Homewood Suites by Hilton Laredo at Mall del Norte
98 Calle del Norte, Laredo, TX 78041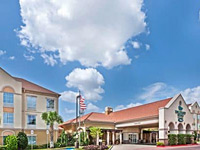 The Homewood Suites adjoins a Hilton sister property (the Embassy Suites), and also offers upscale, all-suite accommodation; rooms are available in two bedroom, one bedroom and studio layouts, all containing a fully equipped kitchen. Half the rooms have peaceful views over the secluded, tree-lined garden area, which includes an outdoor pool and basketball court. Other leisure amenities are the usual fitness center and hot tub. The many shopping, dining and entertainment outlets at Mall del Norte are just a short walk away, while the city center and the international border are 4 miles south. The hotel provides free hot breakfast each morning and free light dinner & drinks in the evenings, Monday to Thursday.

6.
Hampton Inn Laredo
7903 San Dario, Laredo, TX 78045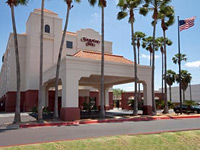 The well-established Hampton Inn hotel in Laredo sits along the eastern I-35 frontage road towards the north edge of the city, next to a shopping center (North Creek Plaza) with such stores as HEB, Target, Marshalls and Best Buy, plus around a dozen restaurants. This location is 6 miles from the international airport and 5 miles from the border with Mexico. All 119 guest rooms feature a refrigerator, microwave, coffee maker and sofa bed. Good quality free breakfast is served each morning, complete with a selection of hot items. The meetings facilities can cater for events of up to 20 people.
7.
TownePlace Suites Laredo
6519 Arena Boulevard, Laredo, TX 78041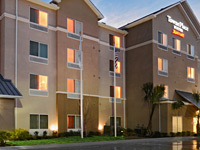 The sixth Marriott hotel in Laredo opened spring 2015 - the TownePlace Suites has an easterly location in the city opposite Laredo Energy Arena, in a lightly developed area 1.5 miles from Lake Casa Blanca and the international airport; free shuttle service is provided. There are several restaurants within easy walking distance. Accommodations are brightly decorated, equipped with modern fixtures & fittings, and available in two bedroom, one bedroom and studio layouts, all of which include a full kitchen. Other guest amenities are a convenience store, business & fitness centers, an outdoor pool and meeting space. Free hot breakfast is served daily.

8.
SpringHill Suites Laredo
5940 San Bernardo Avenue, Laredo, TX 78041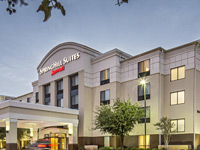 Long stay travelers to Laredo are well catered for by the SpringHill Suites along San Bernardo Avenue, a relatively new hotel that contains 108 spacious, modern suites, on 4 floors, located along the western I-35 frontage road towards the north side of town, by exit 4 (Del Mar Boulevard). The hotel serves a complimentary breakfast buffet and is a mile from many restaurants around Mall del Norte, at exit 3 of the interstate. All suites have a small kitchen area with sink, microwave & refrigerator; other hotel facilities include an outdoor pool, hot tub, exercise room,

9.
Holiday Inn Express Hotel & Suites Laredo-Event Center Area
7223 Bob Bullock Loop, Laredo, TX 78041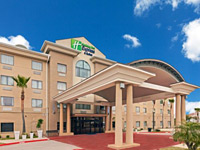 The smart, modern, 105 room Holiday Inn Express Laredo Event Center has been open since summer 2007. The hotel is built on the corner of Bob Bullock Loop and Lakeview Boulevard, close to Casa Blanca Lake on the east side of Laredo, and also near to the international airport, Casa Blanca Golf Course, and Laredo Entertainment Center. The main amenities are a fitness center, outdoor pool/whirlpool, business center and free breakfast bar. Rooms are large and modern, and all have a microwave & refrigerator.

10.
Best Western Plus Laredo Inn & Suites
3113 San Bernardo Avenue, Laredo, TX 78041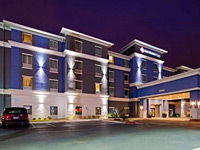 Wi-fi and hot breakfast are complimentary at Best Western Plus Laredo Inn, a recently (2015) renovated hotel along the western I-35 frontage road, 2 miles from the international border. The street to the rear is lined with numerous restaurants, bars and small shops, and Laredo Civic Center is also within walking distance. The usual two leisure amenities of a pool and fitness center are available, along with a microwave & refrigerator in all guest accommodations. Select rooms contain a sofa bed.

11.
Best Western San Isidro Inn
1410 Hospitality Drive, Laredo, TX 78045-6542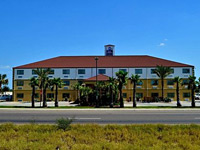 Best Western San Isidro Inn is a relatively new hotel in Laredo, built along TX 20 (Bob Bullock Loop Road), just east of exit 8 of I-35 at the north edge of town - 8 miles from the border with Mexico. The inn has 3 floors and 81 rooms, some overlooking the hotel's outdoor pool, hot tub and courtyard. A courtesy local shuttle is provided, covering all Laredo including the international airport, 6.5 miles to the south. Complimentary full breakfast is served, and the nearest restaurants are a mile away.

12.
Fairfield Inn & Suites Laredo
700 W Hillside Road, Laredo, TX 78041
One of four Marriott hotels in Laredo, TX, the Fairfield Inn occupies a clean, new building of 115 rooms, an outdoor pool, fitness center, and dining area serving free hot breakfast. It has a good location next to the many shops and restaurants at Mall del Norte, alongside I-35 (exit 3), on the north side of Laredo. Complimentary shuttle service is provided to Laredo International Airport, 2 miles east. South facing rooms have views of the palm tree-lined outdoor pool and garden.

13.
Days Inn & Suites Laredo
7060 N San Bernado Avenue, Laredo, TX 78041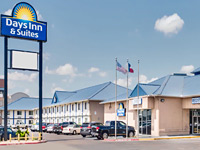 The Days Inn is a good choice for affordable lodging in Laredo, with an easily reached location beside I-35 at the Del Mar Boulevard exit. A business/industrial district borders the motel to the west, with the Rio Grande just beyond, a short walk away. The 120 guest rooms are divided between several two floor, interior corridor blocks centered on a garden area with gazebo, grills and outdoor pool. The free breakfast includes several hot items, while the adjacent Tlaquepaque restaurant is open all day for other meals. Also available are a games room, fitness & business centers and meeting space for up to 120 people.

14.
Motel 6 Laredo
7124 Rosson Lane, Laredo, TX 78041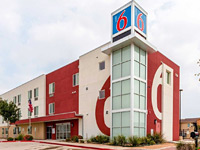 Unusually for this chain, Motel 6 Laredo occupies a newly constructed building, open 2014, situated in a quiet area on the north edge of the city, along a side road one block from US 59. The international airport is 1.5 miles south, parkland along the shore of Lake Casa Blanca is one mile east, while a short walk west reaches Laredo Energy Arena, the main sports venue in the city. All guest rooms at the Motel 6 feature free wi-fi, a hair dryer and a refrigerator; microwaves are also available. Other facilities are an outdoor pool, a meeting room and a laundry facility. Free coffee is provided, though not free breakfast.

15.
Motel 6 Laredo North
5920 San Bernardo Avenue, Laredo, TX 78041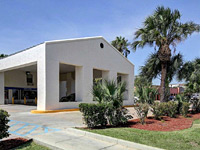 The Motel 6 accommodates guests in a pair of two story buildings; the one at the front, facing I-35, has interior corridors while the one at the rear, sheltered from the interstate, has exterior corridors. The large parking area is mostly at the back, and includes a few truck spaces. Between the two buildings is a secluded, palm-lined outdoor pool. The motel offers free morning coffee, wi-fi and a guest laundry facility. There are two restaurants adjacent. Access is from exit 3B of the interstate, Mann Road.

16.
Motel 6 Laredo South
5310 San Bernardo Avenue, Laredo, TX 78041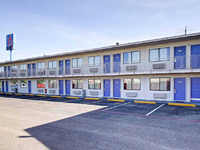 Motel 6 Laredo South is part of the main shopping area in the city, located on the west side of I-35 just across from Mall del Norte (0.6 miles away by road), and close to other stores such as Toys R Us, Home Depot and Walmart, plus many restaurants and a 12 screen movie theater. The motel has the traditional exterior corridor design; guest rooms are in three connected blocks, enclosed on all sides by the parking lot, and with an outdoor pool at the front, set back slightly from the frontage road. Accommodations feature modern furnishings and bright decor.