1.
Holiday Inn Abilene - North College Area
3525 W Lake Road, Abilene, TX 79601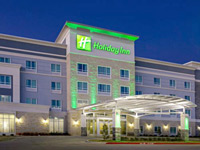 Most guest rooms at Holiday Inn Abilene look out across low woodland and undeveloped fields; the hotel has a quiet location at the edge of open countryside next to the Lake Phantom Hill Road (FM 600) exit of Interstate 20, 4 miles north of the city center. In the vicinity are a 24 hour Denny's restaurant, two gas stations and a few other hotels, while the nearest shops are 1.5 miles away; eastwards, along the interstate. The 112 room hotel opens late summer 2016, featuring a restaurant/bar, fitness center, outdoor pool and meeting/event space. All accommodations contain a refrigerator and a microwave.

2.
Courtyard Abilene Northeast
2141 Scottish Road, Abilene, TX 79601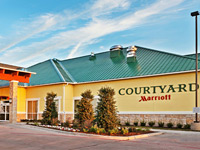 Together with an adjacent Residence Inn, and a TownePlace Suites which shares the same site, Courtyard Abilene Northeast is one of three Marriott hotels built alongside I-20 near the Hwy 351 intersection, in a quiet, rural neighborhood mostly surrounded by fields. Around the interstate exit are various restaurants and a Walmart store; the city center is 4 miles southwest. Guests enter through a spacious lobby with media board and comfortable seating, and can take advantage of such amenities as a restaurant/lounge (serving breakfast, dinner & evening drinks), a sunny outdoor pool, fitness & business centers and a 110 person meeting room. Accommodations are available with kitchenette facilities. The hotel opened late summer 2015.

3.
Courtyard Abilene
4350 Ridgemont Drive, Abilene, TX 79606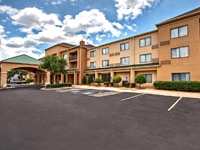 The older of Abilene's two Courtyard by Marriott hotels is located right next to the Mall of Abilene, along Ridgemont Drive, and within 3 miles of such attractions as Kirby Lake, Abilene Country Club and Mesquite Grove Golf Course. There are over 30 restaurants close by, though freshly cooked breakfast (not free) is available at the on site Bistro restaurant/lounge. The hotel and its 99 rooms are clean and well maintained; other facilities are an indoor pool, whirlpool, convenience store, meeting space and business center.
4.
Residence Inn Abilene
1641 Musgraves Blvd, Abilene, TX 79601
The recently built Residence Inn by Marriott is the top choice in Abilene for extended stay or all suite accommodation. Located at the edge of the farmland on the northeast side of town, the hotel is an elegant, 4 story building of 117 well equipped suites - each contains a full kitchen, and has upscale features like granite counters and stainless steel appliances. Guests are treated to free hot breakfast each morning and free evening reception on weekdays (Mon-Wed). Snacks can be purchased at any time from the 24 hour market, while for other meals there are a few restaurants close by, around I-20 exit 288, though a better selection can be found 1.5 miles south along 10th Street.

5.
Hilton Garden Inn Abilene
4449 Ridgemont Drive, Abilene, TX 79606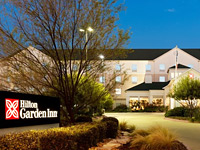 A fitness center, indoor pool, 24 hour convenience store and 3,000 sq ft of meeting space are just some of the facilities of the Hilton Garden Inn, one of many hotels close to Mall of Abiliene on the southwest side of the city, close to US 83. The location is quieter than for some other nearby properties, as the hotel lies a short distance south of the mall, away from the freeway, adjoining a residential estate. The Great American Grill restaurant is open for breakfast, dinner and evening room service, while drinks & snacks are served at the lounge/bar. Also within walking distance are a ten screen movie theater and many more restaurants.

6.
Hampton Inn Abilene
3917 Ridgemont Drive, Abilene, TX 79606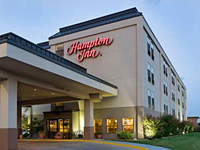 Hampton Inn Abilene is one of the older properties of this popular brand; a compact, four floor building of 63 rooms (no suites), all containing work desk/microwave/refrigerator and some with a sofa bed. Rooms overlook a commercial area that includes restaurants, several stores (Target, Lowe's, Office Max) and other hotels, plus Mall of Abilene just across the street. US 84 runs past to the north; on the far side is Red Bud Park, containing trails, sports facilities and a childrens' playground. The Hampton Inn provides free hot breakfast, and has leisure facilities of a pool (indoor), hot tub and fitness center.

7.
Hampton Inn & Suites Abilene I-20
3526 West Lake Road, Abilene, TX 79601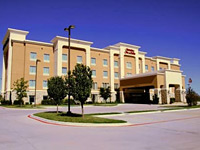 Right at the north edge of Abilene, the 63 room Hampton Inn enjoys a fine, rural setting along Lake Road on the north side of I-20, backing on to fields and woodland, and set back a little from the interstate behind a gas station. There are few facilities in the vicinity; the nearest restaurants & shops are one mile east, at the next interstate exit. The large and modern hotel has an outdoor pool at the rear, a garden at the front, and a spacious parking lot all around, with room for the largest trucks. Guests enter through a welcoming, Western-themed fireplace lobby, off which are a meeting room, business center, laundry facility and a dining room for the free hot breakfast.
8.
Towneplace Suites Abilene Northeast
2141 Scottish Road, Abilene, TX 79601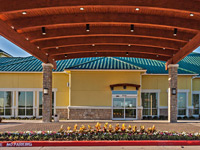 The mid range all-suite, long stay Marriott brand is represented in Abilene by the four story, 76 room, pet friendly TownePlace Suites, situated at the end of a short road on the north side of I-20, in rural surroundings though within walking distance of shopping and dining. The suites are available in two bedroom, one-bedroom and studio floorplans, and all feature a full kitchen. Wi-fi and daily hot breakfast are complimentary. Leisure facilities are a fitness center, outdoor pool, hot tub, and a patio with bbq grill. The hotel opened September 2015, as did the Courtyard which shares the same location.
9.
Wingate by Wyndham Abilene
3010 CatClaw Drive, Abilene, TX 79606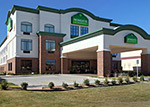 The Wingate by Wyndham is a southwest Abilene hotel, just off US 83 1.5 miles from Mall of Abilene but much closer to several other major stores including Wal-Mart, PetSmart, Home Depot and Kohl's, plus a decent selection of restaurants. The city center is 5 miles away. Hotel highlights are free hot breakfast, a 24 hour business center, a spacious lobby, a good-sized indoor pool/whirlpool, a sundry shop and meeting space. All guest accommodations contain a microwave & refrigerator, and include several suites featuring a sofa bed and extra living space.

10.
Holiday Inn Express Hotel & Suites Abilene Mall South
3112 South Clack St, Abilene, TX 79606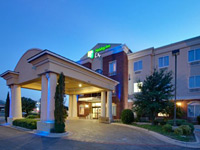 The 3 story, 66 room Holiday Inn Express Abilene Mall South opened in 2006 and has a good location adjacent to US 83/84 on the southwest side of Abilene about a mile from the mall. The hotel is at the corner of Southwest Dr and S Clack St; also close by are Abilene Country Club, Fairway Oaks Country Club, Mesquite Grove Golf Course and Kirby Lake. As with all Holiday Inn Express hotels, free continental breakfast is served. This is a clean, well managed facility that also offers an outdoor pool, hot tub, guest laundry, a business center and one meeting room.

11.
Holiday Inn Express Hotel & Suites Abilene
1802 East Overland Trail, Abilene, TX 79601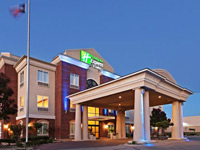 Holiday Inn Express Abilene is part of a small group of hotels next to exit 288 of I-20, on the northeast side of the city, in a rural neighborhood - a short distance along the frontage road on the north side of the interstate. It is one of the closest hotels to both Hardin-Simmons University and Abilene Christian College. The three floor Holiday Inn Express has 48 spacious rooms and 18 suites, an outdoor pool, on site fitness center, newsstand and free breakfast bar that includes hot items like bacon & eggs. For other meals there are several restaurants adjacent to the interstate.

12.
Candlewood Suites Abilene
3050 Catclaw Drive, Abilene, TX 79606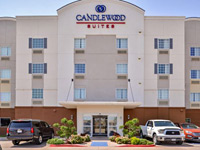 Open summer 2011, the Candlewood Suites hotel provides good quality, affordable, all-suite/extended stay accommodation to Abilene visitors, located in a commercial area of many large stores including Mall of Abilene - on the southwest edge of the city alongside US 83/84. The 72 studio or one-bedroom suites all have a full kitchen (microwave, stove, refrigerator, dishwasher, sink), plus a large work desk and free internet access. Food for cooking is available on site at the Candlewood Cupboard convenience store, and there are many restaurants nearby along Southwest Drive. Leisure amenities are an outdoor pool and fitness center, plus a gazebo with grills, in the garden.

13.
Best Western Abilene Inn & Suites
350 E Overland Trail, Abilene, TX 79601-1630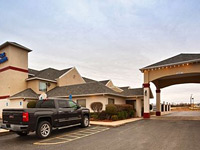 One of two Best Western hotels in Abilene is the Inn & Suites, adjacent to exit 286C of I-20 (north side of the interstate), on the corner of Westlake Road and the frontage road, Overland Trail. This is a quiet, residential/rural location; the hotel backs on to farmland to the west and north and is half a mile from the wooded valley of Cedar Creek, yet there are several restaurants and shops close by. Amenities include an outdoor pool, fitness center, free full breakfast and 24 hour exercise facility.

14.
Best Western Mall South
3950 Ridgemont Drive, Abilene, TX 79606-2730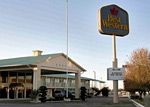 Best Western Abilene Mall South is one of several hotels along Ridgemont Drive, which runs past the west side of the Mall of Abilene and is a block west of the Buffalo Gap Road exit of highway US 83. The Mall contains about 80 stores including Dillard's, Sears and JC Penney, while the Best Western has 61 rooms on 2 floors, an outdoor pool separated from the hotel by the carpark, and is within 0.1 mile of many restaurants. Free deluxe continental breakfast is served.

15.
Fairfield Inn Abilene
3902 Turner Plaza Drive, Abilene, TX 79606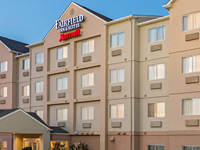 Another of the hotels near the Mall of Abilene on the southwest side of town, Fairfield Inn by Marriott is a bright, new looking property typical of this brand, with 73 rooms & suites on 4 floors. It is close to Highway 83/84 (the Buffalo Gap Rd exit), and walking distance from the mall, though located on a side road and so providing a quiet night's sleep. The main amenities are deluxe continental breakfast, an indoor/outdoor pool and hot tub.
16.
Comfort Inn Abilene
6350 Directors Parkway, Abilene, TX 79606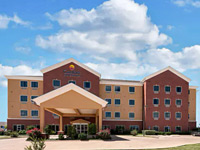 Smaller of two new Choice Hotels properties to open in Abilene in 2008, the Comfort Inn serves visitors to the south of the city, being located just off US 83/84 (Antilley Road exit), opposite Abilene Regional Medical Center. The hotel features 73 comfortable, microwave/refrigerator-equipped guest rooms, a fitness center, outdoor pool, laundry and a 75 person meeting room. Free continental breakfast is served and there are a couple of fast food restaurants nearby, though a much better selection can be found near Mall of Abilene, 2 miles north along the freeway.

17.
Comfort Suites Abilene University
1902 East I-20, Abilene, TX 79601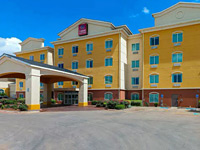 Open 2008, Comfort Suites University is a handsome addition to the group of hotels around I-20 exit 288, on the northeast edge of Abilene - a bright, clean, four story building of 68 extra large rooms, all equipped with microwave, flat screen TV and refrigerator; some have a hot tub bath. The neighborhood is generally quiet and rural, but a short walk eastwards to the far side of the interstate reaches a cluster of restaurants and shops including Wal-Mart. The hotel has an indoor pool & whirlpool, exercise room, meeting room, and a dining area for the free continental breakfast. Hardin-Simmons University is 2 miles west along Ambler Avenue.

18.
Quality Inn Abilene
1758 E I-20, Abilene, TX 79601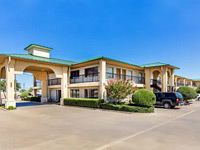 At 1758 E I-20, the Quality Inn hotel of Abilene is situated on the northeast side of the city next to the interstate (exit 288) and 4 miles from the downtown area. There are several restaurants within walking distance, though the hotel has a rural setting, adjacent to farmland. At the front of the hotel is a triangular shaped, outdoor swimming pool (seasonal), and other amenities include an exercise room and free continental breakfast.

19.
Sleep Inn & Suites Abilene
3225 S Danville Drive, Abilene, TX 79605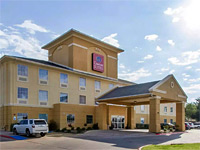 The southernmost of two new Sleep Inn hotels in Abliene to open fall 2009 is built next to a Choice Hotels sister property (Comfort Suites), along the northern US 83/84 frontage road, just across from the Park Central shopping area and one mile from Mall of Abilene. The neighborhood is residential but there are several restaurants a short walk away. The 74 bright, modern rooms all contain a refrigerator, microwave, flat screen TV & coffee maker; some have one or more of a balcony, hot tub, wet bar & sofa bed. Free hot breakfast is served each morning. Pets are welcome, for a fee. The usual facilities for business (meeting room, business center) and leisure (pool, hot tub, fitness center) are available.

20.
Sleep Inn & Suites Abilene
West Lake Road at I-20, Abilene, TX 79601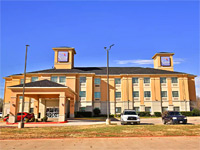 Two Sleep Inn hotels opened late 2009 in Abilene; the northernmost is a medium sized, three floor property featuring 55 comfortable rooms (containing refrigerator & microwave), free continental breakfast, an outdoor pool/hot tub, sundeck, fitness center, laundry and basic business services. The hotel sits along I-20 at the West Lake Road exit (288C), within 2 miles of both Hardin Simmons University and Abilene Christian University, though the immediate surroundings are mostly rural and undeveloped. The nearest restaurant is Denny's, on the far side of the interstate.

21.
Days Inn Abilene
1702 East I-20, Abilene, TX 79601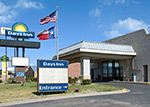 Along with half a dozen other hotels, Days Inn Abilene has an easterly location in the city, at the Hwy 351 exit of Interstate 20, also close to a collection of restaurants and a Walmart superstore. Guests have a choice of 100 rooms, all featuring a microwave, refrigerator and free wi-fi; accommodations are divided into two exterior corridor blocks, separated by an outdoor pool and a small garden, bordered to the east by open farmland. The parking lot includes several long vehicle spaces. Free continental breakfast is provided each morning.

22.
Super 8 Abilene North
1525 E Stamford Street, Abilene, TX 79601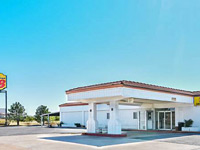 Super 8 Abilene North has a pleasant, countryside location, with a field and stream to one side and a patch of woodland to the other, though I-20 runs right past to the north. The exterior corridor motel is situated by the intersection with Hwy 351 from Albany, 3 miles northwest of the city center. Abilene Christian University is half a mile west, while within walking distance are several restaurants and a Walmart store. Amenities are free wi-fi, free eight item continental breakfast, and a secluded outdoor pool Guest rooms contain a microwave and a refrigerator.

23.
Super 8 Abilene South
4397 Sayles Blvd, Abilene, TX 79605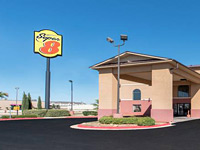 The Super 8 occupies a new-looking, interior corridor building on the south side of Abilene, along the eastern US 83 frontage road, in a business/industrial neighborhood though partly surrounded by undeveloped land. South-facing rooms have views of the outdoor pool and the reasonable-sized parking lot. Free continental breakfast is provided and there is one restaurant adjacent; many more dining outlets can be found one mile away at the Mall of Abilene. Wi-fi is also complimentary.

24.
Motel 6 Abilene
4951 W Stamford Street, Abilene, TX 79603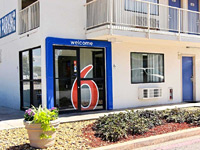 The main amenity at Motel 6 Abilene is an outdoor pool, overlooked by some of the guest rooms, which are contained within several connected two floor, exterior corridor blocks, and surrounded by plenty of parking space. The motel adjoins a KOA campground but is otherwise part of an undeveloped, wooded area on the south side of Interstate 20, one mile west of the US 277 intersection. Accommodations are modern in appearance, decorated in bright colors. Also available are wi-fi, free coffee and coin-operated laundry.