Most visitors to
Wells
are here to break long cross-country journeys, either east-west on I-80 or north-south along US 93. The city is small, consisting of a few dozen blocks on the north side of the interstate, with shopping and accommodations clustered around the two exits, 351 and 352. Other facilities include a golf course, several RV sites, a sports park and airfield. The surroundings are not particularly scenic, but one worthwhile side trip is the 11 mile drive along Hwy 231 to the south; this roads climbs to a small lake in the
East Humboldt Range
, surrounded by treeless rocky slopes.
Map of Hotels in Wells, NV

1.
Motel 6 Wells
1561 6th Street, Wells, NV 89835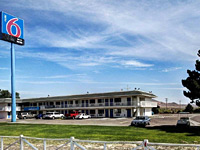 The best of the limited choice of accommodation in Wells, NV, is generally considered to be the Motel 6, situated along 6th Street just off the I-80/US 93 junction on the east side of town. The two story building is quite old, with exterior corridors, but the rooms are clean and welcoming, the rates are low, and the staff friendly. There are several restaurants nearby and more towards the town center half a mile north. The Motel 6 has an outdoor pool, cable TV, free coffee, guest laundry and a mini-refrigerator in some of the rooms.

2.
Super 8 Wells
930 6th Street, Wells, NV 89835
Although located near I-80 at the US 93 intersection, Super 8 Wells has a quiet location along a side street, a quarter of a mile from the interstate and partly surrounded by empty land. Rooms have views of mountains north and south. The place has two floors and exterior corridors, the one main facility being an outdoor pool, in the middle of the parking lot at the front. Complimentary amenities are wi-fi and eight-item continental breakfast. The town center is half a mile north, though most facilities, including restaurants, are in the other direction, beside I-80.
All hotel listings link direct to the brand website for reservations and for the guaranteed lowest rates
I-80 Hotels and Exit List
Nearby Cities
Elko
, 49 miles
Wendover
, 60 miles
Ely
, 140 miles
Nevada Hotel Brands