1.
Hampton Inn & Suites Barstow
2710 Lenwood Road, Barstow, CA 92311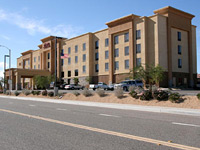 Hilton's representative in Barstow is the Hampton Inn & Suites, part of a small group of hotels on the southwest edge of town around the largest mall in the area, Tanger Outlets. The four floor property is the southernmost building in town, and east-facing rooms enjoy spectacular views across undeveloped desert plains towards the distant Newberry Mountains. The inn provides free hot breakfast and has a 24 hour convenience store where snacks & drinks may be purchased; for other meals there are over a dozen restaurants close by. Studio, one-bed and whirlpool bath suites are available, in addition to the standard accommodations, all of which are spacious, stylishly decorated and contain a microwave/refrigerator.

2.
Holiday Inn Express Hotel & Suites Barstow
2700 Lenwood Road, Barstow, CA 92311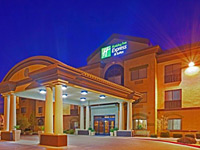 The rooms at the Holiday Inn Express Barstow look out over empty desert in all directions except north, as here, a short walk away, are two large outlet stores - Tanger Outlets and Factory Merchants Barstow, between them containing over 100 stores. The hotel is located at 2700 Lenwood Road, just south of I-15 exit 178; the center of Barstow is 6 miles northeast and the nearest restaurants (4 of them) are 0.3 miles north. Amenities include a large outdoor pool (essential in the Mojave Desert), fitness center, convenience store and gift shop. Free hot buffet breakfast is served daily.

3.
Best Western Plus Desert Villa Inn
1984 E Main Street, Barstow, CA 92311-3218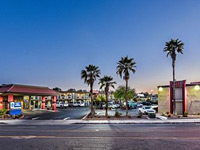 Best Western Plus Desert Villa Inn is located right on the east edge of Barstow, looking out over the sandy plains of the Mojave Desert; the hotel sits just east of the I-40/I-15 junction, adjacent to I-40 exit 1, close to several large stores including a Wal-Mart and two factory outlets. The 95 rooms (all containing refrigerator/microwave) are divided between two long exterior corridor blocks, either side of the car park, with an outdoor pool at one side. The inn has a fitness center & snack shop, and serves free continental breakfast.

4.
Comfort Suites Barstow
2571 Fisher Blvd, Barstow, CA 92311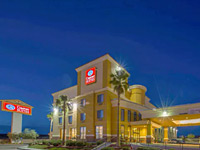 Barstow's elegant Comfort Suites hotel is built at the edge of the desert next to exit 178 of I-15, a third of a mile north of the 26-store Barstow Outlets Mall. The 83 oversized rooms all contain a microwave, refrigerator, flat screen TV, wet bar and extra sofa bed, and most have long distance views over the flat surroundings. There are many restaurants within walking distance, along Lenwood Drive through the mall. Pets are welcome for a small fee. The hotel also offers an outdoor pool, hot tub, exercise room, free hot breakfast, and a convenience store.

5.
Quality Inn Barstow on Historic Route 66
1520 E Main Street, Barstow, CA 92311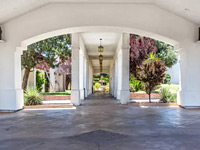 Barstow's Quality Inn is one of several hotels along Main Street, formerly Route 66, at the east edge of town and close to the junction of I-40 & I-15 - near a good selection of shops and restaurants, though the hotel has its own cafe/lounge (Los Domingo's), which offers free cooked breakfast to all guests. Leisure facilities are above average, comprising an outdoor pool, courtyard with gardens, putting green, fitness center, and gazebo with bbq grills. The hotel has the old-style, exterior corridor design, with most rooms looking inwards over the garden area.

6.
Sleep Inn Barstow on Historic Route 66
1861 W Main Street, Barstow, CA 92311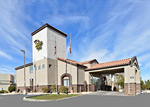 Sleep Inn Barstow is situated along Main Street - old Route 66 - at the west edge of town, near a few businesses, restaurants and houses but also patches of undeveloped land. The town center is 1.6 miles east, and the nearest I-15 exit is no. 181 (L Street). The 65 rooms face either east or west, and all contain a microwave, refrigerator & coffee maker; some look out over the hotel's outdoor pool. Free hot breakfast is provided. Other facilities include bbq grills, a small fitness center, coin-operated laundry and a business center.

7.
Ramada Barstow
1511 East Main Street, Barstow, CA 92311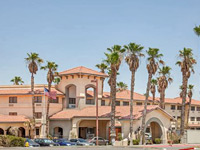 Ramada Barstow is part of the main lodging area in the city, towards the eastern edge, near the I-15/I-40 intersection, bordered by Main Street to the west and railway lines to the east. The complex is relatively large, surrounded by ample parking space, with a garden and outdoor pool at the rear, and tall palm trees all around the perimeter. There is one restaurant adjacent (a Chinese) and many more in either direction along old Route 66. Meeting space, a business center, free wi-fi, free continental breakfast and a microwave/refrigerator in each guest room are the other main amenities.

8.
Days Inn Barstow
1590 Cool Water Lane, Barstow, CA 92311-3245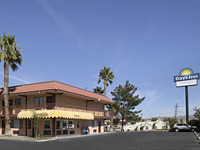 Days Inn Barstow adjoins a restaurant on one side and a housing estate on the other, with a patch of undeveloped land at the rear and Interstate 15 to the front. The appearance is similar to many other motels in town; several intersecting exterior corridor accommodation blocks, all surrounded by the parking lot, which has an outdoor pool and sundeck at one corner. Plenty more dining, and shopping can be found half a mile north along old Route 66. Pets are welcome. All guest rooms are equipped with a microwave and refrigerator. Continental breakfast is complimentary.

9.
Days Inn Barstow South Lenwood
2551 Commerce Parkway, Barstow, CA 92311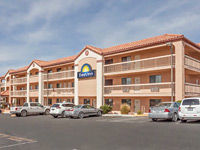 The Days Inn is the westernmost hotel in Barstow, located on the west side of I-15 at the Lenwood Road exit (178), opposite Barstow Outlet Mall. There are two restaurants and three travel centers adjacent, this being one of the main stopping places on the 175 mile drive between Los Angeles and Las Vegas. Half the 110 guest rooms have good views northwards, across the parking lot (which includes several dozen truck spaces) and outdoor pool to the open desert beyond. Interior amenities are a fitness center, business center, a meeting room and a dining room for the free continental breakfast.

10.
Travelodge Barstow
1630 E Main Street, Barstow, CA 92311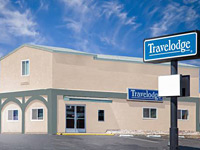 In the triangle of land bordered by Main Street (and the railway lines), Interstate 40 and Interstate 15, Travelodge Barstow accommodates guests in 33 refrigerator/microwave-equipped rooms, divided into two exterior corridor blocks, overlooking the parking area, a small swimming pool and an adjacent restaurant. Also in the vicinity are a selection of stores at Barstow Mall, and Barstow Station, a themed shopping/dining attraction. Free continental breakfast is the other main amenity.

11.
Econo Lodge Barstow
1230 E Main Street, Barstow, CA 92311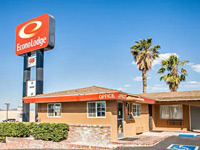 Econo Lodge Barstow is one of a long line of motels along east Main Street, its rooms overlooking a residential district to the south and empty desert to the north. The lodge is a small, 2 floor property with outdoor pool, children's playground & picnic area, within 1/4 mile of at least 6 restaurants and half a mile from the City Park. All rooms have a refrigerator and free wireless internet; some include a kitchenette. Free continental breakfast is served.

12.
Super 8 Barstow
170 Coolwater Lane, Barstow, CA 92311-3222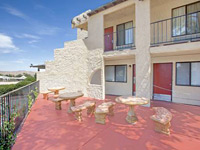 Lodging at Super 8 Barstow is simple, cheap and quiet, since the motel sits 800 feet from the two nearby main streets (Route 66 and the I-15 frontage road), backing on to a residential estate. Guest rooms are divided between two blocks, both of two floors and accessed by exterior corridors. The land slopes down gently to the south, and some rooms have far-reaching views across town towards the distant Newberry Mountains. Others overlook the outdoor pool. The motel provides free eight item continental breakfast.

13.
Rodeway Inn Barstow on Historic Route 66
1261 East Main Street, Barstow, CA 92311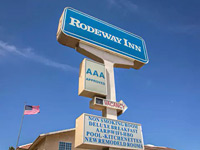 The well-reviewed Rodeway Inn has a northeasterly location in Barstow, almost opposite a Choice Hotels sister property (Econo Lodge), and it offers clean, comfortable accommodation within easy reach of interstates 40 and 15. Of the many nearby attractions of the Mojave Desert, the closest is
Rainbow Basin National Natural Landmark
, 12 miles north. Adjacent to the motel are two restaurants including a Denny's, with many others within half a mile, and a selection of shops. All rooms (33 of them, accessed by exterior corridors) have microwave & refrigerator, and the hotel serves free continental breakfast.

14.
Motel 6 Barstow
150 Yucca Avenue, Barstow, CA 92311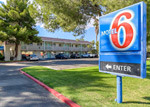 Motel 6 Barstow is one of a number of affordable lodging places along Route 66 close to the city center, with a quieter setting than most as the exterior corridor building is set back a little from the highway along a side street, bordered by sandy desert to the west. The place is quite well shielded by trees, though not enough to prevent north-facing rooms enjoying long distance views towards the Calico Mountains. There are plenty of shops and restaurants close by. The motel has an outdoor pool and is enclosed by a decent-sized parking area, including a few long-vehicle spaces.