Cascade Corner
is the name given to the far southwest section of
Yellowstone National Park
, beyond the edge of Pitchstone Plateau which occupies most of the area eastwards as far as Shoshone Lake and the Lewis River, and Madison Plateau to the north. Also known generally as
Bechler
, the region is relatively low in elevation, around 6,400 feet, and most is flat, a varied mixture of meadows, creeks, sloughs, marshes and forest; there are few thermal features, and instead the main attractions are waterfalls - over 20 are found here, most along the
Falls River
and its tributaries, others along the
Bechler River
and
Boundary Creek
. The majority need rather a long hike to reach, up to 15 miles, hence the region is popular with backpackers, and also notable because of the abundant wildlife (moose, beaver, wolves and black bears), the rather longer hiking season (approximately from May to November) and the general remoteness. Cascade Corner is not accessible by road from the rest of the park, cut off by mountain ranges and river canyons, and instead access is via the 19 mile
Cave Falls Road
, crossing Targhee National Forest land, starting at a junction with Hwy 47. Facilities at Bechler are limited to a ranger station, a few trailheads and the nearby USFS campground, and a typical weekday in summer may see only a few dozen visitors.
Cave Falls Road
The access road, which is not signposted to Yellowstone National Park, forks off Hwy 47 just east of Ashton, Idaho. The route is paved for a while, crossing peaceful farmland, then becomes unpaved at the national forest boundary, after which the surface is rather stony and ridged (and dusty when dry), though still fine for all vehicles. The wide track follows the open valleys of Porcupine Creek and Rock Creek then enters pine woodland, passing two turn-offs, one north to
Horseshoe Lake
, the other south to the trailhead for the 1.3 mile hike to
Sheep Falls
on the Falls River. 0.9 miles along this latter road is a good area for primitive camping, in a big, grassy clearing in the woods on the north side of Wyoming Creek. There are also several lesser tracks branching off the main road leading to other potential camp spots, while for official stays, the USFS manage Cave Falls campground, shortly before the end of the road.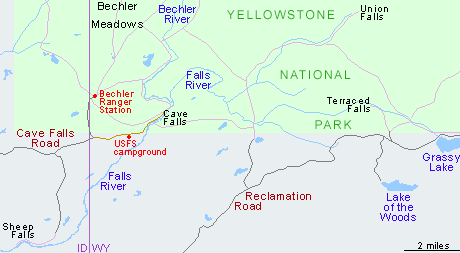 Map of Cascade Corner, Yellowstone National Park
Bechler Ranger Station
Cave Falls Road forks just after crossing from Idaho into Wyoming. The left turn soon reaches the Bechler Ranger Station, and the main Cascade Corner trailhead, where four paths begin, namely the West Boundary Trail,
Bechler Meadows/Boundary Creek Trail
to Dunanda Falls and beyond, and two connecting trails eastwards to different parts of the Bechler River Trail. From the junction, the other road (now paved, but narrow) continues east another 3 miles to a small parking area near Cave Falls, start point of the Bechler River Trail that heads north, passing
Bechler Falls
in 1.3 miles and continuing to many other locations including Colonnade Falls after ten miles.
Reclamation Road
There are four other trailheads in the Cascade Corner region, east of the Falls River and reached by an unconnected route,
Reclamation Road
, also known as Ashton-Flagg Ranch Road or Grassy Lake Road. This links US 89 between the Grand Teton and Yellowstone national parks (within the Newton B Drury Scenic Parkway), with Ashton. The road is well used and regularly maintained, though a little rough in places. The easternmost 9 miles is within the parkway and has about ten designated (free) camping sites, but the remainder crosses national forest land where camping is allowed anywhere. Trailheads are to Beula Lake (2.5 miles), the Mountain Ash Creek Trail (to Union Falls, and connecting with the Bechler River Trail), to Terraced Falls (1.2 miles), and the South Boundary Trail. All are infrequently used, less even than the two trailheads along Cave Falls Road. Most traffic along Reclamation Road is either campers, or people visiting Grassy Lake and nearby Lake of the Woods.