1.
Courtyard Wichita Falls
3800 Tarry Street, Wichita Falls, TX 76308
Courtyard Wichita Falls is situated just off US 82/277 near the southwest edge of the city, in the middle of a large shopping district - there are various stores adjacent including Wal-Mart, and the Sikes Senter Mall is less than a mile away. Entrance to the hotel is through a large, welcoming lobby with modern features such as an interactive information screen, media pods and guest-use computers - part of a handsome, 4 story building of 93 rooms and over 2,000 sq ft of meeting/event space. The on site restaurant (The Bistro) is open for breakfast, lunch & dinner, plus a full bar and Starbucks coffee. The Courtyard also has a fitness center, hot tub, indoor pool, business center and laundry.

2.
Staybridge Suites Wichita Falls
1917 Elmwood Avenue North, Wichita Falls, TX 76308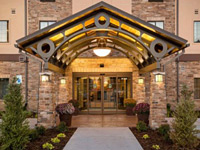 The Staybridge Suites is a residential-style, all-suite/extended stay hotel, offering accommodations in studio and one bedroom layouts, all equipped with a full kitchen. The three floor property has a southwesterly location in the city close to the intersection of Kemp Boulevard with Southwest Parkway, close to numerous shops & restaurants, within 2 miles of Lake Wichita, Midwestern State University and North Texas State Hospital. Hot breakfast and internet access are provided free of charge. Rooms are in two blocks, and some have views of the sheltered outdoor pool on the north side.

3.
Homewood Suites by Hilton Wichita Falls
2675 Plaza Parkway, Wichita Falls, TX 76308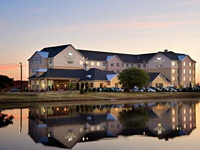 Although situated in a busy commercial district close to Sikes Senter Mall, Homewood Suites Wichita Falls enjoys a scenic, peaceful location along a side street right by the edge of Sikes Lake, and is also adjacent to Vernon College. There are many restaurants within walking distance, although both hot breakfast and evening dinners (Mon-Thu, including beer & wine) are complimentary. Accommodations at the all-suite (studio or one bed) hotel feature plenty of living space and a full kitchen - food for cooking can be purchased from the on-site convenience store, or via the free grocery shopping service. For leisure the hotel offers a fitness center, pool and spa.
4.
Hampton Inn Wichita Falls-Sikes Senter Mall
4217 Kemp Blvd, Wichita Falls, TX 76308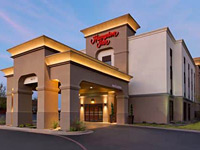 The Hampton Inn provides the closest accommodation to Sikes Senter Mall on the south side of Wichita Falls, also within walking distance of various other large stores, a great variety of restaurants, Midwestern State University and Sikes Lake. A larger natural area can be found 1.5 miles east; parkland and trails alongside Holliday Creek. The 74 room/suite hotel has the angular, three floor design typical of this brand and it provides all the usual facilities, accompanied by excellent customer service, including free hot breakfast (take-out version available Monday to Friday), an indoor pool, fitness & business centers and a 40 person conference room.

5.
Holiday Inn Express Hotel & Suites Wichita Falls
5300 Kell Blvd, Wichita Falls, TX 76310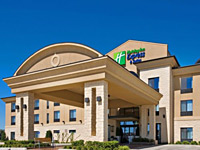 The three floor Holiday Inn Express in Wichita Falls has a pleasant location in a lightly developed area overlooking a small artificial lake right at the west edge of town, by the Barnet Road exit of US 82. The hotel is within 3 miles of the Memorial Stadium, Lake Wichita, Sikes Center Mall and Midwestern State University. There are 80 rooms on offer, all typically large, comfortable & well furnished; the suites include a kitchenette with sink, microwave and refrigerator. Other amenities are the expected free continental breakfast, an outdoor pool, hot tub, fitness center and business center. The best choice of restaurants nearby is 2 miles southeast, around the junction of Fairway Boulevard and Southwest Parkway.

6.
Candlewood Suites Wichita Falls at Maurine Street
1320 Central Freeway, Wichita Falls, TX 76305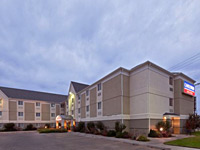 Candlewood Suites is a relatively new hotel in Wichita Falls, built alongside I-44 towards the north of the city, in a mostly residential neighborhood just south of the junction with US 287. The hotel is reached from exit 2 of the freeway (Maurine St) - on the west side, behind a Denny's restaurant. The 75 suites are on 3 floors, and all have a full kitchen with dishwasher, refrigerator, & microwave, cable TV with DVD player, high speed Internet and dual phone lines. Downtown Wichita Falls is 3 miles to the south.

7.
Best Western University Inn & Suites
4540 Maplewood Avenue, Wichita Falls, TX 76308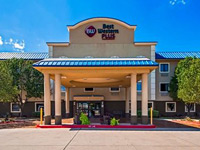 The three story, 78 room Best Western University Inn & Suites occupies a spacious site near the south edge of Wichita Falls - just off Southwest Parkway, within a mile of such locations as the Sikes Senter, Wichita Square Mall, Midwestern State University and Lake Wichita. Accommodations have modern decor and furnishings, and are equipped with a microwave/refrigerator, plus a sofa bed in the suites. Free full breakfast is served each morning, and there are many restaurants close by, along Kemp Boulevard. Also available are an outdoor pool, fitness center and business center.

8.
Fairfield Inn & Suites Wichita Falls Northwest
1020 Central Freeway, Wichita Falls, TX 76306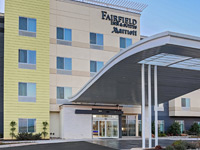 The recently-opened (winter 2017) Fairfield Inn by Marriott in northwest Wichita Falls offers all the expected facilities including a spacious lobby, free breakfast, free wi-fi, an indoor pool/whirlpool and meeting space. The hotel has 89 rooms & suites, looking out across a lightly developed neighborhood on the west side of I-44 near the junction with Business 287. There are a couple of restaurants in the vicinity and more towards the city center to the south.

9.
Comfort Inn Wichita Falls North
1317 Kenley Avenue, Wichita Falls, TX 76306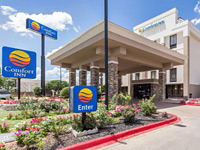 The recently renovated Comfort Inn Wichita Falls is one of a small group of hotels around exit 2 of I-44, located a short distance southwest, just off the Central Freeway frontage road. The hotel's 119 rooms are on 4 floors in 2 interior corridor blocks, enclosed by the ample parking area and with an outdoor pool at the front of the property. There are several restaurants and a convenience store within 2 blocks, the center of Wichita Falls is 3 miles south and the municipal airport is 5 miles north. The hotel serves free continental breakfast and has the other standard amenities of a hot tub, fitness center, business center & meeting space.

10.
Comfort Inn Wichita Falls near MSU
4414 Westgate Street, Wichita Falls, TX 76308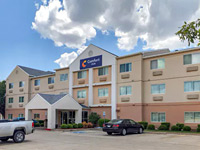 The affordable Comfort Inn of Wichita Falls, TX, is one of several hotels close to the 85 store Sikes Senter near the southwest edge of town - about 0.4 miles south of the mall and a similar distance north of other large stores around the Southwest Pkwy-Kemp Boulevard junction. Besides shopping, this busy area also has many restaurants and ten movie screens. The three story hotel is situated just off the main road for a quieter stay, and offers 56 clean, spacious rooms & suites, a indoor pool/hot tub and a business center.

11.
Quality Inn & Suites Wichita Falls
1740 Maurine Street, Wichita Falls, TX 76306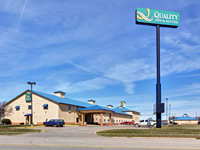 The Quality Inn is a north Wichita Falls hotel, one block from I-44 at the Maurine Street exit, and offers free hot breakfast, an outdoor pool, business services and meeting/event space for up to 40 people. Some rooms have a microwave, refrigerator and whirlpool bath; all have ironing facilities, a coffee maker and a safe. The two floor building is fairly old but was renovated in 2009. The neighborhood is quite lightly developed and there are not many facilities nearby though a couple of restaurants are within walking distance, on the far side of the interstate.

12.
Howard Johnson by Wyndham Wichita Falls
3209 Hwy 287, Wichita Falls, TX 76305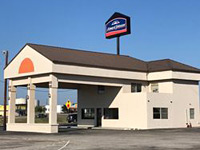 Howard Johnson Wichita Falls has a somewhat isolated location at the north edge of the city by the Hwy 11/US 287 intersection, surrounded by fields on most sides, and a golf course to the south. There is one restaurant nearby and more choices (and a Wal-Mart store) about a mile north beside I-44. The main entrance to Sheppard Air Force Base is 2.5 miles away. The exterior corridor rooms are on two floors, and some contain a microwave/refrigerator. Half have views of the small outdoor pool and sundeck at the front. A business center and meetings space are at the disposal of guests here to work. Wi-fi and continental breakfast are complimentary.

13.
Baymont by Wyndham Wichita Falls
4510 Kell Blvd, Wichita Falls, TX 76309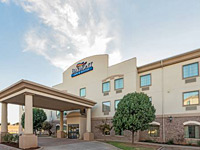 The new-looking Baymont Inn of Wichita Falls receives favorable guest reviews on account of the friendly staff, competitive rates, clean, modern rooms and the good location, close to shopping & dining alongside US 82/277. The pet friendly hotel is 5 miles west of the city center, 2 miles from Sikes Senter Mall and 2.5 miles from the north shore of Lake Wichita. The large, brightly decorated guest rooms contain a microwave, refrigerator, coffee/tea maker and work desk, while the suites have extra living space and a sofa bed. The free breakfast comes with a selection of hot items. The hotel also offers an indoor pool, hot tub and a 100 person meeting room.

14.
Econo Lodge Wichita Falls
1700 Fifth Street, Wichita Falls, TX 76301-2118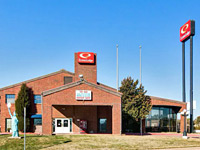 One of the most central of Wichita Falls hotels, the Econo Lodge sits beside I-44 at the Seymour Highway exit, within a mile of many downtown locations including Red River Hospital, United Regional Healthcare System, Bellevue Park and the Falls on the Wichita River. There are 115 rooms available, divided between three exterior corridor buildings separated by plenty of parking space. One has an outdoor pool at the rear. The central location is the main reason to stay as other facilities are limited, just the usual free continental breakfast, free wi-fi, guest laundry and basic business services.

15.
Super 8 by Wyndham Wichita Falls
1307 Kenley Avenue, Wichita Falls, TX 76306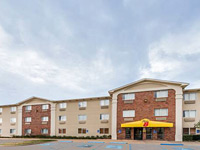 The Super 8 is a well equipped, reasonably-priced, interior corridor motel with a northerly location in Wichita Falls, just off the western US 281 frontage road, bordering a quiet residential area. There are six restaurants in the neighborhood. The two familiar complimentary amenities of wi-fi and continental breakfast (with 8 items) are provided, together with a business center, meeting space, hot tub and guest laundry, though no pool. Guests are within 1.5 miles of Lucy Park beside the Wichita River, which has various trails and viewpoints.
16.
Motel 6 Wichita Falls - North
1211 Central Freeway, Wichita Falls, TX 76306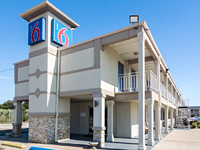 Guest accommodations at Motel 6 Wichita Falls are attractively decorated in bright colors, and equipped with modern fixtures & fittings, though the buildings are relatively old - rooms are contained in five exterior corridor, two floor blocks arranged around a sizeable garden with paths and shady trees. Amenities are free wi-fi, laundry, free coffee and a refrigerator/microwave in selected rooms. The motel is located at the Maurine Street exit of US 277/281, 2.5 miles north of the city center and 12 miles south of the Oklahoma stateline.