1.
Hampton Inn Seguin, TX
1130 Larkin Avenue, Seguin, TX 78155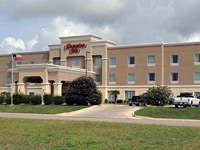 Hilton's representative in Seguin is the Hampton Inn, a relatively old but well reviewed property on the north side of the city beside I-10 exit 610 (Hwy 123), near several gas stations, restaurants and other hotels. This location is 35 miles east of San Antonio. The 68 room hotel has a secluded outdoor pool at the rear, and interior facilities of a 24 hour business center, a fitness center, a dining room for the free hot breakfast (take-out version available), and a 650 sq ft meeting room. Away from the adjacent buildings, the surroundings are rural; woodland and a small lake are a short distance east.

2.
TownePlace Suites Seguin
2732 Jay Road, Seguin, TX 78155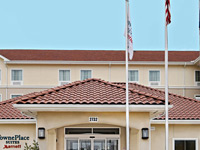 The TownePlace Suites by Marriott opened late 2014 and is located, like most other hotels in Seguin, beside the most central of the city's I-10 exits, at the intersection with Hwy 123 from San Marcos. The all-suite/extended stay property caters for guests in 118 rooms (studio, one bedroom and two bedroom layouts), all of which feature a full kitchen, separate living area, sofa bed, free wi-fi and a large work desk. Daily hot breakfast and weekday evening light dinners are also complimentary. For other meals, there are three restaurants adjacent. Leisure amenities are the usual fitness center and pool (outdoor).

3.
Holiday Inn Express Hotel & Suites Seguin
2801 Jay Road, Seguin, TX 78155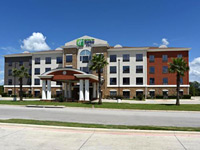 East-facing rooms at Holiday Inn Express Seguin enjoy pleasant views across a small lake to a patch of woodland - the 89 room/suite hotel has a rural setting beside I-10 exit 123, 3 miles north of the city center and 20 miles south of San Marcos. All accommodations feature a microwave, coffee maker, refrigerator and free wi-fi. The hotel provides complimentary hot breakfast and is next to several restaurants; for shopping, the nearest large stores are 2 miles south along Hwy 123. Other amenities include an outdoor pool - on the east side of the property and so in shadow late in the day, plus a fitness center, convenience store and laundry facility.

4.
Comfort Inn & Suites Seguin
3013 N Hwy 123 Bypass, Seguin, TX 78155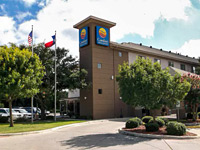 Comfort Inn Seguin is part of a group of hotels 2 miles north of the city center at the Hwy 123/I-10 intersection, located furthest from the interstate and so offering the quietest accommodations. There is one restaurant adjacent and two more just down the street, though the hotel is partly surrounded by undeveloped countryside. The hotel's free breakfast comes with a selection of hot items. Guest rooms are equipped with a refrigerator, coffee maker and microwave; a few contain a whirlpool bath. The main leisure amenity is an outdoor pool.

5.
Days Inn by Wyndham Seguin
2950 N Hwy 123 Bypass, Seguin, TX 78155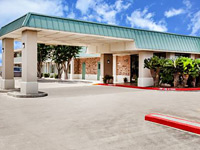 The pet friendly Days Inn occupies a spacious site at the edge of the countryside on the north edge of Seguin, along Hwy 123 near the I-10 intersection. The exterior corridor property is centered on a courtyard garden with outdoor pool and sundeck, overlooked by a bout half of the guest rooms; the remainder look out across the enclosing parking lot to the adjacent farmland. Accommodations contain a microwave, refrigerator and mini-bar. Wi-fi and deluxe continental breakfast are complimentary; for lunch & dinner there are several restaurants in the vicinity.

6.
Super 8 by Wyndham Seguin
1525 N Hwy 46, Seguin, TX 78155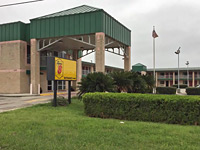 On the northwest side of Seguin, the Super 8 is a basic, affordable motel of 49 refrigerator/microwave-equipped guest rooms, on two floors of an exterior corridor building, and facing north, looking across the parking lot and an adjacent gas station towards Interstate 10 - access is from exit 607, Hwy 46. Texas Lutheran University is half a mile south and there are several restaurants close by. Select accommodations contain a hot tub bath, and all feature pillow top mattresses. The only amenities are free wi-fi and free continental breakfast.
7.
Motel 6 Seguin
1826 I-10 West, Seguin, TX 78155
The exterior corridor, pet friendly Motel 6 Seguin adjoins a gas station with restaurant, and backs onto open farmland, along the northern I-10 frontage road, next to the junction of the interstate with Hwy 46 from New Braunfels; the city center is 2 miles southeast. There is no swimming pool, and the only amenities are free wi-fi, free coffee and a refrigerator/microwave in all guest rooms, though rates are low and the location easily-reached.