1.
Staybridge Suites Portland
1815 US Highway 181, Portland, TX 78374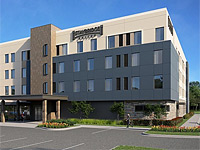 The Staybridge Suites is the latest member of the line of hotels towards the north edge of Portland, along US 181 at the Broadway Blvd intersection, near Portland Community Center and City Hall. Shopping and dining are within walking distance, on the opposite side of the freeway. The all-suite property offers accommodations in several layouts, all with a fully equipped kitchen. Hot breakfast and evening receptions are complimentary, as is wi-fi. Downtown Corpus Christi is ten miles southwest. The hotel opened spring 2021.
2.
Hampton Inn & Suites Portland Corpus Christi
1801 US Highway 181, Portland, TX 78374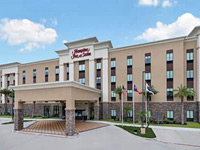 Hilton Hotels are represented in Portland by the 91 room Hampton Inn, which opened summer 2017, replacing an earlier property of this brand. The hotel faces the western US 181 frontage road, with open fields to the rear, near several restaurants and a cinema. On the far side of the freeway are more restaurants, and a Walmart superstore. The usual facilities for leisure (fitness center, indoor pool, fire ring, patio) and work (24 hour business center, 30 person meeting room) are available, plus a convenience store. Free hot breakfast is served. All guest rooms contain a sofa, microwave and refrigerator.

3.
TownePlace Suites Corpus Christi Portland
109 Esplanade Drive, Portland, TX 78374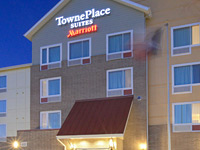 The first Marriott hotel in Portland, Texas opened summer 2015, located just off US 181 across from Northshore Plaza, adjoining a residential area to the rear. A Walmart store and several restaurants are half a mile north. The 98 suites are available in studio, one bedroom and two bedroom layouts, and all include a fully equipped kitchen and a sofa bed. Continental breakfast is complimentary, and meals can also be cooked using the barbecue grills in the garden. A fitness center, outdoor pool and business center are some of the other amenities. Downtown Corpus Christi is 8 miles south along the freeway.

4.
Holiday Inn Express Hotel & Suites Corpus Christi-Portland
220 Reliant Drive, Portland, TX 78374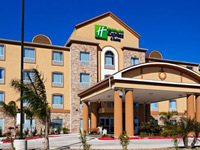 The Holiday Inn Express hotel in Portland, TX enjoys a quiet location just off US 181 on the north side of town, within walking distance of various restaurants and large stores along the highway (including Wal-Mart), and 8 miles north of the center of Corpus Christi. Many popular sites around Corpus Christi Bay and the Gulf Coast are just a short drive away. The hotel presents a clean and elegant appearance and offers all the amenities expected of the brand - free hot breakfast, a pool (outdoor), fitness center, 24 hour business center and a meeting room.

5.
Candlewood Suites Corpus Christi - Portland
2009 US Highway 181, Portland, TX 78374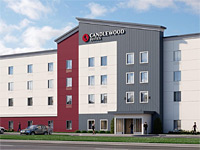 Open summer 2020, the 84 room Candlewood Suites Portland is the latest addition to the line of accommodation choices along the western US 181 frontage road near the north edge of the city, close to restaurants, a cinema and several large stores, including Walmart. The shoreline of Corpus Christi Bay is 2 miles south. 24 hour amenities are guest laundry, fitness center and business center, while the hotel also offers a patio with bbq grills, and a dining area for the free hot breakfast. All accommodations are equipped with kitchenette facilities.

6.
Best Western Plus Northshore Inn
1707 US Highway 181, Portland, TX 78374-4147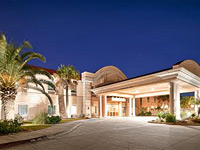 Portand's Best Western is part of a small group of hotels on the north edge of town beside US 181, which provides quick travel to area attractions including Texas State Aquarium (7 miles), USS Lexington (7 miles), Port Aransas (20 miles) and North Padre Island (30 miles). The property is quite new, well managed and well maintained; it offers 40 rooms with refrigerator & microwave, free continental breakfast, an outdoor pool/whirlpool and a small fitness center. There are several restaurants adjacent or a short distance away along the highway.

7.
Avid Hotel Corpus Christi - Portland
281 Buddy Ganem Drive, Portland, TX 78374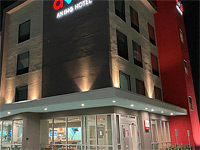 Avid Hotel Portland has a quiet location, shielded from the access road behind another building. adjoining fields to the rear - on the west side of US 181, 2 miles from the city center and 11 miles from downtown Corpus Christi. Several restaurants are within walking distance. The affordable, modern hotel features free grab-and-go breakfast, a 24 hour fitness center, free wi-fi, free 24 hour coffee and a 24 hour marketplace.

8.
Days Inn by Wyndham Portland/Corpus Christi
1703 US Highway 181 North, Portland, TX 78374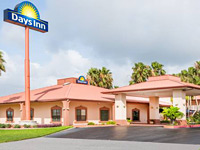 Locations within a few miles of Days Inn Portland include Northshore Country Club, Northshore Plaza, Sunset Lake Park and other beaches along Corpus Christi Bay. The motel is quite small, with two exterior corridor floors and 40 refrigerator/microwave-equipped rooms, located along the western US 181 frontage road close to several restaurants. The accommodation block borders a palm tree-lined outdoor pool, while other amenities are a sauna, hot tub, fitness center, free wi-fi and free continental breakfast.
9.
Motel 6 Portland
133 US Highway 181, Portland, TX 78374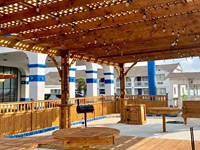 Motel 6 Portland is quite a large property, with 84 guest rooms, divided between several two floor blocks, and it has a scenic location on an island along US 181, overlooking Sunset Lake. The spacious site includes an outdoor pool and plenty of parking places. Guest rooms are modern in design, decorated in bright colors, and all contain a microwave & refrigerator. Some are equipped with a full kitchenette.