1.
Hampton Inn & Suites Dumas
2010 S Dumas Avenue, Dumas, TX 79029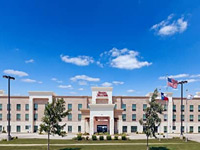 The southernmost hotel in Dumas, and hence the first to welcome travelers along US 87/287 from Amarillo, is the Hampton Inn - on the west side of the highway backing on to open farmland, directly opposite a Wal-Mart store and one restaurant (McDonald's). The three floor, 78 room property is of recent construction (2009) and it provides all necessary amenities. The good-size guest rooms contain a refrigerator & coffee maker, while the suites have a separate living area, sofa bed, wet bar and (some) a hot tub bath. Two meeting rooms can accommodate events of up to 80 people. Free hot breakfast is served each morning. A sauna, pool, whirlpool and fitness center are the leisure facilities.

2.
Holiday Inn Express Hotel & Suites Dumas
1932 South Dumas Avenue, Dumas, TX 79029
The Holiday Inn Express hotel in Dumas has a pleasant, countryside location, along US 87/287 right at the south edge of town, and its 75 large clean rooms provide a quiet, comfortable night's sleep. There are several restaurants and shops a short walk away, including Wal-Mart. The chief amenities are a pool, fitness center, business center, meeting space, free internet access and free continental breakfast. Dumas is one of the closest towns to
Lake Meredith National Recreation Area
, which is 35 miles east along TX 152.

3.
Best Western Windsor Inn
1701 S Dumas Avenue, Dumas, TX 79029-5527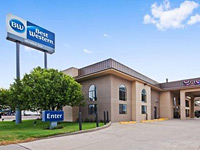 Best Western Windsor Inn is part of a group of hotels south of the town center along Dumas Avenue (US 87/287), which is the main area for lodging in Dumas. The Inn sits on the east side of the highway, just south of 17th Street, adjacent to two restaurants (pizza, steak house) and close to may others. Free hot breakfast is provided onsite, plus free wi-fi, and free coffee all day in the lobby. All 48 exterior corridor rooms feature a microwave and refrigerator.

4.
Quality Inn Dumas
1620 S Dumas Avenue, Dumas, TX 79029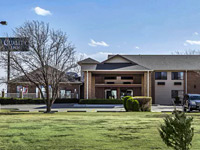 The Quality Inn hotel in Dumas, along Dumas Avenue (on the west side), is situated along the main road through town - US 287 - one of the most used routes from the Texas Panhandle north into Colorado. This part of Dumas has a good selection of restaurants, with four adjacent to the hotel and plenty of others within easy walking distance. Facilities at the Quality Inn include an indoor pool, exercise room, free breakfast & free coffee, newsstand and guest laundry. The building is surrounded by lawns and has ample parking space, with a large-vehicle area at the rear.

5.
Days Inn & Suites by Wyndham Dumas
1610 South Dumas Avenue, Dumas, TX 79029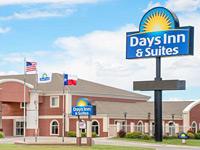 The popular Days Inn hotel in Dumas is part of the main shopping district in town, on the south side; businesses within walking distance include Wal-Mart, Bealls, a supermarket and at least a dozen restaurants. One block south, the Window on the Plains Museum has exhibits about local ranching, wildlife and industry. The interior corridor inn offers free deluxe continental breakfast, with a few hot items, plus a sauna, indoor pool, business center, fitness center and a 30 person meeting room. All guest accommodations contain a microwave and refrigerator.

6.
Econo Lodge Dumas
1719 S Dumas Avenue, Dumas, TX 79029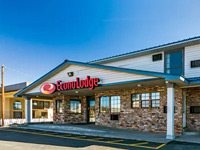 Econo Lodge Dumas is one of the smaller motels in town, with 41 guest rooms, some of which are equipped with a refrigerator. Rooms are contained within a clean-looking, interior corridor building on the east side of US 87/287, close to two restaurants. The main store in Dumas (Walmart) is half a mile south. The usual two complimentary amenities of wi-fi and continental breakfast are provided, but there are no other facilities apart from coin-operated laundry.

7.
Super 8 by Wyndham Dumas
119 W 17th Street, Dumas, TX 79029-5539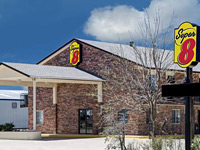 Like all hotels in Dumas the Super 8 is accessed from US 87/287, though the exterior corridor building is set back a little from the main road, and so offers quiet accommodations. A small selection of restaurants are within walking distance. Guest rooms contain refrigerators and microwaves, and have views over the enclosing parking lot across the lightly developed surroundings, close to the start of open countryside. Other amenities are limited to free continental breakfast, free wi-fi and a basic business center. Pets are welcome.