1.
Hampton Inn & Suites Buda
1201 Cabelas Drive, Buda, TX 78610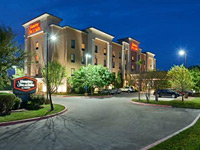 The Hampton Inn hotel in Buda is partly surrounded by lawns, and backs on to a small lake; the 74 room/suite property enjoys a quiet location along a side road just south of Main Street, near the I-35 intersection. There are plenty of restaurants within walking distance, and three large stores (HEB, Walmart, Cabela's). All accommodations feature a coffee maker, work desk and free wi-fi, while the suites contain a microwave, refrigerator, wet bar and sofa bed, while a few have a whirlpool bath. Hot breakfast is also complimentary, and free tea & coffee is available all day in the welcoming lobby. A 575 sq ft meeting room accommodates events of up to 50 people. Guests can relax in the indoor pool, and have use of a fitness center.

2.
Holiday Inn Express & Suites Buda
15295 I-35, Buda, TX 78610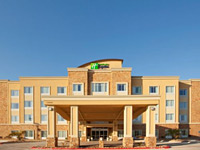 In semi-rural surroundings beside I-35 exit 220 (Main Street), Holiday Inn Express Buda is a modern, well reviewed hotel within walking distance of shopping and dining. Downtown Austin is 14 miles north, while the outlet malls at San Marcos are 20 miles south. The hotel has a secluded outdoor pool at the rear, and interior facilities of a 52 person meeting room, a 24 hour fitness center, and a business center. Free hot breakfast buffet is prepared each morning. Accommodations include 36 suites, equipped with microwave, refrigerator, sofa bed and wet bar.

3.
Candlewood Suites Buda - Austin SW
2180 Main Street, Buda, TX 78610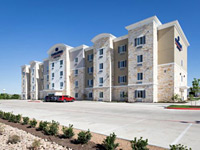 A new all-suite hotel opened summer 2017 on the north side of Buda: the Candlewood Suites, situated in a semi-rural neighborhood beside an IHG sister property, the Holiday Inn Express. Accommodations are available in several sizes, and all include a fully equipped kitchen. Meals can also be prepared using the outdoor grills in the gazebo, while snacks and cookable items may be purchased either from the 24 hour convenience store, or from HEB supermarket, a short walk away on the far side of I-35. The hotel also has a fitness center, business center and guest laundry facility.

4.
Best Western Plus Buda Austin Inn & Suites
15295 S I-35 Building 900, Buda, TX 78610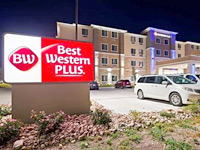 The Best Western is part of a group of hotels on the east side of I-35 at the Main Street intersection, set back further than most others and so providing a quiet night's stay. Also in the vicinity are several restaurants and other businesses. All accommodations are equipped with a microwave, refrigerator and lounge chairs, while the suites additionally have a kitchenette, dining table and separate living space. Complimentary hot breakfast is served each morning. Leisure amenities are the usual fitness center and an indoor pool.

5.
Fairfield Inn & Suites Austin Buda
1240 Cabelas Drive, Buda, TX 78610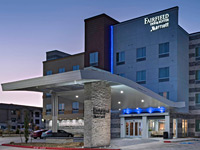 The first Marriott hotel in Buda opened fall 2017, part of the main commercial/retail district in town, around the Main Street exit of I-35 - within walking distance are Cabela's, Walmart, HEB supermarket, and a good selection of restaurants. Austin city center is 14 miles north, all along the interstate. The Fairfield Inn has 92 guest rooms & suites, an indoor pool, a dining area for the free hot breakfast, a spacious lobby, and 860 square feet of meeting space.

6.
Comfort Suites Buda
15295 South Interstate 35 Frontage Road, Buda, TX 78610
Buda city center is 2 miles west of the Comfort Suites, which has a quiet setting at the edge of the countryside, east of Interstate 35; access is from nearby exit 220, Main Street. The four story hotel is surrounded by a reasonably-sized parking lot and offers all the usual amenities, including a fitness center, indoor pool, guest laundry, free wi-fi, free hot breakfast, meeting space for up to 149 people, and an onsite restaurant, DuPree's Bar & Grille. There are several other dining places close by, and a few large stores on the far side of the interstate. Guest rooms feature luxury bedding, coffee makers, refrigerators and microwaves.

7.
Quality Inn & Suites Buda
18658 I-35 South, Buda, TX 78610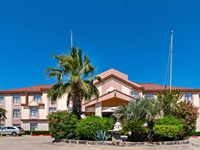 The Quality Inn has a southerly location in Buda at the Hwy 210 intersection with I-35, about half way between Austin and San Marcos. In the vicinity are a restaurant, gas station and Home Depot store, but most of the surroundings are open countryside. The hotel's outdoor pool is at the back, looking out across the fields, well away from the interstate. Wi-fi and hot breakfast are complimentary, and the hotel also offers business & fitness centers, guest laundry and a small meeting room. Select accommodations contain a sofa bed and/or hot tub bath.

8.
Microtel Inn & Suites by Wyndham Buda Austin South
1285 Cabelas Drive, Buda, TX 78610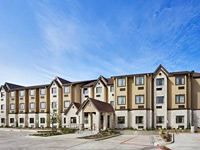 Buda's Microtel Inn is positioned along a quiet back road behind two large stores (Walmart and Cabela's), and also close to HEB supermarket. Both breakfast (continental) and evening receptions are complimentary, as is wi-fi. Around ten restaurants are within half a mile. Most rooms contain a refrigerator/microwave, while the suites have extra living space and a sofa bed. An outdoor pool, hot tub, business center and guest laundry are the other main facilities.

9.
Studio 6 Buda
5163 Overpass Road, Buda, TX 78610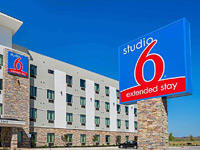 Studio 6 Buda provides affordable, extended stay accommodation - all guest rooms contain a full kitchen with sink, microwave, stove, refrigerator, toaster, coffee maker and utensils, contained within a stone-clad, three storey building constructed in 2018. The hotel has an outdoor pool, coin-operated laundry facility and a bbq area. Shopping and dining are within walking distance, on the far side of I-35 - the hotel is situated at the edge of farmland on the east side of the freeway, 2 miles from the city center.