South Arizona, southwest New Mexico, far west Texas
Long, thin stems, upright or prostrate, becoming woody at the base; lightly branched
Scrubland, grassland; usually associated with bushes and trees
White or greenish white, with pale yellow anthers; blooming late spring and early summer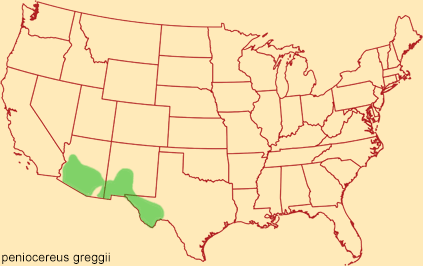 Distribution map for peniocereus greggii
Although quite widespread, across three Southwest states, peniocereus greggii is a little known and rarely seen cactus since its thin, unremarkable, green, gray or brownish stems are shriveled much of the year and resemble the branches of the creosote bush and other shrubs which the plant grows amongst. This is the only US species of the peniocereus genus; another 16 are found in Mexico, and one in South America.

Stems may have a few branches, but most spreading occurs from the base. Only when the large, frilly, greenish-white flowers bloom (either along the branches or at the tip) does the plant become noticeable, but this happens during the night, the flowers staying open just a little way into the following morning. Flowers are up to one inch in diamater, and the outer tepals have pale reddish stripes on the lower surfaces. The bright red fruits remain on the stems for several months, darkening as they age.

Stems have four, five or six ribs, quite prominent, bearing well separated clusters of 11 to 15 short, yellow or grey-white spines, only about a quarter of an inch long, often arranged in three distinct vertical lines. The lower spines (three to five) are appressed against the stem.