Cylindropuntia californica, opuntia parryi
California cholla, snake cholla
Far southwest California (San Diego area), along or close to the coast
Lightly branched clusters, several feet high
Sandy scrubland, coastal bluffs, oak and juniper woodland, from sea level to 6,000 feet
Yellow with greenish centers and red tips, appearing early spring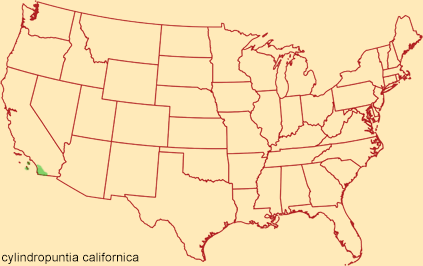 Distribution map for cylindropuntia californica
California cholla, cylindropuntia californica, has limited distribution in the US, restricted to the coastal bluffs and hills around San Diego, but is more common further south in Baja California. Unlike the more widespread cholla from the desert regions of Arizona and California, this species has a relatively light covering of spines, allowing the dull green color of the stout, cylindrical stems to be clearly visible. Stems are up to 7 inches long and 1 inch across.

Spines grow from distinct tubercles arranged in rows, resmbling ribs; they are between a quarter and one inch long, quite thin, between six and 13 per areole. Occasionally all spines are absent. Spines are yellow to pale brown when young, becoming gray as they age. Flowers are greenish-yellow, the outer tepals red at the tip. Anthers have greenish-yellow filaments and yellow anthers; stigma lobes are white to creamy yellow.

Two varieties of cylindropuntia californica are recognized: var californica, along the coast, and var parkeri inland. The former has all spines approximately equal in length, and shorter tubercles (up to half an inch), while the latter has one longer central spine, one inch or more, and longer tubercles, up to an inch.