1.
Saltline Hotel Seaside, Tapestry Collection by Hilton
250 1st Avenue, Seaside, OR 97138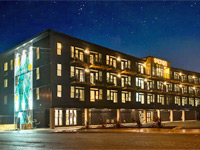 The Saltline Hotel opened summer 2020 and became a member of Hilton's Tapestry Collection in 2023; a group of stylish, individual, boutique properties in scenic locations. The pet friendly hotel is a four minute walk from the beach, between 1st and 2nd Avenues in the downtown area, also within a few blocks of many shops, restaurants and bars. Amenities include an indoor saline pool/hot tub, a fitness center, meeting space, spa, and an outdoor patio with fire pit. Some guest rooms face west, looking out to sea, others have views across the parking lot towards the Necanicum River.

2.
The Kathryn Riverfront Inn, Ascend Hotel Collection
545 Broadway Avenue, Seaside, OR 97138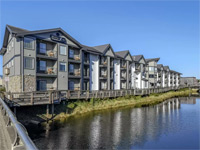 Kathryn Riverfront Inn is a modern, three story, interior corridor hotel featuring free hot breakfast (and free cookies in the evening), an indoor pool/hot tub, a sauna, guest laundry and business services. Many of the well-appointed guest rooms have balconies overlooking the Necanicum River, which flows past to the east; others overlook the central parking area. The conference center is 2 blocks north, the nearest beach 0.3 miles west, and there are many shops and restaurants within easy walking distance. Pets are welcome, for a fee.

3.
Holiday Inn Express Hotel & Suites Seaside-Convention Center
34 N Holladay Drive, Seaside, OR 97138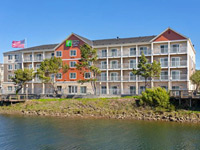 The 80 room/suite Holiday Inn Express enjoys a central location in Seaside, just off Broadway Street overlooking the Necanicum River, within walking distance not only of many shops, restaurants, bars and other businesses, but also from the Pacific Ocean beaches, 1/3 mile west. Seaside Conference Center is opposite, on the far side of the river. Leisure amenities are the usual pool (indoor), sauna and fitness center, while for business travelers the hotel has 660 sq ft of meeting space, free wi-fi and a business center. Complimentary hot breakfast buffet is provided each morning.

4.
Best Western Ocean View Resort
414 N Promenade, Seaside, OR 97138
Most of the 107 oversized rooms at the Best Western hotel in Seaside, OR, have unobstructed views over the Pacific, from their large windows and private balconies or patios - the hotel backs directly on to the beach at the end of 4th Avenue, just a few blocks from the town center. The oceanfront rooms also feature a fireplace & pillowtop mattresses, while some contain a hot tub bath, and all accommodations have a refrigerator & microwave. Salvatore's Cafe/Pub, on the premises, is a full service Italian style restaurant open for breakfast, dinner and evening drinks. Other amenities at the Best Western include an indoor pool, whirlpool, coffee shop, business center and meeting/event space.

5.
Quality Inn Seaside
2455 S Roosevelt Drive, Seaside, OR 97138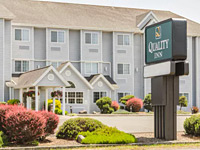 On the southern approach to Seaside (US 101), the reasonably-priced, pet friendly Quality Inn offers spacious, well equipped rooms including kitchenette suites, plus amenities of a business center, free hot breakfast, free wi-fi and a fitness center. The hotel has a semi-rural location next to a patch of woodland, but is close to several restaurants, half a mile from the beach and 1.5 miles from the town center. Seaside Golf Course, directly opposite, is a nine hole facility extending almost to the beach.
6.
Motel 6 Seaside
2369 S Roosevelt Drive, Seaside, OR 97138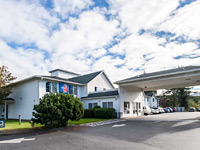 The pet friendly Motel 6 offers the southernmost chain lodging in Seaside, positioned on the east side of the Pacific Coast Highway just as the road approaches the Necanicum River, and half a mile from the beach. The motel backs onto thick woodland to the east, and the location is generally quiet, and quite scenic. There is one restaurant adjacent, a steakhouse, but others, and most facilities in town, are between 0.5 and 2 miles north. Rooms at the Motel 6 are entered via interior corridors, and some contain a microwave & refrigerator (for no extra charge). All benefit from free wi-fi. Other features are coin-operated laundry and free morning coffee.