1.
DoubleTree by Hilton Helena Downtown
22 N Last Chance Gulch, Helena, MT 59601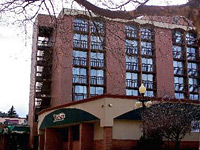 The full service DoubleTree by Hilton is one of few hotels in the historic downtown area of Helena, at the foot of the mountains, just 1.5 miles from the edge of Helena National Forest. There are many sites within walking distance including Montana State Capitol, Carroll College and Cathedral of St Helena. The hotel's restaurant/lounge is Bella Roma, open for breakfast, lunch & dinner; other amenities are an indoor pool, hot tub, fitness center, business center, convenience store (these three all open 24 hours) and 3,400 sq ft of meeting/event space.

2.
Delta Hotels Helena Colonial
2301 Colonial Drive, Helena, MT 59601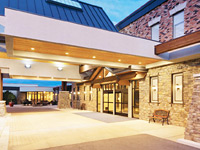 The 150 room/suite Colonial Hotel has a prominent location at the Prospect Avenue exit of I-15, one mile east of downtown Helena bordering an extensive business/commercial district, with several large stores close by on the far side of the interstate. The hotel is centered on a secluded courtyard garden, and it offers full service amenities including a restaurant/bar, an indoor pool, fitness center, coffee station, marketplace and 14 meeting rooms, totaling 17,000 square feet. The property opens late 2018, following transfer to the Delta Hotels chain.

3.
Residence Inn Helena
2500 East Custer Avenue, Helena, MT 59602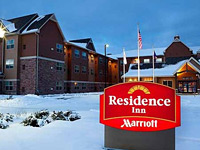 The Residence Inn is the second Marriott hotel in Helena, offering high quality, extended stay accommodation, with 91 suites in studio or one bed layouts, all including a fully equipped kitchen and separate areas for dining, working and living. Most have fine views across undeveloped countryside towards the nearby mountains - the hotel has a rural location along Custer Avenue, just north of Helena Airport and 3 miles from the city center. Leisure amenities are a bbq grills, a fitness center and a 4,300 aquatic complex featuring several pools and hot tubs. Free hot breakfast buffet is prepared each morning.
4.
Hampton Inn Helena
725 Carter Drive, Helena, MT 59601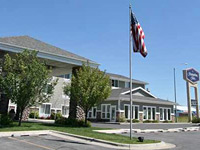 On the east edge of Helena near the start of the countryside, the Hampton Inn is the only Hilton hotel in the city, offering clean and comfortable accommodation in a convenient location, half a mile from interstate 15 (exit 192), and a short walk from several restaurants and a Wal-Mart superstore. The hotel has 81 east or west-facing, one or two-bed rooms, with one of more of a microwave, refrigerator and sofa bed. Leisure amenities are an exercise room and indoor pool, while a business center and meeting rooms are available for those here to work.

5.
Wingate by Wyndham Helena Airport
2007 N Oakes Street, Helena, MT 59601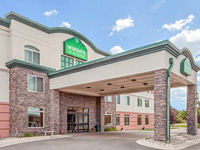 Wingate by Wyndham is many people's favorite Helena hotel - a new and elegant establishment with 88 oversized rooms featuring luxurious bedding, high quality amenities and a good range of equipment including refrigerator and microwave. The hotel provides free hot breakfast and has other facilities of an indoor pool, hot tub, fitness center, business center, five meeting rooms and free wi-fi. The surroundings are mostly residential although I-15 runs past to the east (access is from exit 193, Cedar Street) and there are plenty of restaurants and shops nearby, including K-Mart. The property rebrands as Fairfield by Marriott Inn & Suites Helena North, late 2023.

6.
Ramada by Wyndham Helena
1714 11th Avenue, Helena, MT 59601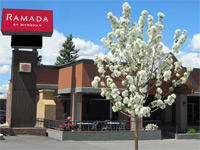 The pet friendly Ramada hotel has an east-central location in Helena, along 11th Avenue (Business 15), half a mile from Interstate 15, part of a corridor of shops, restaurants and other businesses. Communal facilities, including restaurant and indoor pool are in a two floor building facing the street, while guest rooms are on three storys of a interior corridor block to the rear, surrounded by plenty of parking spaces. Wi-fi, breakfast and airport transportation are complimentary. All accommodations are equipped with a refrigerator and microwave.

7.
Holiday Inn Express Hotel & Suites Helena
3170 N Sanders Street, Helena, MT 59602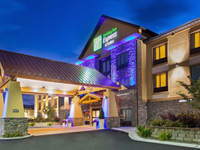 The 87 room Holiday Inn Express is part of a developing area of shops and other businesses on the north side of Helena, between Montana Avenue and I-15 (access is from exit 193, Cedar St). There are many restaurants within walking distance, and several large stores including Target and Macy's. Free hot breakfast, an indoor pool/whirlpool, 24 hour fitness center and business center are some of the facilities.

8.
Best Western Helena Great Northern Hotel
835 Great Northern Boulevard, Helena, MT 59601-3315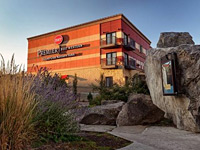 Helena's Best Western hotel is a modern, recently built property in a commercial area (Great Northern Town Center) just north of downtown, one block from Carroll College and right next to a selection of restaurants, bars and entertainment including a movie theater. This is a large and well equipped hotel of 4 floors and 101 rooms (all containing a refrigerator/microwave), plus an indoor pool, hot tub, 24 hour fitness center, lounge/casino and meeting space for up to 500 guests. Free deluxe continental breakfast is served, and a free shuttle is operated to Helena Airport, 3 miles northeast.

9.
Fairfield Inn & Suites Helena
2150 11th Avenue, Helena, MT 59601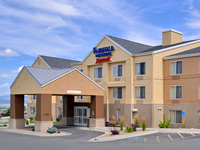 Fairfield Inn & Suites Helena is part of a group of hotels, restaurants and other business on the west side of I-15 exit 192 along a quiet section of 11th Avenue, and it features 58 comfortable, microwave/refrigerator equipped rooms plus an indoor pool, hot tub, exercise room and free breakfast bar. The building is fairly old but has been kept updated, and the flat surroundings allow good views towards the nearby mountains. The airport is 3 miles north, and the city center 1.5 miles west.

10.
Comfort Suites Airport - Helena
1824 East Custer Avenue, Helena, MT 59602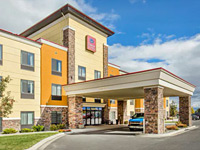 One of several recently built hotels in Helena, the 90 room Comfort Suites has a quiet, countryside location along Custer Avenue (CR 280), a short drive from I-15 exit 193. A few shops and restaurants are within walking distance, while on-site facilities are free hot breakfast, free wi-fi, free airport shuttle, a pool/hot tub, fitness center, business center and meeting space. A refrigerator and microwave are provided in each room, while the comfortable bedding includes pillow top mattresses.

11.
Howard Johnson by Wyndham Helena
2101 E 11th Avenue, Helena, MT 59601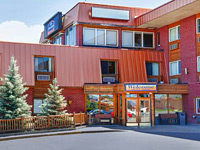 For a budget hotel, the Howard Johnson in Helena offers a good range of facilities, including a business center & meeting space, fitness center, pool & hot tub, plus an on-site restaurant with bar and casino. Continental breakfast and wi-fi are complimentary. The interior corridor property is located along 11th Street quite near the city center, close to I-15 exit 192 and within sight of distant mountains in most directions. Accommodations include a selection of suites with refrigerator and microwave.

12.
Baymont by Wyndham Helena
750 Fee Street, Helena, MT 59601
The affordable, mid range accommodation of Baymont Inn Helena comprises 56 interior corridor rooms on 2 floors, some equipped with microwave and refrigerator, and all looking out over a busy commercial area along Prospect Avenue, close to exit 192 of interstate 15 - there are many restaurants nearby, a supermarket (Albertson's) opposite and a shopping mall 3 blocks west. An indoor pool, hot tub and free deluxe continental breakfast are the main amenities.

13.
Days Inn by Wyndham Helena
2001 Prospect Avenue, Helena, MT 59601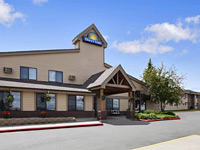 Days Inn Helena is part of a typical group of gas stations and fast food restaurants along Prospect Avenue, just west of the I-15 intersection, about a mile from the city center. Guest rooms face north or south and are partly shielded by trees from the surrounding roads. All are equipped with a microwave and a refrigerator, plus free wi-fi and a coffee/tea maker. Recreation facilities are a hot tub and fitness room (no pool), while working guests have use of a business center and a 20 person meeting room. Enhanced continental breakfast is complimentary, including a few hot items. Pets are welcome.

14.
Super 8 by Wyndham Helena
2200 11th Avenue, Helena, MT 596014843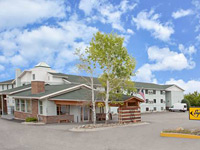 Like most Helena hotels, the Super 8 is located near the southeast edge of the city beside the I-15 - US 12/187 intersection, close to a few restaurants and gas stations. The nearest large store is Walmart, half a mile east. The place is quite large, with 102 rooms, in a three-floor building which has the parking lot at the front, and overlooks the freeway entrance lanes at the rear. Free wi-fi and complimentary eight item continental breakfast are available. Interior facilities are a snack shop, fitness center and business center. All guest accommodations feature a microwave and refrigerator.