1.
Holiday Inn Express Hotel & Suites Limon I-70
803 Highway 24, Limon, CO 80828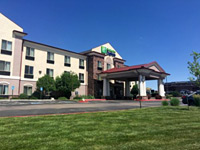 Holiday Inn Express Limon is built next to I-70 exit 359, the junction with highway 24 from Colorado Springs. Cross-state travelers can relax in 54 large, modern, well appointed rooms, or 15 suites with added amenities like a wet bar, refrigerator and microwave. Free complimentary breakfast is served each morning, and lunch/dinner can be purchased from several fast food restaurants next door or across the road. An indoor pool, whirlpool, fitness center, gift shop, business center and guest laundry are the other main facilities. For shopping there are several stores in the center of Limon, 1 to 2 miles east.

2.
Comfort Inn Limon
2255 9th Street, Limon, CO 80828-1175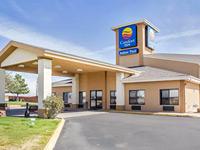 Limon's Comfort Inn is part of a small group of hotels on the south side of interstate 70 exit 359, next to several restaurants and a TA travel center, though otherwise surrounded by undeveloped land, a mile from the town center. The inn has a good reputation, for its reasonable rates, comfortable accommodation, generally quiet location, and cleanliness of the rooms and public areas. The new looking, 2 story building contains 50 rooms (some with refrigerator/microwave), an indoor heated pool, hot tub, exercise room, and a dining area for the free continental breakfast.

3.
Quality Inn & Suites Limon
925 T Avenue, Limon, CO 80828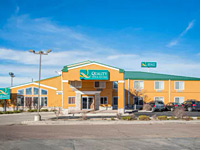 Quality Inn Limon is one of several hotels around exit 359 of I-70, on the west side of town, set back a little way from the interstate and the main road (US 287/40), so its 47 rooms allow for a quiet night's sleep. The staff are friendly and efficient, and the hotel has the expected amenities of free continental breakfast, an indoor pool and hot tub. There is one restaurant next door, another at the TA travel center opposite and more along the road or in Limon town center, 1.5 miles east. All rooms are furnished with pillow-top mattresses; some have one or more of a sofa bed, hot tub bath and extra large work desk.

4.
Microtel Inn & Suites by Wyndham Limon
2510 6th Street, Limon, CO 80828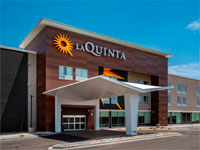 Like most hotels in Limon the Microtel Inn (open fall 2018) has a westerly location in town; part of a group of restaurants and gas stations around the US 24/I-70 intersection, within sight of open countryside in most directions. Accommodations feature a coffee maker, microwave & refrigerator; pet friendly rooms are available. Hot breakfast and wi-fi are complimentary. The hotel has a business center and a 50 person meeting room, plus a fitness center and indoor pool.

5.
Baymont by Wyndham Limon
2505 6th Street, Limon, CO 80282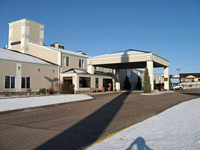 Baymont Inn Limon is accessed from I-70 exit 359; part of a group of businesses including a travel center, restaurants and other hotels, about one mile west of the town center. The two floor, interior corridor building is far enough from the interstate to avoid the traffic noise, and looks out across open fields to the south. An indoor pool, fitness center, bbq area, coin-operated laundry, free wi-fi and free breakfast are the main amenities. Pets are welcome.

6.
Econo Lodge Limon
985 Hwy 24, Limon, CO 80828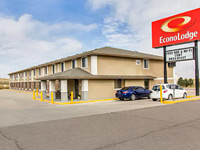 The budget-priced accommodation at the pet friendly Econo Lodge Limon comprises 47 interior corridor rooms on 2 floors, with just one amenity of free continental breakfast. Like most hotels in town the inn is located next to I-70 (exit 359) on the west side of town - 90 miles from Denver, 73 miles from Colorado Springs and 89 miles from the Kansas border. There are about half a dozen restaurants within walking distance.

7.
Super 8 by Wyndham Limon
937 US 24, Limon, CO 80828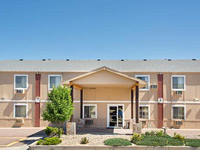 Affordable rates and an easy-to-reach location are the main reasons to stay at Super 8 Limon, a small, interior corridor motel beside I-70 that offers only free wi-fi and basic free continental breakfast. There are half a dozen restaurants a short walk away, while most other facilities in the area are about 1.5 miles east, in downtown Limon.