1.
Hilton Garden Inn Colorado Springs Downtown
125 N Cascade Avenue, Colorado Springs, CO 80903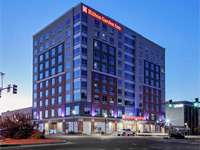 The Hilton Garden Inn has a fine, central location in Colorado Springs at the corner of Cascade Avenue and Bijou Street, one block from I-25 and a short walk from trails alongside Monument Creek. Most guest rooms enjoy scenic views of the mountains to the west, and all are equipped with refrigerator/microwave. Accommodations include a selection of suites with sofa bed and extra living space. Breakfast and dinner are available from the onsite restaurant, snacks & drinks can be purchased from a 24 hour convenience store, and there are many other dining outlets in the vicinity. Recreation amenities are the usual pool and fitness center.
2.
Element Colorado Springs Downtown
402 S Tejon Street, Colorado Springs, CO 80903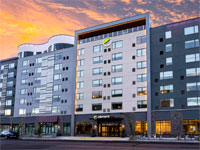 Newly constructed in 2022, the 125 room Element hotel has a central location in downtown Colorado Springs at the Tejon Street/Costilla Street intersection, sharing half of a building with another Marriott hotel, the SpringHill Suites. Locations within three blocks include Pikes Peak Center for the Performing Arts, Colorado Springs Pioneers Museum and Plaza of the Rockies. Shared amenities are a rooftop restaurant/bar with mountain views, 4,200 square feet of event space, a fitness center and an indoor pool. This is primarily a long stay property, all accommodations are suites, and all have a full kitchen. Full breakfast is complimentary.

3.
SpringHill Suites Colorado Springs Downtown
402 S Tejon Street, Colorado Springs, CO 80903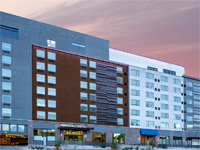 The SpringHill Suites by Marriott occupies the east-facing half of an eight floor building at the Tejon Street/Costilla Street intersection in downtown Colorado Springs; it contains 136 studio suites, equipped with microwave, refrigerator and sofa bed. The hotel has a lobby bar and rooftop restaurant, with dozens of other dining outlets within walking distance. Free breakfast buffet is provided each morning. Also available are a fitness center, indoor pool and meeting/event space, all facilities shared with the Element hotel which forms the north-facing half of the building.

4.
Holiday Inn Express Hotel & Suites Colorado Springs Central
105 N Spruce Street, Colorado Springs, CO 80905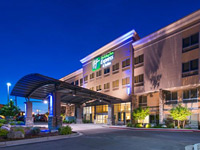 The most central of several Holiday Inn Express hotels in Colorado Springs is situated just west of Interstate 25 at the Bijou Street exit, at the edge of a residential neighborhood. The hotel has four floors, 80 rooms & suites, business & fitness centers, bbq grills and an indoor pool. Free hot buffet breakfast is prepared each morning. There is one adjacent restaurant (Denny's) and many more nearby, mostly on the far side of the interstate in the city center.

5.
Howard Johnson by Wyndham Colorado Springs
1231 S Nevada Avenue, Colorado Springs, CO 80903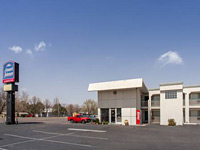 Although situated right next to I-25 (at the Nevada Avenue exit), Howard Johnson Express Inn Colorado Springs has a pleasant setting backing on to woodland, adjacent to Fountain Creek and the Pikes Peak Greenway Trail. There are a small number of restaurants within walking distance. This location is just one mile from the city center, and three miles from the World Arena. Accommodations (all containing a microwave & refrigerator) are on two exterior corridor floors, looking out over the rather small parking lot, which has an outdoor pool on the south side. Other amenities are basic free continental breakfast and free wi-fi.

6.
Econo Lodge Colorado Springs Downtown
714 N Nevada Avenue, Colorado Springs, CO 80903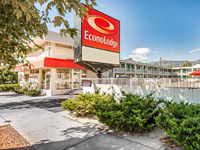 Econo Lodge Downtown Colorado Springs has a reputation for cleanliness, friendly service and value; although small (37 rooms, some containing refrigerator/microwave), and having the old 2 floor, exterior corridor design, the place is well maintained and provides a good free continental breakfast. There is also an outdoor pool. The hotel is located along Nevada Avenue, on the main north-south road through the city, close to many shops & restaurants, and 2 blocks from Colorado College.

7.
Rodeway Inn Colorado Springs
2625 Ore Mill Road, Colorado Springs, CO 80904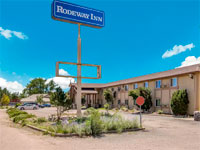 Rodeway Inn Colorado Springs sits along the southern US 24 frontage road - a quiet backstreet, right on the west edge of the city, 3 miles from Manitou Springs and 2 miles from the southern entrance to
Garden of the Gods
. The motel has two floors and interior corridors, and is within walking distance of many restaurants on nearby Colorado Avenue, as well as a city park along Fountain Creek. To the west, another short walk reaches a hiking/biking trail at the edge of Red Rocks Canyon Open Space. Amenities are free continental breakfast, free wi-fi, an outdoor pool, fitness center and a microwave/refrigerator in each guest room.

8.
Rodeway Inn & Suites Colorado Springs
1623 S Nevada Avenue, Colorado Springs, CO 80906-2289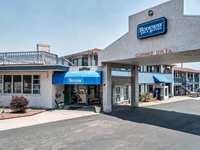 Free continental breakfast, an outdoor pool, picnic area and sundeck are the main amenities of Rodeway Inn & Suites Colorado Springs, a 50-room, exterior corridor motel a mile or so south of the city center along Nevada Avenue, close to I-25 exit 140. Some of the rooms contain a refrigerator and microwave. The main road has many shops and restaurants, with larger stores a few blocks away at the Southgate Center.