1.
Marriott Warner Center Woodland Hills
21850 Oxnard Street, Woodland Hills, CA 91367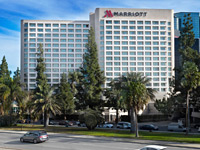 With 474 rooms & suites, Marriott Warner Center Woodland Hills is one of the largest hotels in San Fernando Valley, and among the most luxurious, offering a high standard of accommodation and good facilities for dining, meetings/events, business & relaxation. The 16 floor building rises above a commercial district at the center of Woodland Hills, just off the 101 Freeway; places within a mile include Westfield-Topanga Plaza, Westfield Promenade, the Kaiser Permanente Medical Center and Pierce College. There are four dining outlets on site - Breeze American Grill restaurant, Q Martini Bar, Starbucks coffee house, and a second bar next to the indoor/outdoor swimming pools. The newly renovated meeting facilities comprise 23 rooms and 25,000 sq ft of space.

2.
Hilton Woodland Hills/Los Angeles
6360 Canoga Avenue, Woodland Hills, CA 91367-2501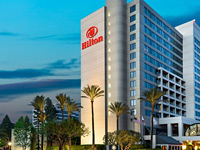 Dining outlets at the luxurious, full service Hilton Woodland Hills are the Brasserie Restaurant serving breakfast & lunch, and Fitzgerald's Lounge, which is open for dinner and drinks until midnight, plus all-day room service. Located along Canoga Avenue close to US 101, the hotel has 15 floors, 326 oversized guest rooms and 19 meeting rooms, totaling 17,000 square feet; largest single capacity is 795 people, in the Trillium Ballroom. Locations within 2 miles include Pierce College, Topanga Plaza, Westfield Promenade, Woodland Hills Recreation Center and Kaiser Permanente Medical Center. The hotel also offers a fitness center and business center, though no swimming pool.

3.
Courtyard Los Angeles Woodland Hills
21101 Ventura Boulevard, Woodland Hills, CA 91364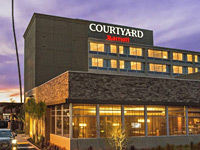 Occupying a spacious site between US 101 and Ventura Boulevard, the new, full service Courtyard Woodland Hills (open February 2013) has a fine location by the edge of the
Santa Monica Mountains
- a short drive from unspoilt countryside in the hills but within walking distance of many shops & restaurants, and well connected to all places in northwest Los Angeles by the nearby freeway. The 122 rooms are large, clean, & elegantly furnished, and the hotel has plenty of facilities, including an elegant lobby with media pods and interactive screen, a restaurant/bar open for breakfast & dinner, a large heated outdoor pool, a 24 hour fitness center and one meeting room.

4.
Holiday Inn Express Hotel & Suites Woodland Hills
22617 Ventura Boulevard, Woodland Hills, CA 91364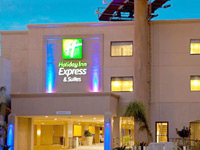 Fall 2009 saw the opening of a new Holiday Inn Express in Woodland Hills, built along bustling Ventura Boulevard one block from US 101 - close to many small shops & restaurants, and within a couple of miles of several shopping malls including Fallbrook, Westfield Promenade and Topanga Plaza. The hotel occupies a compact site on the north side of the road, and it offers 89 rooms & suites, a fitness center, business center, laundry and of course the good quality Express Start free hot buffet breakfast.

5.
Best Western Woodland Hills Inn
21830 Ventura Boulevard, Woodland Hills, CA 91364-1837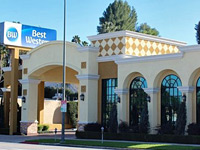 The Best Western hotel in Woodland Hills, CA, sits along Ventura Boulevard one block from US 101; to the south, rooms look out over a residential area with the
Santa Monica Mountains
rising in the distance, while those on the north side have views over the extensive suburbia of the western San Fernando Valley. The hotel is within a few miles of the Warner Center district, including Westfield Topanga Mall, and 12 miles from the nearest beach. The recently renovated building has a Mediterranean theme, and it contains clean 65 rooms, all equipped with microwave/refrigerator. Guests can relax in a sheltered garden at the rear of the property, in which are found the outdoor pool and hot tub. Basic free breakfast is provided.

6.
Comfort Inn Woodland Hills Near Warner Center
20157 Ventura Boulevard, Woodland Hills, CA 91364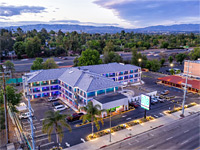 Comfort Inn Woodland Hills is part of a seemingly endless line of shops, restaurants and other hotels along Ventura Boulevard, just south of the 101 Freeway which puts guests within easy reach of other northwest Los Angeles attractions such as Studio City/Universal Studios, 13 miles east. Free continental breakfast is served; for lunch & dinner there is a 24 hour Denny's restaurant right next door. The other main amenities of the 98 room hotel are an outdoor pool and hot tub, in a fenced, tree-lined enclosure at the front