1.
Renaissance Long Beach Hotel
111 East Ocean Boulevard, Long Beach, CA 90802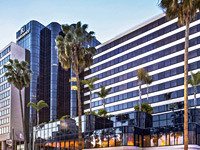 Marriott's most upscale hotel in Long Beach has a central location in the heart of the entertainment district along Ocean Boulevard, just half a mile from the marina and Queensway Bay - a short walk from many shops, restaurants and bars. The lobby, meetings space and all 374 guest rooms & suites at Renaissance Long Beach were recently refurbished and modernized, maintaining its reputation for style, comfort, elegance and excellent customer service. The hotel has three dining outlets; an Italian style breakfast cafe, a steakhouse serving lunch & dinner, and Starbucks, open all day for drinks and snacks. Also available are a large outdoor pool, a spa, fitness center, lobby bar, gift shop, full service business center and 21,000 sq ft of event space.

2.
The Westin Long Beach
333 E Ocean Blvd, Long Beach, CA 90802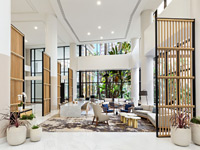 The full service Westin occupies a distinctive, curved building of 16 floors, 447 guest rooms and over 55,000 square feet of event space; one of the largest hotels in the Greater Los Angeles area. The hotel is prominently located along Ocean Boulevard, opposite the Long Beach Convention Center, also within walking distance of the marina, the ShoreLine Aquatic Park, and the sands of Alamitos Beach. Accommodations include several dozen suites, including split-level suites and the top floor Presidential Suite; many have ocean views. The onsite restaurant/bar (open all day) features locally sourced ingredients, and provides 24 hour room service.
3.
Marriott Long Beach
4700 Airport Plaza Drive, Long Beach, CA 90815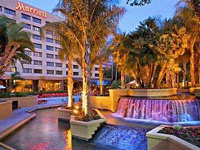 The well established Marriott Long Beach is one of the closest hotels to Long Beach Airport - located less than a mile from the terminal in a small business park, with a residential district on one side and Skylinks Golf Course on the other. At the rear of the building is a nice secluded outdoor pool, set amongst palm trees and landscaped gardens; inside, the hotel provides all the amenities that business and leisure travelers expect from a Marriott property, including a sports bar (with outdoor patio), a Starbucks lobby lounge, the Garden Terrace all day restaurant, fitness center, indoor pool, and 21 meeting rooms - largest single capacity of 720. Long Beach Marina is 6 miles southeast.

4.
Hilton Long Beach & Executive Meeting Center
701 West Ocean Boulevard, Long Beach, CA 90831-3102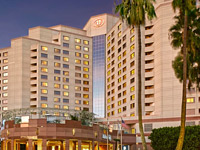 The Hilton is the main business hotel in Long Beach, with over 40,000 sq ft of event space on the premises, and within walking distance of the Convention & Entertainment Center. The 398 room, full service property has a pleasant location overlooking Santa Cruz Park on the banks of the Los Angeles River, also close to such locations as Long Beach Arena, World Trade Center, the Marina and various other shoreline parks. The onsite restaurant is Ascari, open all day, while drinks and snacks are also provided by the Lobby Bar until 11.30 pm. 24 hour room service is available. One other highlight is the oversized rooftop outdoor pool and sundeck, looking out towards the waterfront.

5.
Hotel Maya - a DoubleTree Hotel
700 Queensway Drive, Long Beach, CA 90802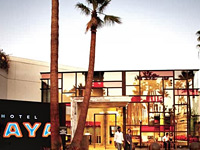 On the more isolated south side of Queensway Bay, DoubleTree Hotel Maya provides full service amenities in a large, elegant building right by the waterfront; although the industrial dockland area stretches to the south, most rooms enjoy nice views northwards over the water towards downtown Long Beach on the far side. The property has a relaxed Latin American theme, reflected in the decor, landscaping and the restaurant (Fuego), which is open all day and also has a beautiful waterfront setting. Other facilities include a tropical pool area with cabanas, fire pits and poolside bar, a fitness center, sports courts, gift shop and 20,000 of meeting/event space.

6.
Holiday Inn Long Beach Airport
2640 Lakewood Blvd, Long Beach, CA 90815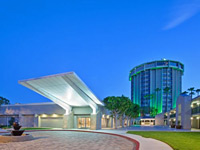 Holiday Inn Long Beach-Airport rises 13 stories above the surrounding neighborhood, a mixture of businesses and private residences near the Lakewood Boulevard exit of I-405, just 1.5 miles from the terminal buildings. On the top floor of the distinctive, circular building, the Panorama Grill restaurant/lounge has a fine view over the city and the Pacific Ocean, something shared by many of the 222 rooms, which have a private balcony. A free shuttle is provided to the airport, and the hotel also features free parking, free internet access, nearly 6,000 sq ft of meetings/event space, a fitness center, pool, and new luxurious bedding in each room - including a pillow menu. Downtown Long Beach is about 5 miles away.

7.
Courtyard Long Beach Downtown
500 East First Street, Long Beach, CA 90802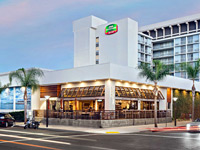 The Courtyard hotel in Long Beach is a typically clean, comfortable and well managed Marriott property of 216 rooms, a cafe (serving breakfast, with bar service on some days) and 7,000 sq ft of meeting/event space. The building has ten floors, enough for the higher rooms to have unrestricted views over the city, and the Pacific Ocean just 2 blocks south - the hotel is within a few minutes walk of the beach and such places as the Convention Center, Shoreline Park, Victory Park and Long Beach Arena. For leisure, guests have use of an outdoor pool, hot tub and fitness center.

8.
Courtyard Long Beach Airport
3841 Lakewood Boulevard, Long Beach, CA 90808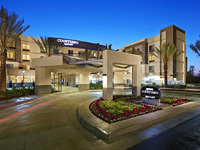 The Courtyard by Marriott is a northern Long Beach hotel, also serving Lakewood, Carson Park and Los Altos. The handsome, modern property opened in 2013, along Lakewood Boulevard in a lightly developed area on the north side of Long Beach Airport, near such sites as Lakewood Golf Course, Long Beach City College and the Boeing Manufacturing Plant. Hotel highlights include the Bistro restaurant/bar, open for breakfast, dinner & evening drinks, the welcoming lobby which has an interactive media wall and plenty of comfortable seating, and the 2,064 square feet of meeting space, catering for events of up to 100 guests.

9.
Residence Inn Long Beach Downtown
600 Queensway Drive, Long Beach, CA 90802
The Residence Inn of downtown Long Beach is one of the top all-suite hotels in the city - a striking, 11 story property built right on the waterfront along the south side of Queensway Bay, close to the harbor and the Queen Mary, and a few minutes from Long Beach Arena. All 178 suites feature a range of amenities for the extended stay traveler, including a full kitchen, sofa bed, work desk, free internet access and daily housekeeping service. The hotel has all necessary facilities for meetings & business, plus the usual pool, hot tub & fitness center. The Shoreline Trail runs past, allowing peaceful walks along the edge of the bay. Free buffet breakfast is served each morning.

10.
Residence Inn Long Beach
4111 East Willow Street, Long Beach, CA 90815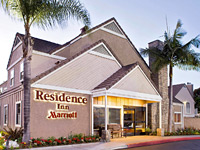 The 216 spacious suites at Residence Inn Long Beach are divided into several two story blocks, arranged around the parking area, gardens, two outdoor pools and the sports court. The surroundings are quiet and partly residential yet I-405 runs past one block to the north, and Long Beach Airport is less than a mile away (served by free shuttle). The hotel caters more for the extended stay traveler, with amenities including complimentary breakfast & evening light dinner, a full kitchen in each suite, a grocery shopping service, guest laundry, fitness center and daily housekeeping.

11.
Staybridge Suites Long Beach Airport
2680 Lakewood Blvd, Long Beach, CA 90815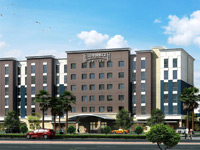 Newly constructed in 2020, the Staybridge Suites adjoins an IHG sister property (Holiday Inn), next to I-405 at the Lakewood Blvd exit on the south side of Long Beach Airport, served by courtesy shuttle. Long Beach Convention Center is a 6 mile drive away. All accommodations include a full kitchen, with dishwasher, and benefit from regular housekeeping service. Both daily hot breakfast buffet and weekday evening receptions are complimentary, while bbq grills provide an alternative to in-room cooking. There are several restaurants in the vicinity.

12.
Homewood Suites by Hilton Long Beach Airport
3771 Lakewood Blvd, Long Beach, CA 90808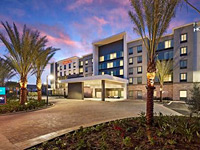 All guest rooms at Homewood Suites Long Beach Airport feature a full kitchen, work desk and separate living area, and they have views over the commercial/industrial neighborhood - along Lakewood Boulevard on the north side of the international airport, just across from the Mercedes-Benz building. A complimentary shuttle serves this and other local businesses, as well as the airport. The hotel provides free breakfast each morning, and free receptions during the week (Monday to Thursday). Food for cooking can be ordered via the complimentary grocery delivery service. Facilities for leisure and relaxation include a fitness center, outdoor pool/hot tub, bbq grill and putting green. The hotel opened early in 2018.
13.
Hampton Inn Long Beach Airport
3771 Lakewood Blvd, Long Beach, CA 90808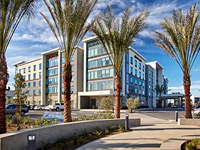 Hampton Inn Long Beach opened spring 2018, sharing a building with another new Hilton property, the Homewood Suites - at the edge of a business/industrial complex on the north side of Long Beach Airport, ten miles by road from the city center. Hot breakfast (take-out version available), wi-fi and a local area shuttle are complimentary, while 24 hour facilities are a fitness center and business center. Accommodations include studio suites, which have a sofa bed, microwave and refrigerator. The meeting space caters for events of up to 60 people. The hotel also has an indoor pool.

14.
Best Western Plus Hotel at the Convention Center
517 E 1st Street, Long Beach, CA 90802-5025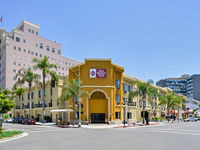 Less than half a mile from Long Beach Convention Center, the Best Western hotel along 1st Street accommodates guests in 66 clean, welcoming rooms, some with a balcony overlooking the city streets below. There are many shops, bars, galleries and other entertainment centers a short walk away, with the city beach, Shoreline Village & the marina both within a mile, and the venerable Queen Mary 2.5 miles south. Free continental breakfast is served each morning; other amenities are limited to free internet access, a fitness center, and basic business services.

15.
Quality Inn near Long Beach Airport
3201 E Pacific Coast Highway, Long Beach, CA 90755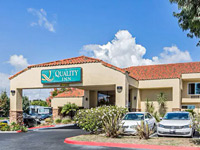 Three miles south of Long Beach Airport, the Quality Inn features 68 comfortable, decent-sized rooms, free continental breakfast and a sheltered outdoor pool/hot tub. There are two adjacent restaurants, and others a short walk away along the main road (Pacific Coast Highway, CA 1), though the immediate neighborhood is mostly residential; the many coastal attractions of Long Beach are between 2 and 6 miles south. The other main services at the 68-room hotel are a guest laundry, newsstand, beauty shop, and a free shuttle to the airport (by request).

16.
Travelodge by Wyndham Long Beach Convention Center
80 Atlantic Avenue, Long Beach, CA 90802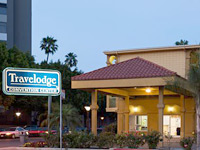 Long Beach Convention Center is just 0.4 miles west of the Travelodge motel, while the beach and marina are a similar distance south. The three floor property sits at the corner of 1st Street and Atlantic Avenue, in a mostly corporate neighborhood, though within walking distance of dining & shopping. There is one restaurant on the premises. Facilities are an outdoor pool, business center and a 25 person boardroom. All accommodations feature a refrigerator and free wi-fi, while some have a hot tub bath.

17.
Econo Lodge Long Beach
3624 E Pacific Coast Highway, Long Beach, CA 90804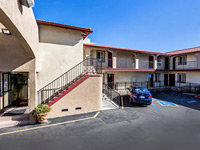 It only has 23 rooms, but the new Econo Lodge motel in northeast Long Beach has a good reputation for value, cleanliness and in-room facilities - each accommodation contains a microwave, refrigerator and hair dryer; some have a whirlpool bath and extra sofa bed. Although only free coffee and pastries are provided in the morning, the hotel is next to the busy Pacific Coast Highway so there are plenty of restaurants close by, and several major stores half a mile east. Long Beach Convention Center is 4 miles away.
18.
Motel 6 Long Beach - International City
1121 E Pacific Coast Hwy, Long Beach, CA 90806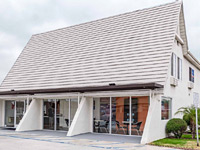 Like many other hotels in Long Beach, the Motel 6 is located along CA 1, the Pacific Coast Highway, surrounded by a mix of shops, restaurants and private residences. There are several city parks within walking distance, and educational establishments such as Long Beach Polytechnic, Mary Butler School and Jessie Elwin Nelson Academy. The motel has the typical two floor, exterior corridor design, with the guest rooms overlooking the parking lot. Wi-fi and morning coffee are complimentary. Accommodations are modern in appearance, and decorated in bright colors.