1.
Clarion Hotel Eureka by Humboldt Bay
2223 Fourth Street, Eureka, CA 95501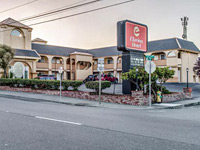 Eureka's Clarion Hotel is situated near the northeast side of the city along 4th Street (westbound US 101) - the highway exits town a few blocks east then follows the North Coast towards many natural attractions including
Trinidad State Beach
and
Redwood National Park
. In the other direction, the hotel is within an easy walk of restaurants, shops and the famous old downtown district of Eureka. The hotel offers free hot breakfast; for leisure there is an indoor pool and a fitness center, while a 468 sq ft meeting room and a business center are at the disposal of guests here to work

2.
Holiday Inn Express & Suites Eureka
815 West Wabash Avenue, Eureka, CA 95501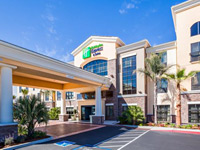 Holiday Inn Express Eureka is a newly built hotel, open late 2014, situated just off US 101 towards the south side of town, one mile from the center. Guests are a short walk from a pier on Humboldt Bay, and an undeveloped stretch of the shoreline, while the main shopping district (Bayshore Mall and Eureka Mall) is one mile south. The 99 room/suite hotel provides good quality free breakfast buffet, including hot items, and is within two blocks of half a dozen restaurants. Highlight is the welcoming fireplace lobby, which has a min-waterfall and multiple TVs; also available are the usual business center, fitness center and swimming pool.

3.
Best Western Plus Bayshore Inn
3500 Broadway Street, Eureka, CA 95503-3810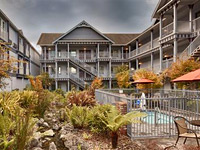 The southernmost of two Best Western hotels in Eureka is the Bayshore Inn, 0.2 miles from the Humboldt Bay along Broadway Street (US 101), between two of the main attractions of Eureka, Bayshore Mall and Fort Humboldt State Historic Park. The hotel occupies quite a large building of three floors and 82 rooms, offering a good range of amenities with an on-site restaurant (free full breakfast available), a cocktail lounge, indoor/outdoor heated pool, fitness room and spa/sauna. Besides the standard rooms, guests can choose from several types of suite and executive rooms.

4.
Best Western Plus Humboldt Bay Inn
232 W 5th Street, Eureka, CA 95501-0221
The 108 room Best Western Humboldt Bay Inn takes up one block alongside US 101 towards the west side of downtown Eureka, where the highway turns 90 degrees to the south. The bay, marina and newly renovated waterfront are just 0.2 miles away, while in the other direction is the historic Old Town district that includes many bars, restaurants, specialty shops and grand Victorian homes. The hotel has plenty of leisure amenities, centered around a large outdoor pool, which is next to a recreation center and well kept gardens. Kristina's Restaurant, on the premises, serves dinner, lunch and free deluxe continental breakfast.

5.
Comfort Inn Eureka Humboldt Bay
4260 Broadway Street, Eureka, CA 95503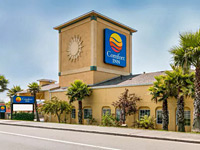 Three miles south of the center of Eureka, the Comfort Inn hotel is situated alongside the main coastal highway, US 101, in a mostly rural setting with views over wooded hills to the east, and towards the waters of Humboldt Bay to the west. Nearby attractions include the Bayshore Mall, Fort Humboldt State Historic Park, Sequoia Park Zoo and Humboldt State University. The hotel offers free deluxe continental breakfast, an indoor heated pool and a small fitness center. Guest rooms are on two floors, entered via interior corridors.

6.
Days Inn by Wyndham Eureka
270 5th Street, Eureka, CA 95501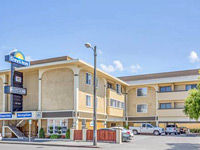 Days Inn Eureka is a small, basic motel of 40 rooms, on the first and second floors of an interior corridor building right in the city center along US 101, eight blocks from the waterfront. Numerous shops, restaurants, bars and other attractions are within walking distance. A microwave, refrigerator and coffee maker are installed in all accommodations. Complimentary amenities are the usual wi-fi and continental breakfast, while also available are a business center, fitness center and coin-operated laundry.

7.
Travelodge by Wyndham Eureka
4 4th Street, Eureka, CA 95501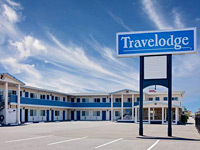 The exterior corridor guest rooms at Travelodge Eureka look out northwards, across the parking lot and outdoor pool towards a supermarket and other adjacent businesses. The motel has a central location in Eureka along the westbound section of US 101 (4th Street), a short walk from the edge of Humboldt Bay.
Humboldt Redwoods State Park
is 40 miles south,
Redwood National Park
40 miles north. Free continental breakfast is provided.

9.
Super 8 by Wyndham Eureka
1304 4th Street, Eureka, CA 95501-0605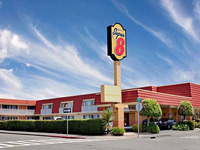 Super 8 Eureka sits between the two sections of US 101 in the city center, two blocks from the waterfront, in a mixed residential/commercial neighborhood. The place is quite small, with 50 rooms, some of which are equipped with a refrigerator; a few have a full kitchenette. The usual two complimentary amenities of wi-fi and continental breakfast (with eight items) are provided, plus an indoor pool & hot tub. There is one restaurant adjacent and many more in both directions along the main road.