1.
Marriott San Diego Del Mar
11966 El Camino Real, San Diego, CA 92130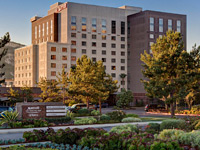 On the border between Del Mar and La Jolla alongside exit 33 of interstate 5, Marriott San Diego Del Mar provides guests with top quality, full service amenities in an attractive 284 room building that also contains a restaurant/lounge (Arterra; private dining and room service available), fitness center and over 12,000 sq ft of meeting space. Higher floor rooms on the west side have great views across Soledad Creek towards the Pacific Ocean and the bluffs of
Torrey Pines
; those on the east side look out over a busy commercial area around El Camino Real, and beyond to the inland hills. The grounds of the hotel include a good sized pool, complete with cabanas.

2.
Hotel Indigo San Diego Del Mar
710 Camino Del Mar, Del Mar, CA 92014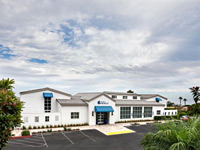 Hotel Indigo San Diego Del Mar opened early 2012 after full renovation of an existing property, the second California location for this upscale, boutique chain. Facilities include an on-site restaurant (Oceanview Bar & Grill, serving breakfast & dinner), an outdoor pool, European-style spa, convenience store and a 30 person meeting room. With the Pacific Ocean just one block west,
Torrey Pines State Reserve
one mile south, and Canyon Crest Park a little way inland, the hotel is well positioned for leisure travelers, and is a short drive from the restaurants & bars of La Jolla. Many of the 94 rooms & suites have a private balcony with ocean views.

3.
Hilton San Diego/Del Mar
15575 Jimmy Durante Blvd, Del Mar, CA 92014-1901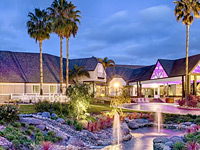 The Hilton hotel in Del Mar, north San Diego, is a popular and impressive property of 257 nicely decorated rooms, based around a beautiful courtyard garden with pool, whirlpools, tropical plants, an extensive patio area and a poolside bar. The resort-like hotel occupies a large site adjacent to the Via De La Ville exit of I-5, just across the street from Del Mar Fairgrounds & Racetrack, and 20 miles north of downtown San Diego. The on-site restaurant (Silk's) is open for breakfast, lunch, dinner & room service, while meals and drinks are also available in a more relaxed setting at the Polo Lounge. Meetings and banquets are catered for by 17,000 sq ft of event space; the largest single capacity is 700, theater style.

4.
DoubleTree Hotel San Diego/Del Mar
11915 El Camino Real, San Diego, CA 92130-2539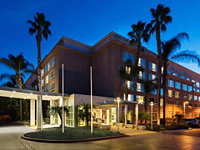 The full service DoubleTree Hotel Del Mar enjoys a prominent location at the intersection of El Camino Real with Hwy 56, bordering a business district to the north but looking out over wooded, hilly terrain south of the freeway, part of a band of undeveloped land extending west towards Torrey Pines and Soledad Valley. The hotel has a sizeable tropical, resort-style garden with outdoor pool at the front, well shielded by bushy trees from the main roads, and plenty of parking at the side. Double Palm Lounge & Cafe provides room service and all-day dining, including hot breakfast buffet every morning until 10 am. The 11,400 sq ft of indoor/outdoor function space caters for events of up to 285 people.

5.
Residence Inn San Diego Del Mar
3525 Valley Centre Drive, Del Mar, CA 92130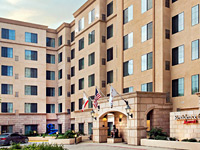 New for 2013, Residence Inn is the second Marriott property in Del Mar; a large, six story, all-suite building beside the I-5/Hwy 56 intersection, next to restaurants, shops and other hotels, 2 miles from
Torrey Pines
and the Pacific Ocean. Accommodation consists of 118 studio, one bed and two bed suites equipped with a full kitchen; food for cooking can be ordered via the complimentary grocery delivery service. Both free full breakfast and free weekday evening receptions are provided; the other main amenities are free wi-fi, an outdoor pool, fitness center, business center and meeting space. Adjoining areas of northern San Diego, within a few minutes drive, are Carmel Highlands, Sorrento Mesa, Bryn Glen and La Jolla.

6.
Homewood Suites by Hilton San Diego-Del Mar
11025 Vista Sorrento Parkway, San Diego, CA 92130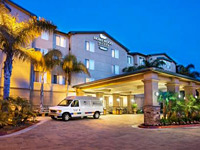 Complimentary amenities at Homewood Suites by Hilton Del Mar include hot breakfast buffet each day, evening reception Mon to Thu, internet access, 24 hour business center and a local area shuttle to places within a 5 mile radius, such as UC San Diego, Torrey Pines, Sorrento Valley and downtown Del Mar. The extended stay hotel is part of a mostly residential district along Vista Sorrento Parkway, half a mile from I-5 exit 32, and also close to the 56 & I-805 freeways. The modern suites all have a full kitchen, pull-out sofa and separate living/sleeping areas, while one unexpected facility is the on-site Serenity Spa, offering a wide range of treatments and services. The nearest restaurant is the upscale Bistro 39, right next door.

7.
Hilton Garden Inn San Diego Del Mar
3939 Ocean Bluff Avenue, San Diego, CA 92130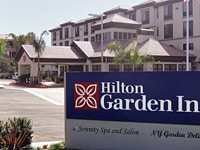 A quiet, residential district surrounds Hilton Garden Inn Del Mar, providing a buffer between the 22 lanes of Interstate 5 a short distance west. The hotel adjoins another Hilton property (the Homewood Suites) along Vista Sorrento Parkway, 7 miles north of La Jolla and 16 miles from downtown San Diego. Highlights are a lounge/bar, a restaurant serving breakfast, lunch & dinner (plus evening room service), a 24 hour business center, an outdoor pool/whirlpool and meeting space for up to 300 people. Drinks and snacks can be purchased from a 24 hour convenience store, including light meals cookable using the microwaves in all guest rooms.
8.
Hampton Inn San Diego/Del Mar
11920 El Camino Real, San Diego, CA 92130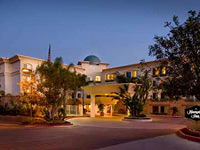 Trees and tropical plants create a peaceful ambience at Hampton Inn San Diego Del Mar, even though the surroundings are rather busy; Interstate 5, Highway 56 and El Camino Real all pass by in close proximity, and the hotel is mostly surrounded by business premises. The Pacific Ocean beaches are just 2 miles away, however, and there are several other natural areas nearby, most famous being
Torrey Pines State Reserve
. All guest rooms contain a microwave & refrigerator, and the accommodations include studio suites with sofa bed and extra living space. Free hot breakfast is provided, together with the usual business, meeting and leisure facilities.

9.
Best Western Premier Hotel Del Mar
720 Camino Del Mar, Del Mar, CA 92014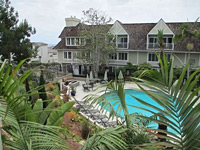 Best Western Del Mar has the design of an old English country house, enhanced by lines of mature trees and tropical plants, with nice views over the town and westwards towards the Pacific Ocean. The 81 guest rooms are large and well furnished, some having extra features of a balcony, refrigerator/microwave or full kitchenette. The accommodation block overlooks an outdoor pool, hot tub and courtyard garden; other amenities are guest laundry, a gazebo, library, and onsite restaurant. The nearest major shopping center is Del Mar Plaza, 0.7 miles north.