1.
Marriott Burbank Airport & Convention Center
2500 Hollywood Way, Burbank, CA 91505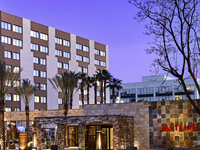 Amongst the most luxurious hotels in Burbank, the Marriott was renovated late 2008 and now offers 488 stylish, contemporary guest rooms & suites equipped with high quality furnishings and modern amenities. Guests enter through a grand, colorful lobby, which links to such facilities as a restaurant/bar (serving breakfast, lunch & dinner), a gift shop, fitness center, business center, and the conference center - 22 meeting rooms, 46,000 sq ft of space and a largest single capacity of 1,900. Outdoor activities center on the two rooftop pools, complete with cabanas and fire pits. The hotel operates a free shuttle to Burbank Airport, though as this is just 0.3 miles away on the far side of Hollywood Way, some might choose to walk.

2.
Courtyard Los Angeles Burbank Airport
2100 Empire Avenue, Burbank, CA 91504
The Courtyard is a north Burbank hotel, 1.5 miles from Bob Hope Airport, one block from interstate 5 (exit 147), and adjacent to the huge Empire Center which contains many restaurants and large stores. Half the 190 recently refurbished rooms look out over the familiar courtyard garden & outdoor pool at the rear of the property; all have views over the busy commercial neighborhood, along Empire Avenue - 2.7 miles north of the Burbank Media Center. Parking and internet access are both free, while other facilities at the 4 story hotel include the Gazebo Grille restaurant (open for breakfast & dinner), a hot tub, exercise room and 1,622 sq ft of meetings/event space.

3.
Residence Inn Burbank Downtown
321 S First Street, Burbank, CA 91502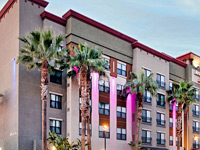 Residence Inn by Marriott is the top choice for extended stay or all-suite accommodation in Burbank, offering 166 spacious rooms containing a full kitchen, work desk, sofa bed and large screen TV - part of a handsome, five story building in the downtown area along S 1st St, adjacent to interstate 5. Burbank Town Center Mall is 4 blocks north, while Disney Studios and the Media Center are 1.8 miles south. The hotel provides free breakfast buffet every day and a free reception on weekday evenings; for other meals there are many restaurants a short walk away. At the center of the property is a pleasant courtyard featuring an outdoor pool, picnic areas and bbq grills, offering a respite from the sometimes busy surroundings.

4.
Hilton Garden Inn Burbank Downtown
401 S San Fernando Blvd, Burbank, CA 91502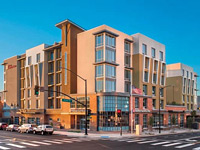 Hilton Garden Inn Burbank has a central location at the corner of Verdugo Avenue and San Fernando Boulevard, within walking distance of many downtown restaurants, bars and other businesses. Interstate 5 runs past a quarter of a mile west, allowing quick travel to such nearby attractions as Los Angeles Zoo and Six Flags Magic Mountain. Accommodations include a selection of studio suites at the corners of the building, with fine views over the city. Leisure amenities are a fitness center and a second floor, rooftop pool. The onsite restaurant is open for breakfast and dinner, while a convenience store sells drinks, snacks & sundries, 24 hours a day.
5.
Hampton Inn & Suites Los Angeles Burbank Airport
7501 N Glenoaks Blvd, Burbank, CA 91504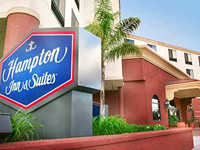 West-facing rooms at Hampton Inn Burbank look out over the multiple lanes of Interstate 5, which runs right past, while those on the east side have more scenic views, across the Woodbury University campus and a leafy residential district to the steep slopes of the Verdugo Mountains, less than one mile away. Los Angeles Burbank Airport is 1.3 miles south, served by free shuttle. Also complimentary are hot breakfast and wi-fi. Other hotel features are a covered, ground floor parking lot, an outdoor pool/hot tub, business & fitness centers, and meeting space for up to 60 delegates.

6.
Springhill Suites Los Angeles Burbank/Downtown
549 S San Fernando Boulevard, Burbank, CA 91502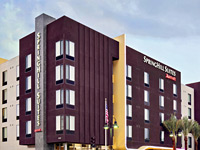 Along San Fernando Boulevard near the center of Burbank, the Springhill Suites is a stylish, modern, all-suite hotel that opened summer 2015, situated two blocks from a Marriott sister property, the Residence Inn. I-5 runs past close by to the west; access is from exit 145B, Alameda Avenue. Nearby are many restaurants, bars and small shops. All guest rooms are equipped with complimentary wi-fi, a work desk, refrigerator and microwave; snacks and cookable meals can be purchased from the on-site, 24 hour convenience store. The hotel has a full service bar, a dining room where the free hot breakfast is served, and an outdoor leisure area centered on a firepit. Also available are meeting space, a pool and fitness center.

7.
Cambria Hotel Burbank Airport
3525 N San Fernando Blvd, Burbank, CA 91505
Newly constructed in 2024, Cambria Burbank is a boutique, full service, pet friendly property towards the north side of town, one mile from Hollywood Burbank Airport - along San Fernando Blvd, accessed from I-5 exit 148. The nearest metrolink station is Burbank Airport Ð North (AV Line), just across the street. The surroundings are mostly business/industrial, but with a few restaurants close by to the south. Amenities include a fitness center and bar/restaurant.

8.
Ramada by Wyndham Burbank Airport
2900 N San Fernando/I-5, Burbank, CA 91504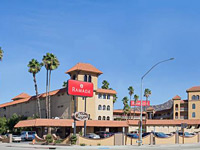 Although the neighborhood is very busy, with I-5 to the east, San Fernando Boulevard to the west and a distribution center to the north, Ramada Burbank Airport has a peaceful atmosphere, mostly surrounded by trees, and with all rooms facing inwards, looking out over a beautiful tropical garden, patio and outdoor pool. A free shuttle is operated to Bob Hope Airport,1.5 miles away. Rooms are available with a microwave, refrigerator and hot tub bath. The hotel has a restaurant/lounge on the premises but there are few other dining outlets nearby; the airport has the best selection.

9.
Best Western Plus Media Center Inn & Suites
3910 W Riverside Drive, Burbank, CA 91505-4326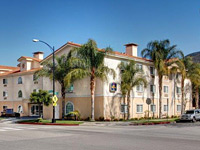 Right at the center of the Media Center between Burbank and Studio City, the Best Western Media Center Inn & Suites provides clean and very comfortable accommodation in 67 spacious rooms, all equipped with microwave & refrigerator. Besides NBC, ABC, Disney and Warner Brothers, all within one mile, the hotel is also close to Universal Studios and many other Hollywood-area attractions including
Griffith Park
, Los Angeles Equestrian Center and the Hollywood Bowl. The 170, 101 and 134 Freeways run close by, for fast connections to all nearby sites. Other amenities at the Best Western are free continental breakfast, a fitness center and an outdoor pool.

10.
Quality Inn Burbank
2255 N Buena Vista Street, Burbank, CA 91504-3309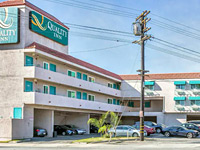 Reasonable rates and an easily-reached location are the main attributes of Quality Inn Burbank, a 58 room, exterior corridor motel along Buena Vista Street, on the north side of Burbank right next to exit 148 of I-5. The neighborhood is mostly residential though there is one restaurant right next door, and others (plus a few small shops), a short walk away. Some rooms are available with microwave, refrigerator, and separate sleeping/living areas. The hotel also has the usual three amenities of free continental breakfast, an outdoor pool and a hot tub.

11.
Travelodge by Wyndham Burbank-Glendale
1112 North Hollywood Way, Burbank, CA 91505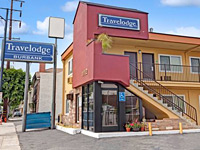 The Travelodge motel sits along Hollywood Way on the west side of Burbank, close to the many media-orientated businesses along Burbank and Magnolia boulevards. Other nearby locations include
Griffith Park
(4 miles), Universal Studios (3 miles) and Mulholland Drive in
Santa Monica Mountains NRA
(4 miles). The motel is small, with just 28 rooms available, on three floors of an exterior corridor building, adjacent to a limited-space parking lot and outdoor pool. Airport transportation, wi-fi and continental breakfast are complimentary.